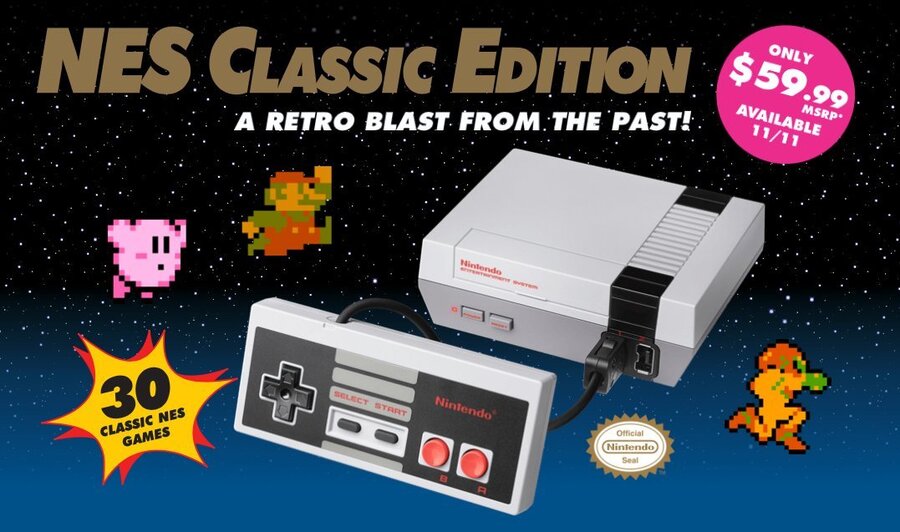 When Nintendo releases a must-have product, quite often a frustrating pattern emerges. There isn't enough stock, fans get annoyed, and scalpers try to charge well over the odds on eBay. It happened very early with the Nintendo Entertainment System: NES Classic Edition (NA) / Nintendo Classic Mini: Nintendo Entertainment System (PAL), with listings appearing before the products had even had a real chance to fly off shelves.
Naturally these systems should cost $59.99, but when it comes to low supply, high demand and capitalism, that's not how it works. Polygon has quoted some facts and figures from eBay regarding sales of the miniaturised retro system, with some eyewatering numbers:
Up until 15th November eBay was selling a Mini NES every 18 seconds. Since then it's been one every minute and 23 seconds.
The average sale price up to 15th November was roughly $230.
Jay Hanson, eBay's Vice President of North America Merchandising and Hard Goods, explained how marvellous this state of affairs is, from his perspective.
eBay is the destination for hard-to-find consoles, from the rare and vintage variety, to hot trending options, like the Nintendo NES Classic Edition. Customers rely on eBay to offer a great selection of items that are difficult to find elsewhere. Specific with the NES Classic Edition, we sold one every 18 seconds on its release day.
To be fair, it's not the fault of eBay that Nintendo has dropped the ball with stock, and its business model is perfect for cashing in. Ultimately, it's fans unwilling to pay over the odds that suffer.
While most retailers are out of stock and waiting for the promised top-ups from Nintendo, Walmart is selling a small number of units each day (until 18th November) at 2pm Pacific / 5pm Eastern. If you're in the US and want to try and get one this is the page you need, but be warned that feedback hasn't been particularly positive so far, with some complaining of error messages and stock disappearing extremely quickly.
We hope the promised stock arrives later this month and into December; there's plenty of demand, and the system should make an ideal festive gift for plenty of gamers.
With thanks to SLIGEACH_EIRE for the heads up.
[source polygon.com]