StreetPass remains a wonderful part of the 3DS, and communities around the world give 3DS owners a chance to meet and enjoy gaming together. StreetPass UK is one example, helping to support and organise events throughout the year, and is currently running a special series of challenges. The group's Paul L. Russell has put together some information on this contest, which still has a day to run (at the time of publication) on its first challenge with three more to come. He shares details below; naturally this is for UK entrants.
Dedicated Nintendo Community group StreetPass UK has launched a month-long UK-wide competition for 3DS players for the chance to win one of two #3DSAdventures Packs kindly supplied by Nintendo UK, featuring a trio of 2016's biggest Nintendo 3DS games: Monster Hunter Generations, Dragon Quest VII: Fragments of the Forgotten Past & Yo-Kai Watch!
To enter, players must compete in a series of weekly challenges across four classic 3DS titles. Beating a challenge earns you one entry in to the eventual prize draw and those with the high score for each game can net themselves a £20 eShop card.
What's more, the overall winner will receive a specially designed certificate to commemorate their victory!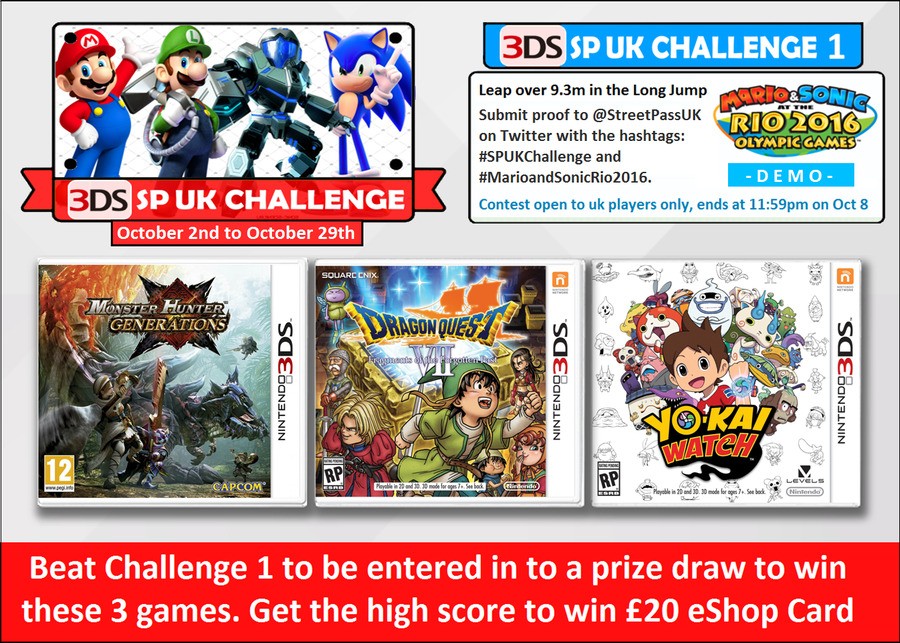 The first weekly challenge is now live. Head to the 3DS eShop and download the free demo for Mario and Sonic at the Rio 2016 Olympic Games and follow the details in the image above.
To keep up to date with high score info as well as details on upcoming challenges, check out the official website.
[source streetpassuk.co.uk]