It's been a while since Nintendo Life covered Famitsu magazine, but because it consistently features world-first previews and reviews of many Japanese Nintendo titles, we decided to bring it back for your reading pleasure.
This week's magazine featured a double-page spread on Story of Seasons: Trio of Towns, however we ran a lengthy First Impressions article that contains the same information, if not more than, what was covered in the Famitsu magazine.
But don't fret — while this week's magazine mostly featured information about E3, it also revealed a new 3DS game based on a popular Japanese TV program and introduced us to a new set of Puzzle & Dragon games, along with four game reviews.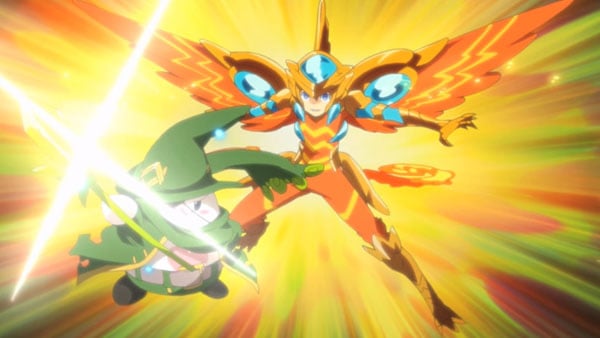 Previews
First up for previews was a Nintendo 3DS arena-brawler called Battle For Money. Based off a popular Japanese TV program, Battle For Money pits groups of ninjas against one another in complex arena maps. From what we can gather, it appears the ninjas battle by throwing balls at one another, and in-game events may tip the scales for or against the player. Fans of the series can create their own character as well. Given the obscurity of this title, we wouldn't be surprised if it's never released in the West.
A trend the Pokémon series started decades ago, Puzzle & Dragons X will release in Japan with two versions, titled Ryuu No Shou and Kami No Shou, on 28th July along with a televised anime. The two titles roughly translate into Dragon Chapter and God Chapter respectively. The Famitsu article featured primarily on two mechanics in the game: Soul Armor and Capture Mode. Soul Armor allows the player character to equip a wide-variety of battle armour based on creatures in the game. It looks like a unique way to customize your character.
Capture Mode allows the player to do what you always do in monster-battle games: capture them. However, Capture Mode puts a twist on the formula that Pokémon popularized. After lowering a monster's hit-points enough the player can activate the mode, a new capture gauge then appears and then the player must quickly apply damage to obtain the monster. Next week's Famitsu should have a review of Puzzle & Dragons X, and while it sounds like the perfect solution to tide us all over until the release of Pokémon Sun and Moon, unfortunately there's no word of a Western release.
Reviews
There were only four reviews for Nintendo consoles this week, and only one of them was for Wii U. The Great Race, a downloadable title featuring 1950s aesthetics hit the Japanese eShop on 1st June, received a middling score of 5/6/6/7 by the four reviewers respectively for a total of 24/40. One reviewer, named Yoshida, remarked the 1950s atmosphere of the game was good visually but the audio — both the sounds of the cars and the music — was unremarkable, which made the game less engaging for him. We couldn't find word of a Western release.
Next up was a 3DS title called Touch Battle Sensha 3D-4: Double Commander, which launched in Japan on 8th June on the eShop. 1 – 2 players take control of tanks and battle mostly utilizing the Nintendo 3DS's touch screen. It received a straight 7/7/7/7 across the board for a total of 28/40, and all the reviewers appreciated the intuitive controls. However, one reviewer named Ashidai remarked the period of time it takes to charge a bomb-type powerup left him consistently frustrated. Once again, no word on a Western release.
The first of two big game reviews was Zero Escape: Toki no Jirenma, or what's known as Zero Time Dilemma out West. It pulled a respectable 8/8/8/8 across the board for a 32/40. Reviewers praised the mysterious story keeping them invested in the game. They stated the setting felt realistic and enjoyed how the game consistently allowed them to switch up characters and solve the story from their perspective.
Last, but certainty not least, was the Japanese release of Shovel Knight. Everyone's favourite shovel wielding hero scored an admirable 9/8/9/8 from Famitsu for a total of 34. A score on par with Nintendo Life's own review written about two years ago. One reviewer, Yoshida, loved how nostalgic the game made him feel and likened it to a masterpiece on par with the Mega Man and Zelda games he played on his Super Famicom as a child.
---
And that's where we conclude this week's Famitsu. Next week promises more on Nintendo as this week focused primarily on E3 and Story of Seasons: Trio of Towns, both of which were already extensively covered by Nintendo Life. Be sure to check back!
Our thanks to Arina Heima for helping us translate.