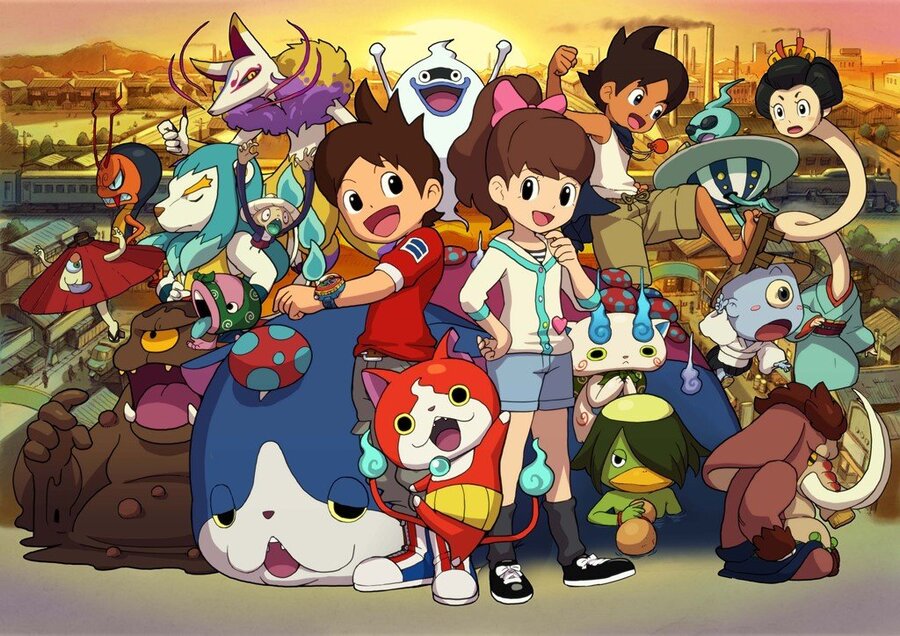 The Yo-kai Watch franchise is enormous in Japan, to the point that in late 2015 Level-5 was able to reference 10 million games in the series being shipped. That number will have also included some sales from the first game's launch in North America, though based upon its absence from NPD's results and Nintendo's silence it hasn't flown off shelves in the region. Following its recent release in Europe it's done reasonably without blowing the doors off, with the title returning UK chart results that are typical of mid-tier 3DS retail releases.
Some were evidently surprised, then, when Nintendo confirmed that Yo-Kai Watch 2: Bony Spirits & Fleshy Souls are heading to North America on 30th September. Not only that, but the franchise will be going all-in once again in the region, with Disney XD picking up the second series of the animated show and more Hasbro toys also on the way. Rather than Nintendo, Level-5 and partners backing away to re-assess, they seem to be doing all they can to help the series take off in North America, in particular; the slow releases and muted marketing in Europe suggests that hopes aren't as high for that region.
It's refreshing, in this era of short-term gains and limited ambition, to see companies backing a brand and giving it a chance. As mentioned above, it's fair to say (based on Nintendo's silence, especially) that game sales have been muted in the West so far, a notable contradiction to the ongoing success of each entry and spin-off in Japan. Likewise with the 'Wibble Wobble' app on smart devices, which has tumbled down the iOS and Android download charts in the West after brief launch periods in top 10s for its category. While millions of games are sold in Japan and toys sell out rapidly, the early days in Western territories have failed to have the same impact.
Though the franchise is distinct in its approach, it is naturally compared to Pokémon a great deal. When early Yo-kai releases took off in Japan (particularly after the anime show had started to air) there was excitable chatter about it being a potential Pokémon beater. That was all very premature, especially as Pokémon isn't exactly struggling in Japan, but that narrative - ill-advised as it was - still showed just how significant an impact the series had and continues to have in the country. It's a big deal, frankly, in terms of video games, TV and toys. In some respects Level-5 has been following the Pokémon playbook with that triple threat of target markets, if we're going to compare the two, and has done so rather well.
If it's going to become a challenger to Pokémon in the West, perhaps the biggest franchise on Nintendo hardware at present - with its 3DS titles leading software sales on the system - it's going to take time, however. Let's remember that Pokémon is now 20 years old, and has been carefully managing and expanding its brand over those two decades. It got off to a strong start with the generation 1 games on the Game Boy, admittedly, and has successfully carried along on that wave since.
With that proviso of time in mind, what will it take for Yo-kai Watch to reach Pokémon-levels of popularity on a global scale? For one thing, Level-5 may need to carefully cater its franchise to be more universally appealing - by which we really mean it needs a cast that connects with a global audience more naturally. When you look at the Pokémon series, even as an outsider, its appeal is relatively obvious. For the dedicated it has huge depth, of course, but it's also appealing on a basic level to newcomers. Character designs and settings are cute, funny, strange and more besides, hitting a lot of the right notes. Yo-kai Watch is not only heavily based on Japanese folklore and mythology, but in some areas is hard to truly appreciate without that cultural background.
Nintendo Life alumni Katy Ellis recently researched and published a video on this very topic, which is well worth a watch.
Beyond those cultural aspects Level-5 - likely with a lot of help from Nintendo - will need to break its routine of delayed and erratic localisation of its games. We've been used to it with franchises like Inazuma Eleven and Professor Layton, where they'll come out in Japan and then arrive in the West many months later, if at all. That's been the case with Yo-kai Watch, with the gap to the Western arrival in North America being more than two years. This suggests Level-5 wasn't convinced it would really push the franchise outside of Japan, but has brought the effect that it's having to rapidly play catch-up. The turnaround with Yo-kai Watch 2 has been quick in North America, but even so by the time those games arrive the third releases will have arrived in Japan, not to mention the many spin-offs that don't even have release windows for the West. Europe is a whole different matter, as it's oddly lagging five months behind North America so far.
Of course, the first Pokémon titles were the same, with over two years between their arrival in Japan and then elsewhere. This is a different time, however, especially with the internet holding the answer to any question and plenty of awareness that Japanese gamers have been playing titles for years that are only just hitting 3DS systems elsewhere. The Pokémon Company, by comparison, now aims for a global release for its major Pokémon games - spin-offs, annoyingly, still get split up on some occasions - to keep everyone on board.
What Pokémon has also achieved is a major place for competitive gaming, with Championships around the world for the Trading Card Game and the video games of the current generation. That's in part thanks to the whole premise of the series naturally evolving to that point, but it's another key area of strength. The practice of trading and battling Pokémon is also key, giving players a lot to do outside of the core adventure.
It does seem, at this moment, that Yo-kai Watch has a tough task ahead if it's to achieve the same volume of global success as Pokémon; the Game Freak main series of games has now passed 200 million copies sold. Yet Level-5 and Nintendo are right to show persistence in trying to give it a chance to grow outside of Japan. A look at the brand's YouTube channel shows a decent appetite for the animated series, and in the crazy world of toys Level-5 and Hasbro will be hoping to see one or more of its products go viral in the near future.
Pokémon has reached its incredible brand power, spanning a dizzying range of products, through 20 years of persistence and consistency. It's now such a phenomenon in the West that it can top game charts, produce the most popular Super Bowl advert of 2016 and accrue many millions of views for a two minute reveal trailer. It didn't happen overnight, but it's successfully developed an audience of various ages and kept them entertained.
If Yo-kai Watch is given the same amount of focus and attention it can certainly achieve a breakthrough in the West in years to come. This writer doubts it'll ever hit the heights of success that Pokémon can boast, but that's hardly a criticism - not many brands can match the appeal of the original and best Pocket Monsters.