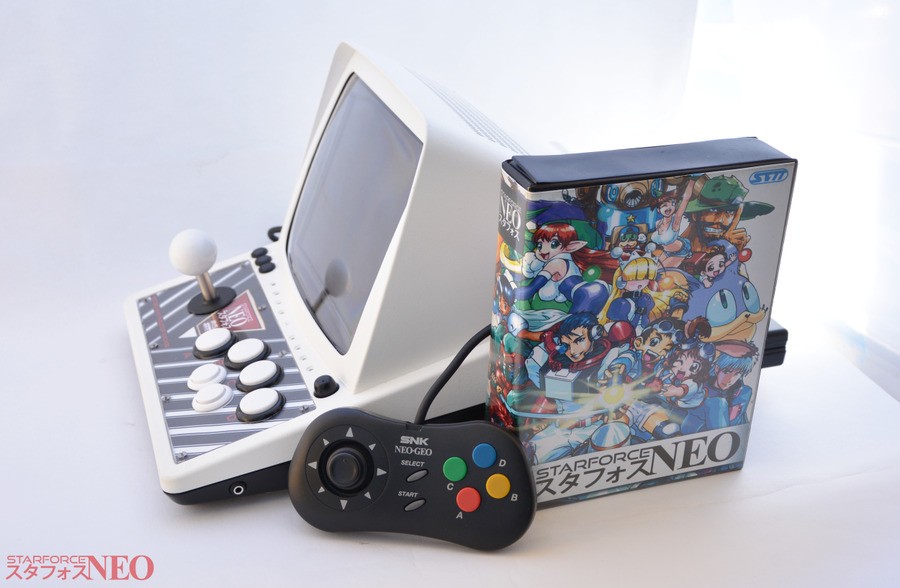 Remember the Starforce Pi? It's an incredible tabletop gaming system based on the Raspberry Pi, and despite a failed Kickstarter campaign is carrying on with a release in the near future. In the meantime however, Marcel J. de Haan - the remarkable one-man-band behind this incredible platform - has created a side project which has the retro gamer within us positively drooling with envy.
The Starforce Neo is arguably the world's smallest "consolized" Neo Geo MVS system. It runs MVS carts - the ones intended for the arcade - and has an 8 inch LCD screen complete with authentic scanlines.
Here's de Haan to explain:
Built inside a converted 1982 Minitel 1 case, the system features an original SNK MV-1B motherboard which means the games aren't emulated, authentic Seimitsu buttons and joystick for single player action, two additional Neo Geo compatible controller input ports at the back and all of the same features as SNK's classic Neo Geo arcade cabinets.
The internal monitor is a crisp 8″ LCD screen with 4:3 aspect ratio behind a glossy protective window. The system pumps its SCART signal via a scanline generator and shoots 480p resolution sprites onto the internal display. Additionally, an HDMI-out port is hidden on the bottom for external head-to-head arcade combat on the big screen!

Inside the matte two-tone Stormtrooper exterior lies a 1.2Watt dual stereo speaker system by Logitech, delivering an impressive deep sound, with the option to connect external audio capture devices or headphones through the 3.5mm audio jack.

Neo Geo MVS cartridges simply slot in the back, and by placing the power input port & player 2 controller input port to the sides, games can be changed without having to unplug the system.

The STARFORCE NEO All-in-One system comes with an original Neo Geo Gamepad for two-player action and the SF Neo MVS MultiCart in AES shell, which features 97 classic original Neo Geo titles. The entire build cost around €600, using original and premium components, with a further €150 euro for the extra controller and multicart.
It turned out quite spectacular, but it was a hell of a job to get right, and pretty expensive. I had to sell about half of my completed Neo Geo Pocket Color collection to finance it, but ultimately, it was totally worth it.
Here are the full specs, just to make you dribble a bit more:
Authentic SNK Neo Geo MV-1B hardware
Neo Geo MVS Cartridge Compatible
2x Neo Geo Controller Inputs (Player 1 & 2)
Integrated SEIMITSU Joystick & 6 buttons (Player 1)
Integrated 8" 480p LCD Screen (4:3) + HDMI Output
SmallCab SuperGun SCART-to-HDMI
SGL3000 Scanline Generator
Logitech Z120 Internal 1.2Watt Stereo Speakers
3.5mm Headphone Stereo Jack
BeQuiet! Silent PSU SFW Power 2 400W
Vintage 1982 Minitel 1 Converted Case
Dimensions: 23 x 25 x 26 cm, Weight: 10kg (22lbs, without cart)
The killer? It's likely to be the only one in existence, as de Haan currently has no plans to produce any other units. In between studying for a PhD, tending to his pregnant partner and focusing on getting the Starforce Pi off the ground, the Neo is basically a way to blow off a bit of steam and show the world his considerable talent with retro hardware.
However, should he change his mind, we've got a few spare kidneys we're willing to sell in the Nintendo Life office in order to fund a purchase.
[source starforcepi.wordpress.com]