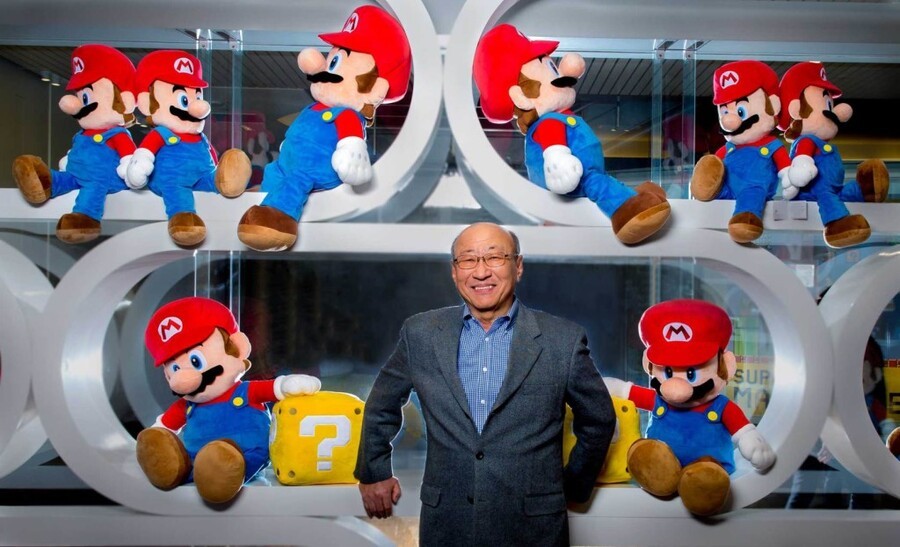 We trust you've had your calendars marked for the momentous day - 27th April, Nintendo Earnings Release. No? Well, that's understandable, but it's actually more interesting than it sounds. The end of the financial year and its reports are among the most important presentations Nintendo gives to investors and, as a result, can be rather intriguing for fans as well.
Don't believe us? In past years Nintendo has made a handful of notable reveals to investors, such as Wii U GamePad functionality and DS games for the Virtual Console, release windows for major games and even the first details of amiibo, which was presented as the Nintendo Figurine Platform.
What makes the year-end presentations intriguing comes in two forms - Nintendo addresses its performance over the past year (potentially not great this time, in light of revised estimates from Q3), but also tries to convince investors of good times to come. It's a tightrope act, then, as Nintendo will aim to discuss and reveal enough to keep the share value healthy, while holding back the most significant details for upcoming Directs, events and / or E3.
So, what can we expect? Ahead of what is a hugely significant financial year for the company Nintendo will need to lift the lid a little, without blowing it off and scuppering its plans for more mainstream and publicised occasions. The timing, though, and the transitions the company is currently preparing, make this the most important financial reports and briefings in some time.
Below, then, are what we think are key areas that company President Tatsumi Kimishima will cover.
A Timeline and Reassurances on the NX Reveal
The chances of Nintendo revealing the NX concept itself are pretty much zero, as that will surely wait for a high profile streamed event before or during E3, assuming it's at the stage where it can be shown.
That said, the topic will come up, and with both 3DS and Wii U on course for relatively modest sales the pressure is on Nintendo to demonstrate that it's ready to re-capture the console gaming space. As such Kimishima-san is likely to focus on reassuring investors. There may be talk around software support (in terms of numbers, partners on board), more carefully chosen words about a new way to play games and so on. What we might also have is a timeline for a full reveal - investor briefings have, in the past, been used to state that details of major products are due soon, so we may learn just when NX will be emerging into the spotlight.
The Next Nintendo / DeNA Apps
This is an area where more concrete details may emerge. With Miitomo out in the market and multiple games due on mobile platforms before 1st April 2017, Nintendo will need to step on the gas and start announcing and releasing these apps.
The company has previously stated that we should expect major franchises to emerge in these DeNA collaborations, and that could certainly be a focus here. It wouldn't be too surprising, in fact, if the next app is revealed in detail, lifting the lid on which IP will be shifting to our phones and tablets. Investors have often been the most vocal around the need for Nintendo to invest in mobile gaming, and as a result this will surely be a key area of focus as Kimishima-san demonstrates the company's ambition to perform well on iOS and Android.
The Pokémon and Legend of Zelda Anniversaries
The investor briefing has occasionally been used as an opportunity to talk up the company's brand power and notable occasions with franchises. Though there are a lot of franchise anniversaries this year, Pokémon and The Legend of Zelda are likely to have the most focus due to confirmed major releases on the way for 3DS and Wii U (with the NX rumoured for Zelda).
In terms of what actual details may emerge, there could be broad comments about plans for the franchises (including licensing opportunities), and potential indications of when we can expect to learn more about the latest Legend of Zelda title and Pokémon Sun and Moon; with the latter we know that CoroCoro magazine will have a feature in mid-May, but beyond that it's still very much a mystery. If Nintendo is planning any special events or promotions to emphasize the anniversary years, meanwhile, they could come up. We wouldn't be surprised to see a mention of Pokémon Go, either.
Comforting Words for Wii U and 3DS Owners
It's been clear for some time that Nintendo's resources have been shifting away from Wii U and 3DS, especially so in the case of the home console. A few slides of Kimishima-san's President's Presentation, then, will be reserved for the current-gen systems and to highlight some upcoming games and details.
In the Q3 presentation, for example, there was talk of the 3DS targeting young gamers and women more, for example, while the success of Nintendo Selects ranges were highlighted. Themes like these may emerge once again, and it'll be interesting to see if Nintendo confirms any particular strategies such as price drops or more budget ranges for the coming year.
A Statement of Ambition, or Otherwise, With Profit Projections
Nintendo has, in the past couple of years, returned to relatively solid profits. These haven't come from improved sales but rather careful business management and favourable currency exchange rates - in fact, Nintendo's sales revenue has continue to decline as profits have slowly crept up. Yet the new financial year will bring multiple mobile games and (we assume) a new generation of gaming hardware.
As a result it'll be intriguing to see what profits Nintendo estimates. Even accounting for the fact that it'll be careful to avoid major reveals being saved for later in the year, it'll nevertheless put its cards on the table to say whether it expects to make a lot of cash. Investors will be demanding as much.
If the company does predict handsome 'Nintendo-like' profits, then we'll have a further indication of its confidence in its next generation of gaming.
---
Beyond these areas we could learn a little more about other key parts of Nintendo business. There are likely to be early status reports on Miitomo and the Nintendo Account / My Nintendo programme, while amiibo and eShop sales will also be a factor. Overall there could be a lot of interesting detail to take in.
The financial reports will come first, due on 27th April near the close of the working day in Japan (early morning in Europe, late night in North America) - the investor briefing will follow shortly after, and an investor Q & A will likely follow later in the week. We'll be following them all closely here on Nintendo Life.