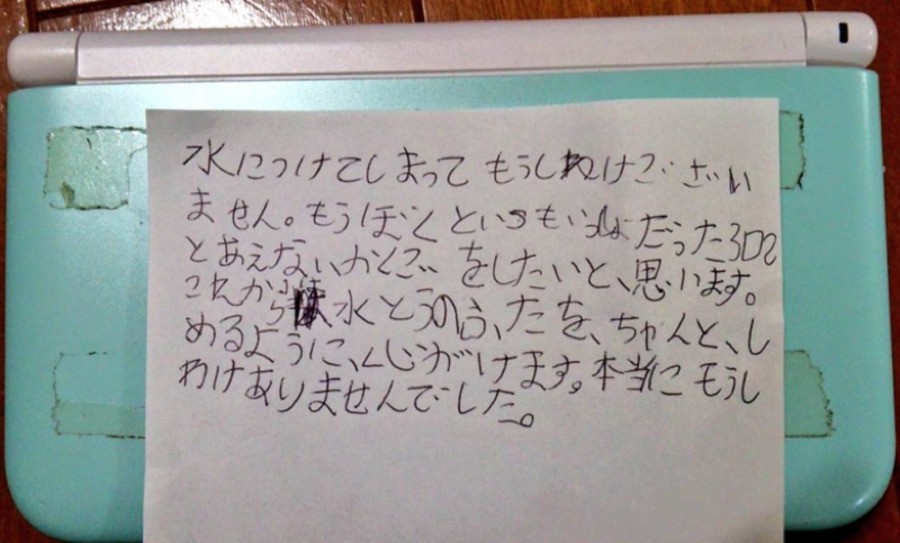 It's never too pleasant having to deal with customer service and sending something in to be repaired, but for one eight-year-old boy in Japan, the loss of his 3DS seems to have stirred up some surprising feelings of guilt instead of the usual impatience and annoyance. Imagine that!
The young boy apparently didn't close the cap on his thermos flask properly, so when he put it in his bag with his precious 3DS it caused an unfortunate spill that soaked the handheld. After calling a customer service center and arranging for a repair, he even went so far as to write a heartfelt letter of apology to Nintendo for his mistake (translation via Kotaku).
I apologize for accidentally getting [my 3DS] wet. I'd like to think I've already resigned myself to not seeing my 3DS, which is always with me. From here on out, I aim to close my thermos' lid correctly. I am truly sorry.
This charming note is definitely a far-cry from some of the ranting, frustrated letters we're sure centers like this are used to receiving, and shows an exemplary case of good manners; we hope it helps reunite the boy with his 3DS soon!
Have you ever fallen victim to a tragic spillage like this, and were you this darn polite when seeking a repair?
[source kotaku.com]