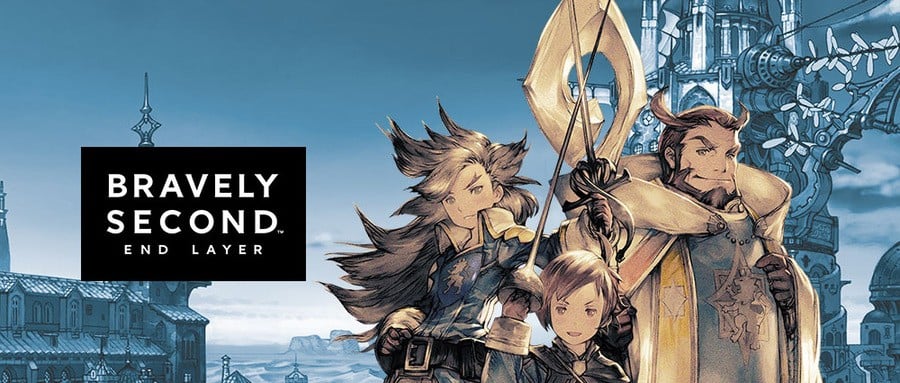 Bravely Second: End Layer is arriving in Europe on 26th February, but the adventure will start early when a special demo launches on 11th February; this will serve as a prelude to the story and transfer data into the full game. The demo will be titled The Ballad of the Three Cavaliers.
For some lucky UK gamers, however, we're giving away codes for the demo a week ahead of time, giving them an opportunity to jump in early with the 3DS RPG. Starting today, 4th February, we'll be giving away 20 codes per hour from 2pm UK time, with a total of 25 draws. Anyone who enters will be entered into every draw unless they have already been assigned a code. You need to be located in the UK (sorry, Republic of Ireland isn't included) and logged in to enter.
To apply for a code simply pop your email address in the box below; you can also learn more about this prelude from the official description below.
The Ballad of the Three Cavaliers – Prelude

A prelude to the main story of Bravely Second: End Layer, this demo lets players dive into a captivating story in several hours of gameplay. Depending on progress in the demo, players can unlock items in the full game.

"The Ballad of the Three Cavaliers" is set some time before Bravely Second, and follows Yew Geneolgia, the fearless leader of the Crystalguard's Three Cavaliers, on an exciting quest together with his brave companions Janne Angard and Nikolai Nikolanikov. The Cavaliers are sent out by Pope Agnès Oblige of the Crystal Orthodoxy to investigate mysterious incidents at the Temple of Wind that could threaten the peace treaty with the Duchy of Eternia. On their way to Ancheim, home of the temple, they have to overcome challenging trials, but the hardest challenge still awaits them…
Please note that you may only enter one email address and must be in the United Kingdom to enter, these codes will not work in Europe, Americas or Asia - sorry! Winners will be notified by email. Any dubious activity with duplicate email addresses will automatically be excluded.
Thanks and good luck!
[source nintendo.co.uk]