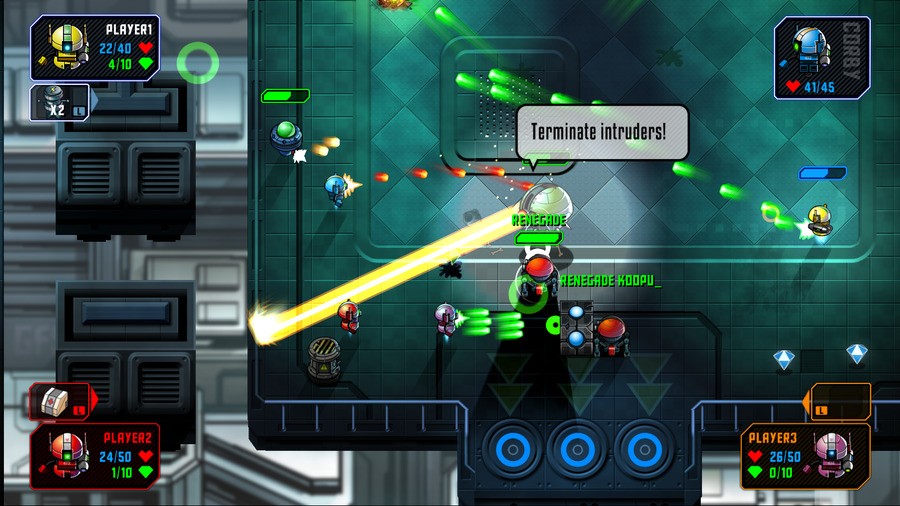 The Wii U eShop has attracted a range of new developers into the console space, and now we can add Gray Fin Studios to the list. A family-run studio with prior experience in the triple-A scene, it's planning to make its console and PC debut with Dual Core; the Wii U will be the first console to get the game.
It's pitched as a twin-stick shooter that places an emphasis on co-op play, and has some RPG elements, notably in levelling up and improving player's abilities. The developer has said the following.
Dual Core is a vibrant, futuristic, "twin-stick" style, shooter, with a strong focus on local co-op multiplayer (up to 4 players). Lots of robots, lots of lasers, lots of aliens, lots of explosions! The numerous retro arcade influences are front and center, but spiced up with a colorful modern style, a generous helping of sci-fi intrigue, and a dash of RPG ELEMENTS! This isn't an arena shooter (though there is an arena-style arcade mode); there's a full story mode with a ton of handcrafted levels to explore, and battle through.
Dual Core has been in development for several years now, and originally was conceived as a mobile/tablet game - however, somewhere along the line, I realized that very few of my favorite games were actually on mobile devices, *most* of them were in fact, on the Wii U, and usually because of the local multiplayer. So I decided to trust my instincts and that became the focus - our goal is to get players having a blast, working together, laughing, and (occasionally) yelling at the each other! One of my fondest gaming memories was playing co-op Gauntlet as a kid, and that's still a strong influence today.

But it's not just multiplayer - even in single player, you don't play alone; your robot buddy "Corby" sticks with you, and battles by your side through the whole game. So in a way, it's co-op multiplayer, even when it's not.
The early trailer looks promising and this one isn't far away - it's close to final submission and is targeting a February / March release.
We'll certainly be keeping an eye on it - check out the trailer below and let us know what you think.