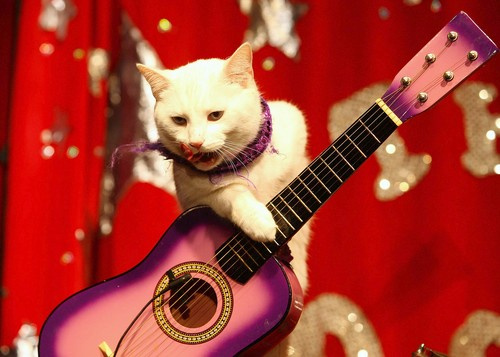 Hello Kitty is a hugely successful brand - yes, it really is! So it's not surprising that there are numerous spin-off games and, due to the family focus of Nintendo hardware, they can often be found on Wii U and 3DS.
This week Bergsala and Rising Star Games teamed up to release both Hello Kitty Kruisers and Hello Kitty and the Apron of Magic: Rhythm Cooking onto the Wii U and 3DS respectively. Magical aprons are long established as useful marketing tools when trying to promote a rhythm-based cooking game.
The best is yet to come, though, with - oh yes - Hello Kitty & Friends Rock 'n' World Tour. With Guitar Hero Live and Rock Band 4 on the market this will try to bring that same fun to a younger audience on the 3DS, with a European release at retail and on the eShop confirmed for 13th November; it'll be £29.99 in the UK. Some of the press release blurb is below.
4 playable instruments including Lead Guitar, Bass, Backup Guitar and Drums
Rock out on stage all over the world from cities Tokyo, London, Stockholm and more
Plethora of unlockable clothes and decorations to customize Hello Kitty herself or your room
Of course these games have an audience and may be perfectly lovely but, as you may expect, it's hard to see a game name like that on a Friday and not share it with the world. Hello Kitty + Rock music = the best thing ever?
Admit it, you want this game.