With Halloween creeping up on us slowly, relentlessly and with added creepy noises to scare us, it seems only right that we write about it. The season isn't just about dressing up and eating candy / sweets until we're sick, but it's also a time to either embrace scary gaming or, alternatively, find something cute and cuddly to take our minds off of Halloween.
Here's the second part of this feature in which more of your Nintendo Life team share their spooky gaming plans.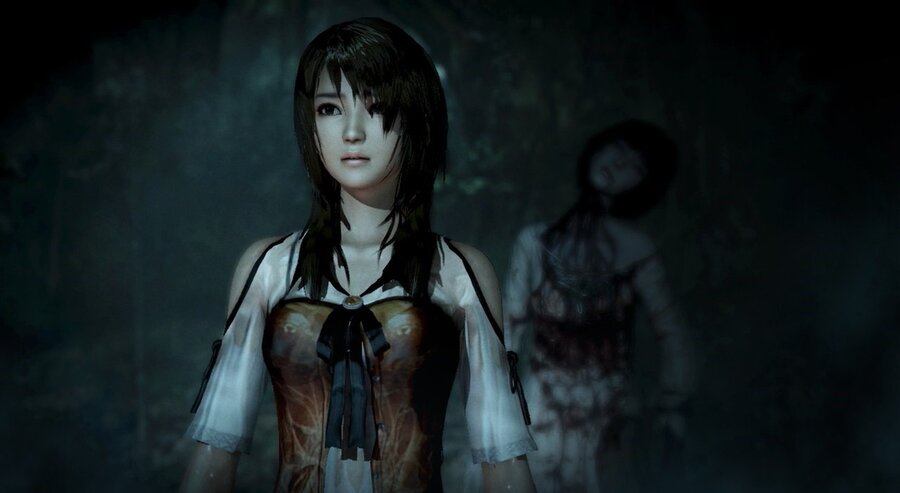 Tom Whitehead
I'm a bit of a grump with Halloween, possibly because I'm 'old' and have a dog that protests at the door being knocked constantly. Nevertheless I can get into the idea of a bit of gaming appropriate for the season, and there are some awesome options kicking around.
I plan to try out the free sections of Fatal Frame: Maiden of Black Water before deciding whether to buy it, and I'll be digging out my disc copy of Resident Evil 4: Wii Edition, and I think it's great that it's coming to the eShop in Europe. It's one of my favourite games of all time and I make a point of playing it at least once a year.
I will betray Nintendo at least once for a bit of Bloodborne, too. It's been sitting in my backlog for a while but what little I've played has been fabulous, so I want to get into that properly.
Liam Doolan
I normally start my annual Halloween account with a comment or two about how I haven't truly embraced the celebration in the past simply because I am Australian, but I don't know if that excuse truly holds up anymore.
From what I can make of it – the truth is – Halloween is steadily growing in popularity down under. Door knocking for candy and chocolate in spooky costumes isn't necessarily an unfamiliar sight on Aussie lawns nowadays.
With this in mind, I actually do my best to acknowledge the event's growth each year in Australia by playing appropriately themed video games on the spookiest night of the year. In the past I've jumped on Animal Crossing: New Leaf to trick or treat with Jack, and in more recent times I've dressed my Tomodachi Life residents in a number of scary outfits.
This year, however, I've decided to create a spooky themed level in the recent Wii U release, Super Mario Maker. As I'm yet to create a ghost house level with the creator tool, this has become my sole aim this Halloween. Fast forward many hours later and I've managed to create a level titled "Luigi's Other Mansion" which I like to think captures the spirit of the spookiest night of the year and draws inspiration from the original GameCube classic, Luigi's Mansion. So if you're looking for something to do this Halloween, be sure to check it out.
Ron DelVillano
To be completely honest, I'm a big scardey-cat when it comes to horror. I like monsters, but genuine horror and slasher media is a bit too much for my feeble constitution. This extends from movies to literature and, of course, video games. As interested as I am in plunging into the depths of Project Zero: Maiden of Black Water, I know that I wouldn't last two minutes in the shallow end.
Lucky for me, Nintendo understands that even some grown men are afraid of a little jump scare, so they provide some alternatives. I plan on spending my Halloween gaming hours in Animal Crossing: New Leaf. I've spent the past few weeks gathering candy for my villagers and purchasing costumes to hopefully spook them a little, so I feel as prepared as I can be. As much as we obsess over horror when it comes to Halloween, I feel like Animal Crossing is one of the few games that remembers that it's also supposed to be fun, not just terrifying.
Morgan Sleeper
Halloween is a bit of a funny time for me in terms of gaming picks. I've always loved trying to match playing and re-playing special games up to a sort of seasonal calendar (Attack of the Friday Monsters! and Yumi's Odd Odyssey in the Summer, and Christmas NiGHTS and 1080° Avalanche in Winter, for instance), but I'm normally way too much of a wimp for the obvious Halloween choice: survival horror. That said, this year I'm definitely going to at least dip my toes into the murky, terrifying-looking waters of the latest Fatal Frame. I've got the demo downloaded to my Wii U, and my fiancée and I are planning to turn out the lights and scare ourselves silly on Halloween night!
Aside from acting brave long enough to power through those first few chapters of Fatal Frame, my Halloween gaming plans are centered on the not-at-all scary - but entirely seasonally appropriate! - Japanese Rail Sim 3D: Journey to Kyoto. As a big fan of Densha de Go!, Tokyo Bus Guide, and several similar simulators that are way more fun than they sound, I've been having a blast with this eShop train sim, which lets you take control of the Eizan Electric Railway in Kyoto. The centrepiece of the featured line is a section that runs through a natural tunnel of Japanese maple trees, arcing impressively over the track and absolutely exploding in autumn reds and oranges. It's a beautiful sight, and one of the most iconic depictions of autumn I've seen in a game. I finished the game's full-line daytime drive over the summer, so now I'm making it my Hallows' Eve mission to run through the nighttime mode - spooky and seasonal all at once!
Arjun Joshi
For a couple of Halloweens during our childhoods, my brother, cousin, and I would play the latest Mario Party's ghost-themed map on 50 turns in the dark (I believe this was the max amount of turns you could play back in the day!). Whether this was MP2's Horror Land or MP4's Boo's Haunted Bash, it always made the season feel that much more special. In addition, the house was usually vacant and quiet on this evening due to it being my parents' anniversary (we did have a childminder, but she just let us do our own thing)! Accompany that with mini-games such as MP1's Running of the Bulb, the game felt more of a team adventure against the horrors opposed against us (which included a CPU Luigi on max difficulty). Only once a year did we treat Mario Party as a team game. I know, MP is known for turning family and friends into foes, but Halloween was an exception!
This Halloween, we're planning on rekindling this childhood memory of ours and play a Halloween-themed map from one of the Mario Party games (it'll probably be MP10's Haunted Trail). The level of camaraderie probably won't be as existent as our earlier memories, but the nostalgia of playing a Mario Party on the evening of Halloween will be such a cool moment.
And best believe there will be a Luigi on max difficulty. ARGH!
Dylan Newcome
Though Bloodborne has had my attention lately, I'll probably take a break from being terrified to take part in my town's Halloween festivities in Animal Crossing: New Leaf. Oh, and I'll most certainly be celebrating the end of Inktober by trying out some of the Splatoon stuff I've missed in my time away from the game. Other than that, it'll probably be the usual of playing rounds of Smash Bros. for Wii U and Mario Kart 8 with my friends.
I've also been working on a shiny/spooky Halloween-themed team in Pokemon Omega Ruby, so hopefully it comes to fruition before the end of the month. So far I only have my shiny Sableye (the Mega Evolution is beautiful) and shiny Noivern, but I'm hoping to finish that team up. We'll be having a Halloween-themed Pokemon tournament at my place on October 31 so my Pokemon are getting trained up for that.
---
Those are some of our plans, so by all means share yours in the comments!