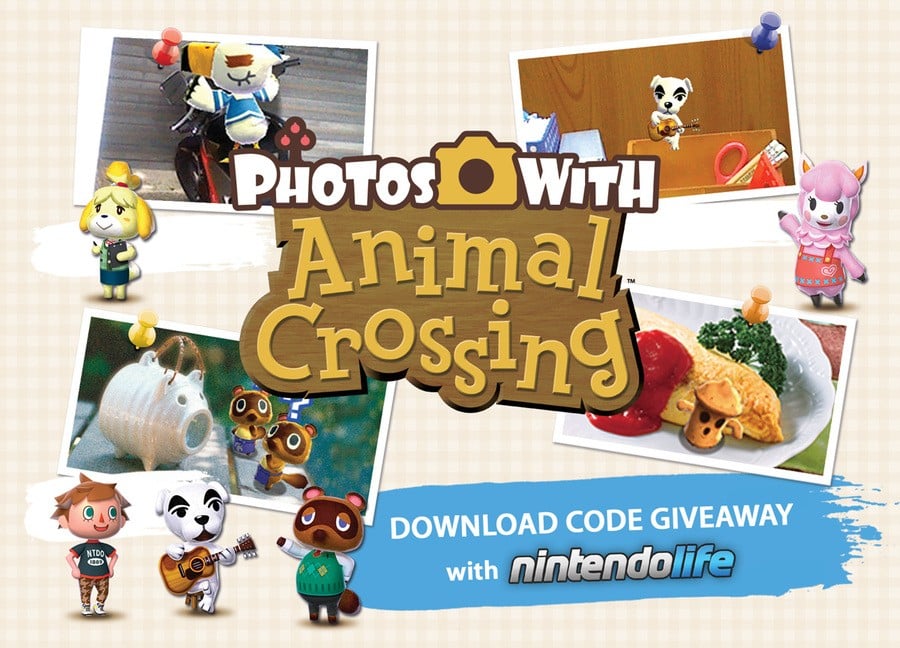 With Animal Crossing: Happy Home Designer being one of the major 3DS retail releases of the year, Nintendo has been keen to get the franchise back onto the agenda. In the UK the company has been heavily promoting free 3DS app Photos with Animal Crossing, distributing it at Hyper Japan in London, on its national shopping centre tour and most recently to some lucky gamers on its Nintendo mailing list.
If you're in the UK/Ireland and don't yet have one, though, we're here to make those storm clouds go away. Nintendo UK's given us plenty of codes to give away, and the details you need are below.
About 'Photos with Animal Crossing':
Photos with Animal Crossing is a free limited-release download, just like Photos with Mario before it.
An AR app for the 3DS, it allows you to snap pics with some of your favourite animals. It's the same basic concept as the AR cards you receive free with your system, most directly familiar with the previous limited-distribution Photos With Mario app. In this case, however, you need to print out the image below to scan the relevant cards.
How to get a code

All you need to do is register your email address below and we will randomly select 100 lucky readers every hour; your registration will enter you in every draw. If you are selected you will be notified via email or you can simply check the status of your ballot by re-entering your email address at any time.
We will be giving away 100 download codes every hour, on the hour, between 9am and 11pm for the next 3 days - that's a total of 5,000 download codes available for our UK/Ireland readers. The first ballot will take place at 7pm tonight, Wednesday 2nd Sept, 2015.
Rules: You must be in the UK/Ireland and enter a valid email address to ensure correct entry to the ballot, you must only register one email address; don't worry, you'll be included in each ballot until you receive one or all codes are gone. If we detect unusual duplicate entries we reserve the right to remove them from the ballots. We ask that you simply consider other gamers and play fair. You may enter your email address again to check the status of your registration. Download codes must be redeemed before midnight 30th September, 2015.
We would like to thank Nintendo UK for supplying the codes and hope everyone enjoys this very special download version of Photos with Animal Crossing. Also remember that Animal Crossing: Happy Home Designer will be released on the 2nd October here in the UK.
Good luck!