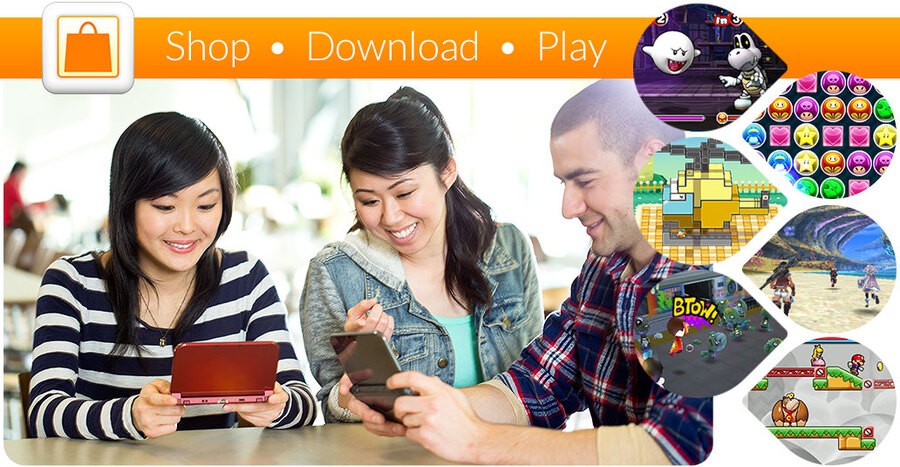 It's the Summer - though it's overcast and raining outside this writer's window at the time of writing - and we've published articles pointing out some of the biggest and best games coming to the Wii U, Wii U eShop and the Nintendo 3DS. Now, after an intolerable delay - apologies for that - we have our 3DS eShop list of ten hot games on the way this year.
It's not actually been the easiest list to compile, as the confirmed 3DS eShop line-up hasn't exactly blown our minds; yet there are some gems on the way, and we're pretty confident most of these are coming this year, though there are doubts over a few. Some that we wanted to point out have definitely slipped to 2016, too, which is a shame.
We've also left one title out that's already arrived in North America but is yet to even have a release date in Europe, so that and another game or two can be found in the Honourable Mentions at the end.
That's the admin done, let's get to the games.
---
Image & Forms's follow-up/spin-off to SteamWorld Dig is almost upon us, and the 3DS will be the lead platform. It brings skill-based 2D strategy to the table, as you explore and attempt to loot ships full of dangerous foes. Oh, and the robots wear hats.
---
Beyond the first six NES games, this download will include a Challenge Remix mode that presents scenarios to apparently test veterans but also help newcomers get familiar with the mechanics, and a "Museum of the era" with concept art and more. In addition it'll be possible to set times with online leaderboards and watch videos of others' runs. Lots of Mega Man goodness, in other words. Trailer below for HD version.
---
Released on PC last year, the arrival of this Director's Cut from WayForward will mean that 3DS owners will have the latest and greatest versions of the whole Shantae trilogy to date; this one's also coming to Wii U. One of the very best DSiWare games, this will include an alternative mode that's more challenging, in addition to a revamped map and warp system. This'll be tough to resist. Trailer below for HD version.
---
Still due this year, this is an enhanced remake of the DS retail release, with promised improvements to gameplay, 60FPS performance, autostereoscopic 3D and enhanced visuals. The 3DS isn't graced with many tense, atmospheric horror games, so we're hopeful that this one will scratch an itch for that genre.
---
This new entry takes the difficulty levels from the original and steps it up a notch, with some particularly fiendish moments in the [email protected] Wii U demo. This will feature boss battles in addition to the tough main levels, and the 3DS version will naturally benefit from layered visuals from its autostereoscopic display. Trailer below for HD version.
---
A gravity flipping action platformer that was originally on DSiWare, this is heading to the eShop on Wii U and 3DS later this year in remastered form. Saturnine Games has confirmed that this remake will have additional levels, online leaderboards and even Miiverse stamps. There'll be off-TV GamePad play for Wii U and stereoscopic 3D on 3DS, and the visuals have clearly been cleaned up a fair amount. Definitely worth having on your radar.
---
A bit of a wildcard on this list, as publisher Choice Provisions nor developer Neon Deity Games have said much about this on 3DS - it's been listed by Nintendo on multiple occasions, however. Also coming to Wii U, this sounds like a particularly quirky and fun shoot 'em up - "combat waves and upgrade cycles only last 10 seconds a piece", which will mean short and sharp bursts of action. Considering the publisher and some delightfully quirky footage - there's a Let's Play below - we can't help but include it.
---
A bit of a punt, this, as Gory Detail is hesitant to even commit to the Wii U version arriving this year; 2015 is the target, however. We're certainly familiar with the work of former Rare staffers Chris "Conker" Seavor and Shawn Pile, and this puzzle title has some gorgeous aesthetics and wit in early footage. A recent devlog video brought this right onto our radar, and we're looking forward to seeing more. Footage is the HD version.
---
Exclusively to the eShop on the New Nintendo 3DS, this is a title from Belfast-based Wee Man Studios. While at a glance the game might look a bit like F-Zero, you actually fly your craft up and down also, adding an extra dimension to the challenge.
---
This is speculative, due to rumours - but not confirmation - around potential delays to the HD version and no firm dates being given for the portable iteration. A 'spiritual successor' to the Mega Man series, this Keiji Inafune-led title also goes its own way with a modern art style and some nifty dash mechanics. We're excited to see whether this lives up to the potential that saw it become one of Kickstarter's biggest gaming successes. Trailer below for HD version.
---
Honourable Mentions
Let us know what you think of this list with a vote for your favourite in the poll below, while you can share views and post your own lists in the comments section.