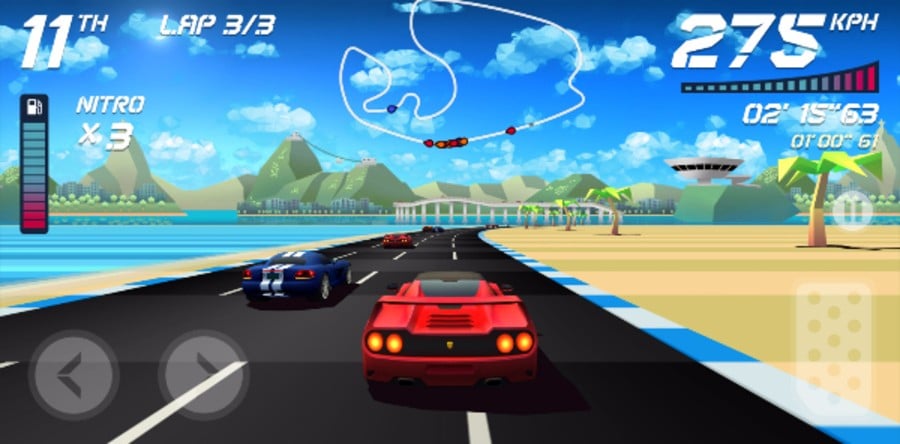 Top Gear is arguably one of the best old-school racing titles ever made, and Brazilian developer Aquiris Game Studio is paying the ultimate tribute by creating a spiritual successor in the form of Horizon Chase.
For those of you that don't remember it, Top Gear was a 1992 SNES racer coded by UK-based Gremlin Graphics - the same studio that created the critically acclaimed Lotus Turbo Challenge on the Commodore Amiga.
Published by Japanese firm Kemco, it received positive reviews at launch and was followed by two sequels. Horizon Chase is intended as a modern-day successor and aims to capture the same look and feel, but with improved visuals and audio.
Here's what Aquiris Business Director Sandro Manfredini had to say about the game:
We felt the need to play an old school racing title with simple but super thrilling gameplay, stylized graphics and vibrant music. We found that there was no game in the market that completely fullfilled our needs as players, so we decided to develop our own alternative, even recreating the technical limitations of the late 80s / early 90s racing games. Horizon Chase will offer a premium experience (no free to play), a huge variety of scenarios, all inspired on real world locations and allowing for crazy speed. Unlock new circuits, cars and upgrades, all to make a name for yourself in this competition.
For that additional layer of authenticity, Aquiris have enlisted Scottish musician Barry Leitch to compose the game's soundtrack. Leitch is the man behind the music of Top Gear, Lotus Turbo Challenge and the Rush video game series. Here's what he had to say:
It's quite surreal to find that a piece of your work is sort of famous in one particular country (Top Gear SNES / Brazil). It's even more surreal to see people take that work to the next level and play it live on stage or the hundreds of videos of people playing it on guitar youtube. I cannot explain what an honor it is to have that happen.
Aquiris asked me to create a new soundtrack in the spirit of the old Top Gear SNES music and not to be afraid to reference my other works, Lotus Turbo Challenge 2 or Rush 2049 (N64). 'Make it sound like the tunes you did 24 years ago, but re-imagined in the 21st century', they said. The title tune was the first I wrote for the game, so I went back and listened to my old Top Gear music, and I just started composing, letting the music write itself.

I added some more modern sounds, and given that playing the original has become almost a rite of passage for guitar players in Brazil, I went with a heavier, guitar / retro synth lead. While writing it, I would literally close my eyes and imagine Nino Megadriver playing it live on stage... It was fantastic to get to come back and re-imagine the soundtrack without all the original hardware limitations, but at the same time, really take advantage of the retro theme and create some new memories as the title tune is really just the start of the musical adventure I wanted to take people on...
While the final platforms are still to be determined (smart devices are almost certain, looking at the screenshots released so far), Aquiris PR manager Jesús Fabre reveals that everyone at the studio is a big fan of Nintendo, and we could see the game come to a Nintendo console in the fullness of time:
We've still to determine on which platforms the game will be released on, but be aware that no console system is discarded at the moment. We also have to adapt the game for PC/consoles, and add features that will make it unique and thrilling for that audience. Feel free to suggest modes, features or any element you would like to see in that more hardcore version, we're pretty open to hear the input of old-school arcade racers lovers.
What do you think of Horizon Chase? Would you like to see Top Gear get a sequel, even if it's not an official one? Would you buy this if it did come to a Nintendo system? Let us know by posting a comment.