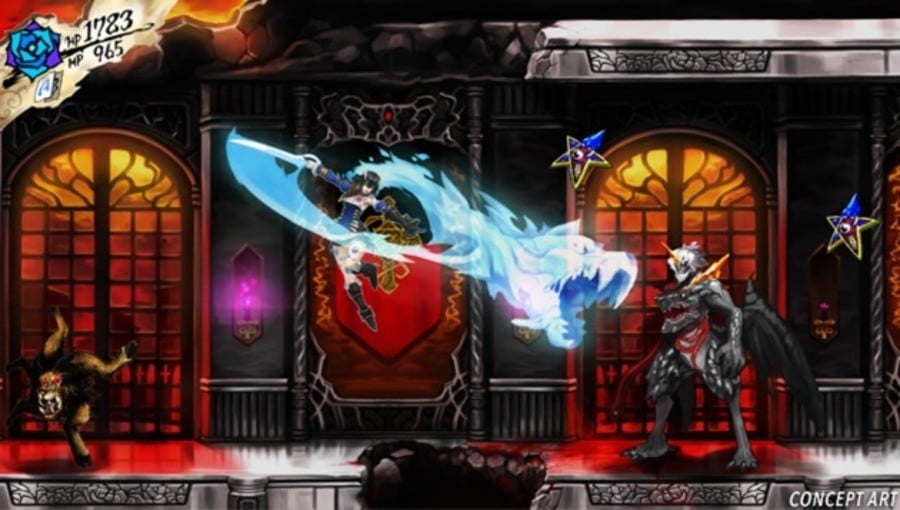 A couple weeks ago, industry veteran Koji Igarashi revealed his latest project to the world, Bloodstained: Ritual of the Night. The hotly anticipated game will follow the adventure of a character named Miriam as she explores a dark, gothic castle infested with a vast array of ghouls and ghosts. Obviously, it doesn't draw any inspiration from IGA's previous work on the Castlevania franchise (/sarcasm), but one decision that divided opinion was the fact that the game was initially skipping out on the Wii U. However, there was a tantalizing glimmer of hope that a Wii U port could be happening and it turns out that this is now a very real possibility.
Just today, a Wii U port has been confirmed as a $3 million stretch goal. Whether or not this will be hit is still very much up in the air, as that would mean roughly $250,000 will need to be pledged in a little over two weeks. Should the Wii U port come to fruition, it will be helmed by none other than Armature Studio, a studio of ex-Retro employees that have had experience working with the Metroid Prime games. Here's the full update from the Kickstarter page:
That's right: You've blown our expectations so far out of the water that we're ready and able to get started on a Wii U version.

During the campaign all of us who've been working to make Bloodstained a reality have been really touched by how many of you thanked IGA and the team for keeping stretch goals and tiers realistic. Kickstarters aren't just a way to sell merchandise and games, after all: They're a way to fund the development of the game we all want to play.

With that in mind, a lot of you have asked about ports—not just because you want them, but because you want to make sure that making them won't affect IGA's vision for the game. We have good news, and really good news.

The good news is, it won't: IGA and Inti Creates are going to continue developing the game as before, without compromise.

The really good news is how they're going to ensure it won't: At our next stretch goal Armature Studio will join the fray to handle the Wii U version.

If you haven't heard of Armature yet—and don't worry, you will soon enough—you've definitely heard of the work they've done: Armature was formed in Austin, Texas by a team of key developers from the Metroid Prime franchise, and since then they've worked with companies like EA, Konami, WB Games, Gearbox, and Sony to produce original games and HD remasters.
But we'll let them speak for themselves:

"When we were approached with the opportunity to assist with Bloodstained on Wii U, we were ecstatic. This style of game is one we are intimately familiar with from our Metroid Prime days, and it's exciting to once again put our familiarity with Nintendo hardware to good use. We have extensive remastering experience - our remastering projects include the Metal Gear Solid Collection for PS Vita, Injustice for PS Vita, and Borderlands: The Pre-Sequel for PS4/XB1. We look forward to the challenge of making sure that the Wii U edition of Bloodstained stands proudly with its brethren on Unreal Engine 4."
What do you think of Bloodstained? Do you think it'll make the jump to Wii U? Share your thoughts in the comments below.
[source kickstarter.com]