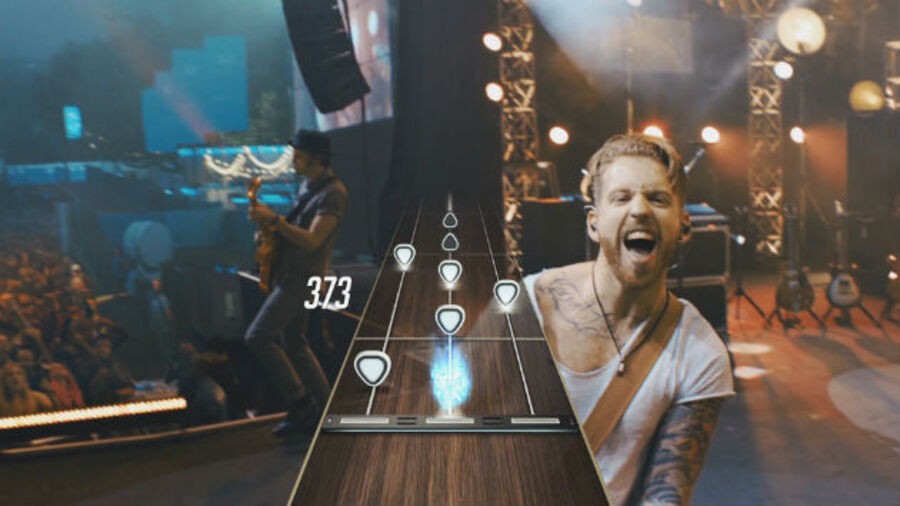 Activision has revealed the next game in the best-selling Guitar Hero series, and it's coming to the Wii U.
Guitar Hero Live is something of a comeback for the franchise, which became massively popular during the PlayStation 2 era but faltered during the last console war.
Coded by UK-based FreeStyleGames - the guys behind DJ Hero and DJ Hero 2 - Guitar Hero Live removes the 3D models of the original series and replaces them with context-sensitive, first-person FMV sequences which react to your performance and offer "a quantum leap forward in immersion and realism." Those of you old enough to remember the days of the Sega Mega CD and 3DO probably did a little bit of sick in your mouths just then.
Also new to this edition is GHTV, the world's first "playable" music network:
Guitar Hero Live also introduces GHTV, the world's first playable music video network. GHTV is a 24-hour mode that lets fans play along to a continually-updated collection of official music videos – across a wide variety of genres – from the newest releases to favourite hits. Fans can pick from multiple channels and themed shows, discovering new songs as they play, and can also choose songs to play on-demand. In GHTV, fans can also play with their friends in the same room and against players from around the world to see who has the highest score on a given song, while completing challenges along the way. GHTV is a living, breathing platform that serves as an ever-growing source for new music discovery while further bringing the party atmosphere back to the living room.
Guitar Hero Live will also be accompanied by a new guitar controller - shown below - which offers two rows of three buttons in order to "better reflect the way people naturally play."
As the press release puts it:
For beginners, you can feel like a rock star by mastering play with just the bottom three buttons. Medium-level players don't have to stretch their fingers down the neck of the guitar controller anymore and can instead skillfully play two-row combinations that mimic real chords. Experienced players have a new challenge in creating complex chord-like shapes and finger combinations that will bring new thrills to veterans. This simple innovation makes it easier for beginners to play and harder for veterans to master.
The game will naturally grant access to a wide range of songs, with the confirmed artists being The Black Keys, Fall Out Boy, My Chemical Romance, Gary Clark, Jr., Green Day, Ed Sheeran, The War on Drugs, The Killers, Skrillex, The Rolling Stones, The Lumineers, Carrie Underwood, Pierce the Veil and Blitz Kids. More announcements are expected prior to launch.
Later today, Pete Wentz of Fall Out Boy and Gerard Way from My Chemical Romance (or should that be "formerly of"?) will be joining Activision's Eric Hirshberg and FreeStyleGames' Jamie Jackson on-stage at the Best Buy Theatre to officially reveal the game.
Here's what Activision CEO Eric Hirshberg had to say:
Guitar Hero is a franchise that so many people love. Figuring out how to bring it back with true breakthrough innovation has been years in the making, and a labour of love. Guitar Hero Live lets people rock real crowds with real reactions. Our goal was literally to give people stage fright. And with GHTV, we have created the world's first live, playable music video network. All of it is playable on consoles, or mobile devices. Guitar Hero is back and better than ever.
As well as the Wii U, Guitar Hero Live is coming to the PlayStation 4, PlayStation 3, Xbox One, Xbox 360 and mobile devices.