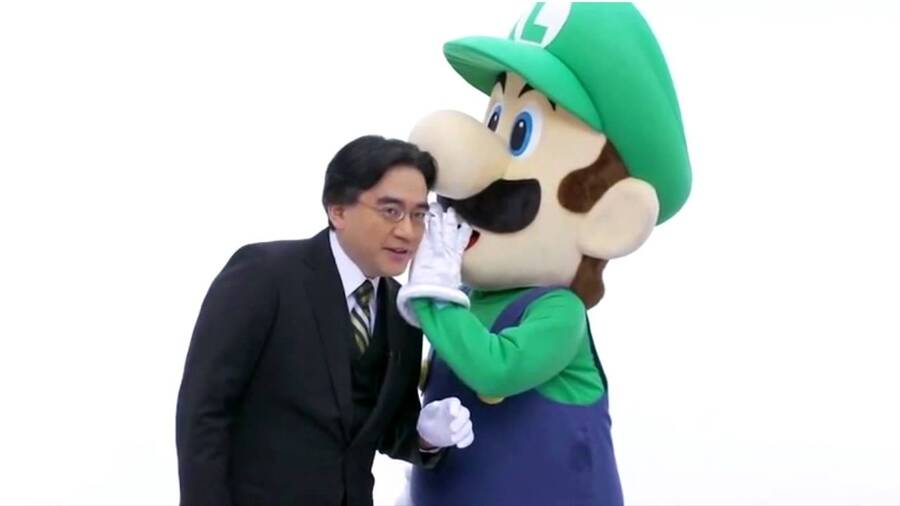 It's that time again, and before we start referring to this as the April Fools' Day Direct, let's remember that it's airing on 2nd April in regions and countries like Japan, Australia and CET parts of Europe. Nintendo will most assuredly be announcing plenty of real details, which is certainly worth getting hyped over.
So, what can we expect in this broadcast? Moving beyond rumours and leaks that have us deeply sceptical of their authenticity, there are plenty of updates that we can logically expect today. We're going to have the usual simulcast in Japan, PAL territories and North America - Satoru Iwata is expected to host segments common to the global audience, before cutaways to Nintendo of America and Nintendo of Europe. We'll be live blogging the North American and European streams, though most of our expectations are unified across regions. There'll be some minor differences, which we'll also account for.
We're trying to go for realism with the majority of these expectations, though may let optimism and hope creep in a little. Let's get to it!
Key Release Dates Up to Q3
We suspect, though may be wrong, that this could be the last all-purpose Nintendo Direct prior to E3. That'd certainly match the trend of last year, in which gaps were filled towards the LA extravaganza with game-specific broadcasts. If that's correct, or even if it isn't, we anticipate that Nintendo will outline the key retail release dates up to the close of June.
Splatoon is a notable title that's due an update on this score; there have already been rumoured leaks for the end of May, but we expect it to be pinned down today. It'll quite possibly get a decent segment in which it's shown off more, too, potentially revealing additional features. Much will depend on whether there are plans to give it a separate Direct of its own, which we can't know at this stage.
The remaining two titles that seem likely before the end of June are Mario Maker and Yoshi's Woolly World, with the latter passing largely under the radar of late. Yoshi's adventure made a brief appearance in a new amiibo TV commercial today, so it can't be far away, though it'll be a squeeze to see whether both arrive before 1st July. Interestingly, Europe's got more on its plate in terms of upcoming releases, with Code Name: S.T.E.A.M. and Kirby and the Rainbow Paintbush dated for May, so those will likely be shown off - at least briefly - in the EU stream.
As for the 3DS, its release slate is looking relatively quiet on the retail front, with dates for the few games on the way in the next 2-3 months already provided - the Puzzle & Dragons dual pack may be dated for Europe.
New 3DS Retail Game Details
Though any huge reveals will likely wait for E3, Nintendo may feel the need to flesh out its 3DS plans. It's not uncommon for the portable's retail releases to have a quicker turnaround from announcement to arrival than their Wii U equivalents, and there's no doubt the handheld's line-up at retail is incredibly bare in the West. We have some efforts from Atlus confirmed for North America, and LEGO games, but little else on the way that we haven't mentioned above. We can all point to a slate of solid and exciting Wii U experiences that are coming, but it's harder to do so for the 3DS.
What this'll entail is anyone's guess - localisations out of Japan are always possible, of course, though it's not infeasible to anticipate at least one new first-party retail game to make an appearance. Another good candidate to make an appearance is the new Fire Emblem, which is due this Summer in Japan; it's all about how far localisation has progressed for that project.
Also, we're fascinated to see whether any more New Nintendo 3DS exclusives are on the cards.
An eShop Showcase
Download-only games for the Wii U and 3DS eShop stores are likely to be featured heavily, once again. You don't need to be a rocket scientist to anticipate that BOXBOY! will land in North America today or tomorrow, with reviews (including our own) landing today. In Europe, meanwhile, the "available after this broadcast" line could be reserved for Azure Striker Gunvolt, with teases from Inti Creates practically confirming it for the region's Direct.
Beyond that, key releases will surely be showcased, such as the upcoming Wii U-exclusive Affordable Space Adventures, along with select others that will be highlighted for their exclusivity or quality. It's in the eShop where new reveals are often made, too, first and third party, so we could see new arrivals on that score.
Super Smash Bros. - Mewtwo, Tournies and Miiverse Stage
With the registration for the Mewtwo DLC closing on 31st March, now's a good time for a major update from Masahiro Sakurai. The development team has no doubt been diligently working on the new fighter and the promised online Tournies and Miiverse stage. These were all revealed prior to launch last year, and a suitable timeframe has passed for the game's first 'major' update to version 1.1.
Mario Kart 8 DLC Pack - Details and Release Date
It's easy to forget, but we're still due the Mario Kart x Animal Crossing DLC pack for Mario Kart 8 in May. We also know relatively little about what it'll feature, in contrast to the drip-feed of information that accompanied the first pack. We expect some - perhaps all - to be splurged on that today, with vehicles and tracks shown off.
There's Always Room for amiibo
When there's a Nintendo Direct, there's amiibo. Nintendo is likely to push its toys-to-life range heavily throughout 2015, so coverage for the figures could cover multiple angles. Re-iterated details on the confirmed and upcoming waves seem like a given, but more figures also seem likely. The march towards covering the whole Smash Bros. cast could continue with yet more waves confirmed in that series.
Beyond that, compatibility with upcoming releases will surely come up. Yoshi's Woolly World details seem inevitable since its compatibility was confirmed at E3 2014, while we'll likely find out definitively how accurate those Splatoon amiibo rumours have been. Will the shooter have its own toys, use existing figures for minor features such as outfits and guns, or not support amiibo at all? We may see, plus it's possible that more confirmed games will have compatibility revealed.
Star Fox... Maybe
Now we're dabbling with a couple of uncertain suggestions. We've commented on multiple occasions that the secrecy around Star Fox for Wii U can be interpreted as a brilliant way to build anticipation or an area of concern. We'd like to think that the curtain will be lifted a little today, and it's no surprise that faked leaks have this week featured this prominently. It feels like it's time to show something. A name, some footage, a segment in which Shigeru Miyamoto talks about its gameplay. It could have the full treatment reserved for E3, yes, but our instinct is that it'll nevertheless appear, in some form, today.
A New Wii U Retail Title - For the Holiday Season
This is another instinctive inclusion. It wouldn't surprise us if Nintendo had decided on pushing back The Legend of Zelda for Wii U a month or two ago, so has been formulating a plan B. Whatever the case, there are always more projects on the way than we know about - that's what E3 surprises are all about - and the delay to Zelda may have prompted an extra crunch and commitment of resources to another Wii U blockbuster. It could be an IP with more established mechanics and structure than the bold innovation that's sought in the new Zelda.
What could it be? Well, anything - Retro Studios (yes, we want Metroid Prime IV) and Next Level Games are still unknowns in terms of projects, or it could be a sequel to an existing Wii U release, while Animal Crossing seems logical for the system. That's loose speculation, we know, but the point is that there may be a sneak peak, to conclude the Direct, designed to thrill fans.
With E3 coming our thought is that it'd be an extremely brief teaser - quite literally ten seconds of a cutscene, a name and "coming 2015, more at E3" as a message. Naturally Nintendo may not go for that sort of pre-reveal bombast, but it'd be a potentially strong riposte to those saying it's not committed to giving the Wii U a strong fighting chance at the end of the year.
Finally, DeNA and Loose Details on the Club Nintendo 'Membership' Replacement
Yesterday was the last chance for Club Nintendo members in North America to register games for coins, and today the last ever Elite Status Rewards were revealed. The situation is fuzzier in Europe, yes, but it's pretty cut-and-dried in NA.
If the Club Nintendo replacement is to feature today, we think it'll be hazy on detail and only appear briefly. Nintendo only recently formally announced the partnership with DeNA, so it's unclear how long the companies have been actively working together - all we know is that DeNA's expertise in web services will see it heavily involved in the new Membership program. As it'll be tied across smart devices and consoles, it may be a brief mention with some headline details on some ideas for how it'll work. This is easily, however, the least likely of the expectations that we've listed here.
---
So there you have it, some key areas we think could be covered in today's Nintendo Direct, which is just hours away at the time of writing. What do you think will happen? Let us know in the comments below.
Don't forget: It all kicks off at 3pm Pacific / 6pm Eastern / 11pm UK / midnight Europe - join us for live streams with live blogging / chat, and news as it happens.