Choice Provisions remains one of the most admirably eclectic yet successful developers currently plying their trade in the download scene. After coming to prominence with the BIT.TRIP series on WiiWare and other platforms, the studio changed its name from Gaijin Games and has begun to establish itself as an effective publisher, in addition to making its own games. Wii U eShop fans have likely admired one of its most recent efforts that made it to the store, too - BIT.TRIP Presents: Runner 2 Future Legend of Rhythm Alien.
Through its increasing publishing duties and its own projects the name Choice Provision will likely become increasingly familiar in the coming years, and we caught up with associate producer Dant Rambo to talk over that name change, past, current and future games, as well as the inevitable question - would CommanderVideo kick butt in Super Smash Bros.?
Citing ethical reasons, you switched the company name from "Gaijin Games" over to "Choice Provisions" back in 2014. How has that transition been for the team a year out, and how does the change sit with you after some distance?
All things considered, the name change went really well for us. It was a challenge to get the word out at first, but it seems like everyone has figured it out by this point. That said, it turns out there's a whole lot of paperwork that comes with changing your name!
But even with what a pain it was, we definitely stand by our decision to change our name.
It's no secret that WiiWare has been a big part of the team's success. What can you share about your latest experiences with the eShop regarding both functionality and sales? How has it felt compared to the Playstation Store and Xbox Marketplace, and have you felt any of Nintendo's changes made for indie developers since WiiWare? If it were possible, would you make any additional changes?
We're personally happy with the eShop on both Wii U and 3DS. Our games have performed well on them, and Nintendo has been very good about helping us promote our game releases.

We're personally happy with the eShop on both Wii U and 3DS. Our games have performed well on them, and Nintendo has been very good about helping us promote our game releases and sales and such. No complaints there.
The biggest issue any marketplace has nowadays — at least in my opinion — is visibility. I personally feel that Nintendo has made a lot of great strides in this area, and I can't say we've ever encountered an issue where our games were buried or not easy to find in the store upon launch or anything. But your mileage could vary quite a bit in this regard, so it's certainly possible other developers have struggled more with this.
"Whoa, Dave!" has been featured in a few of Nintendo's indie sizzle reels. Talk us through the process of getting placed onto a Nintendo Direct.
Hmm. I wouldn't say there's too much of a process to it. I'm sure a lot of people have noticed that Nintendo has been trying to give more airtime to indie games in their Nintendo Directs. As an indie developer, we've really been able to reap the benefits of that. There are people within Nintendo who absolutely deserve shoutouts for helping champion indie games. Dan Adelman when he was there, and now Damon Baker (and many more). But it seems to me that Nintendo as a whole is trying to get behind indies more. It's great!
For those not familiar, can you explain what "Dragon Fantasy: The Volumes of Westeria" is, and what Nintendo fans can expect regarding a release?
Dragon Fantasy: The Volumes of Westeria is a classic RPG game inspired by the JRPGs of yore. It was actually developed by a studio called Muteki, and it's the first game we're releasing under the Choice Publishing moniker. Publishing games isn't entirely new for us, as we published a little game called lilt line on WiiWare. But it's something we've become far more serious about recently, and are actively pursuing new and interesting games to publish! In fact, you can expect us to release Shutshimi and Dragon Fantasy: The Black Tome of Ice on Nintendo platforms this year!
Can you tell us about Shutshimi, and how you came to publish this title from Neon Deity Games on Wii U?
We got really lucky with that one. We've known one of the guys from Neon Deity Games for a while now, and when we found out they were working on Shutshimi, it just so happened we were looking to get into publishing. It's a really great game. I'd go so far as to say there's no better game starring a goldfish. And if you know anything about me, you know that's about the highest compliment I could ever give something.
As a company still relatively fresh in publishing games from other studios, how have you found that process? What are the biggest challenges?
We're always looking at ways to improve, but we've also been lucky enough to have self-published some of our own games, which has given us a pretty decent crash course in how to release a game. But, again, we're paying close attention to what works and what doesn't, and changing our process accordingly. But having released lilt line in the past and more recently Dragon Fantasy: The Volumes of Westeria, we're starting to feel like a well-oiled game publishing machine.
Let's talk BIT.TRIP. Whose idea was it to get Charles Martinet, voice of the Mario Bros., onto the Runner 2 project, and how exactly did you go about making it happen?
There's a lot of stuff in Runner 2 that was birthed from us joking around the office. Good examples of this would be the fake ads in the game, as well as some of the characters (Reverse Merman!). The idea to get Charles Martinet came about in the exact same way. It began with us daydreaming about how awesome it would be to get him to do the narration, but we quickly realized that a few of the people at Choice Provisions actually knew him and it was totally possible.
He's incredibly awesome to work with, as I'm sure you can imagine.
There's a lot of stuff in Runner 2 that was birthed from us joking around the office. Good examples of this would be the fake ads in the game, as well as some of the characters (Reverse Merman!)


Do you see him reprising the role any time soon?
Anything is possible, and we would certainly love that. We actually had him narrate some promotional videos for our Good Friends Character Pack for Runner2, which was a blast.
The short answer is that we would love that. The long answer is that we would really, really love that.
After implementing Runner 2's cartoonish art style, do you see the team ever returning to the bit-trip style of retro-styled games, or is that in the studio's past?
Hm… Maybe! Never say never. We're not the type to rule things out completely, so this is certainly a possibility. If it's something people want, they should let us know!
We were shocked but not surprised to catch Commander Video while fishing in the mobile game Ridiculous Fishing. In fact, CommanderVideo is very well traveled within the game community. How does he keep finding himself in all of these games?
We were really excited about that!
It may not always seem like it, but the game industry is relatively small. On top of that, there are a lot of people at Choice Provisions who have been in the industry for a long time. A lot of friendships have formed in that time, and it isn't uncommon for indie developers to reach out to one another and request that their character have a cameo in their game or something along those lines. It's not that simple in the world of AAA games, I'm sure.
One of the most amazing cameos we've been able to wrangle thus far was CommanderVideo's inclusion in Super Smash Bros. for Wii U as a trophy. That's still something we regard as one of our biggest accomplishments.
Did you approach Nintendo? Them you?
We were the ones to approach Nintendo. We've always loved the idea of CommanderVideo showing up in a Smash Bros. game in some capacity, and thanks to our longstanding relationship with Nintendo, we were able to make it happen!
But yes, the "process" here was really just us emailing Nintendo a lot and being annoying.
A bit of nepotism here: do you have a favourite BIT.TRIP title from the series?
My personal favorite is BIT.TRIP VOID. There's something very zen about it to me.
But, as you can probably guess, I like them all quite a bit!
What's next for the company? Any big announcements?
We're currently hard at work on games called Tharsis and Laserlife. The former is a perma-death, turn-based strategy game about the first manned mission to Mars; the latter is a music game where players are tasked with restoring the memories of a dead astronaut. Both are significant departures from our previous work and we're really excited about them!
In fact, we've been talking a lot about bringing Tharsis to the Wii U! Stay tuned for more info about that.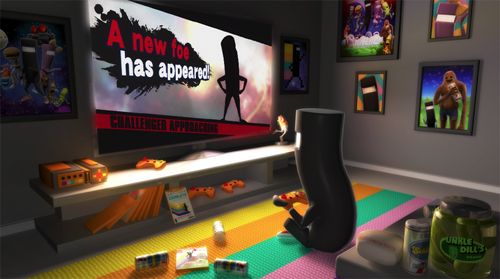 Onto a very important question – prominent indie developers have shared their desires to see characters like Shovel Knight and Meat Boy implemented into Smash Bros. via the "Smash Ballot" voting process Nintendo recently announced. Your media channels are similarly adorned with "Vote CommanderVideo!" propaganda.
Between Shovel Knight, Meat Boy, and CommanderVideo, who wins in a fight? Give us a Smash Bros. move set!
Ha! That is a dangerous question. We love Yacht Club Games and Team Meat. I'll just say that Shovel Knight, Meat Boy, and CommanderVideo would all be able to hold their own.
We've actually talked rather extensively about what CommanderVideo's move set would be, so just in case he ends up being a playable character in the game, I'm going to refrain from revealing it here!
Please vote for him!
---
We'd like to thank Dant Rambo for his time.