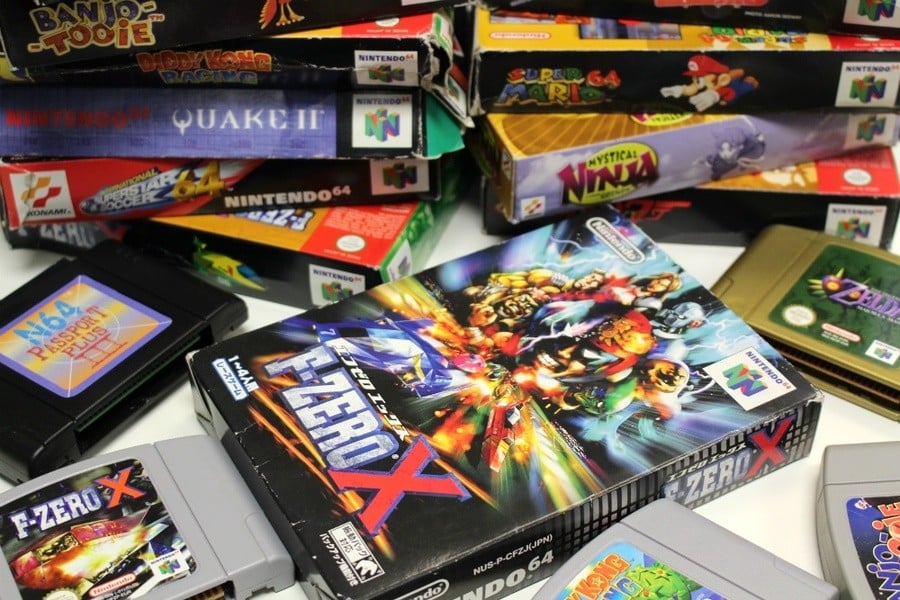 The Legend of Zelda: Majora's Mask 3D has now been in stores for over a week, joining compatriots The Legend of Zelda: Ocarina of Time 3D and Star Fox 64 3D on Nintendo's portable system. In some ways it's also the beginning of the home-straight for the handheld - if its generation is to be 5-6 years, we're perhaps heading into the last 18-24 months for the console. While OoT 3D and Star Fox came in the portable's first year, it's possible that a few more remakes will arrive to fill gaps and give Nintendo easy projects in the closing period of the system's era.
If that's to be the case, then Nintendo 64 games are good candidates for the remake treatment, with the technology in the 3DS being just-about meaty enough to spruce up the visuals and deliver solid framerates. The New Nintendo 3DS has more grunt, of course, with the exclusive Xenoblade Chronicles 3D being exhibit A - perhaps 'New' remakes we want to see are a topic for another day.
While we don't expect all of our suggestions to bear fruit, we're reasonably optimistic that more N64 remake goodness - even if it's just 2-3 games - will be bringing back more of the 'good' old days on 3DS. Let's also make one point clear though - we're listing games that have a chance. That means we've had to ignore much of the library, frankly, in some examples because Rare produced so many classics. That means no GoldenEye 007, Banjo Kazooie and many others from the famous studio. We'd love a bundle of Star Wars: Rogue Squadron and its GameCube successor, too, but just don't think it's realistic in light of Disney acquiring LucasArts.
Honourable mentions also go to Diddy Kong Racing - which had a DS release and just misses out - and others such as Paper Mario; we've left out the latter as we can't see the logic in its release when the portable's already had its own Paper Mario: Sticker Star. Wave Race 64 also missed out as this writer was out-voted...
So, below are five games we'd like to see on 3DS that could logically - even if it's only a sliver of logic - be re-made; some would be retail and a few, we suggest, could be useful eShop exclusives.

If this wasn't on the list your humble writer would have been in trouble with one of his bosses, with this first 3D F-Zero racer wowing fans when it was originally released. Much like Majora's Mask being a release of a game that originally required the Memory Pak, we'd love this to include the Expansion Kit that only saw the light of day on the 64DD system in Japan. Spruced up visuals, 60FPS and a track creation tool? We'd love that, and it would be a way for Nintendo to test the waters for the franchise without creating a whole new game - win-win, we hope.
This one's successor on the Wii is coming to the Wii U eShop, and these Treasure releases deserve all the exposure they can get. Not many will have owned this on Nintendo 64, and curiosity was sated somewhat with its Wii Virtual Console release, but this one could be glorious on the portable - polish the visuals (which have gorgeous design) and support stylus / Circle Pad Pro / New Nintendo 3DS C-Stick control options, and this could be one of the top action games on the system.
We considered a Stadium re-release, but with Nintendo seemingly keen to implement gyroscope controls in its three N64 remasters to date, surely this is a wonderful fit. It's probably pushing it to suggest an augmented reality (AR) addition, but at the very least motion controls for taking snaps could be used. This is a relatively one-note and short experience, so perhaps the eShop would be the logical destination. Rather like with F-Zero, it's a chance to see how the concept plays out with a current audience.
It was a battle between this and Wave Race, but the general absence of skiing titles on the 3DS won it a spot. We have a lot of nostalgia for this one, but again we'd suggest a download release due to the fact it'll need to work harder to win over those that are unfamiliar with it. In fact, download-only N64 remasters (just a few) could be a clever mini-series in the latter days of the 3DS. This is pretty harmless fun, with a download's worth of content, and we'd love to pay a reasonable (read DL) price to hit the slopes, race and try some tricks.

Now, before you slam us for this inclusion, let us follow up with a bit more blasphemy - the DS port (now over ten years old) wasn't a ideal remake. It did a lot right by adding new characters and fun minigames to showcase the dual-screen hardware, but it couldn't recreate the glorious controls and movement of the original. While we stuck with its alternative control schemes, we now live in the world of the Circle Pad and its Pro attachment / New 3DS C-Stick. If the visuals had another bump and Nintendo added full analogue control - for the character and camera - one of the greatest games ever made would have the remaster it deserves. Whether at retail or as a special download, we'd find it impossible to resist.
---
Those are some suggestions, but there are a plenty of games that were left out. Feel free to share your own N64 to 3DS dreams in the comments and vote from this list in the poll below; don't forget to check out our Nintendo 64x64 project from last year, too.
Which game on this list would you most like to play on 3DS? (462 votes)
F-Zero X

31%

Sin and Punishment

11%

Pokémon Snap

19%

1080° Snowboarding

5%

Super Mario 64

35%
Please login to vote in this poll.