We've seen some fun Nintendo Direct and New Nintendo 3DS rumours today, but this one is too irresistible to not share. Just bear in mind that this could be clever photoshopping, but if true the details will certainly cause a storm.
It's all in the design; the image below is doing the rounds as a marketing poster, most likely for GameStop in the US.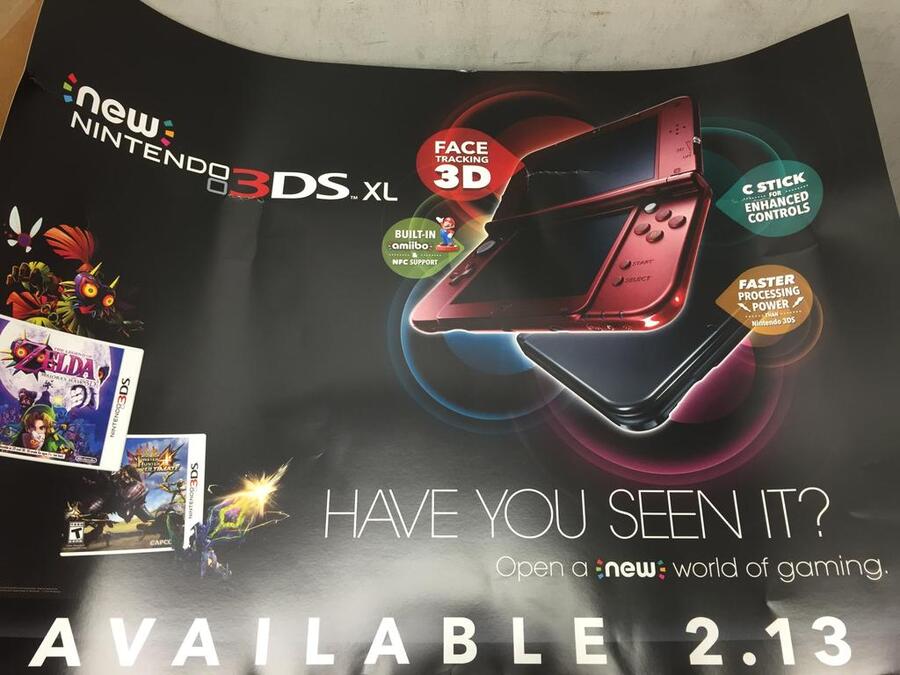 For starters, if true this suggests a Red New Nintendo 3DS XL for North America, with plain face buttons - rather than the Super Famicom-themed alternatives of the Japanese originals. The poster also shows no small models, but that may just be the focus of this particular marketing, so let's not panic over that yet. At the very least, the XL models on show are different from those up for pre-order from the likes of GameStop in Italy, as Europe looks set to follow the models release in Japan and Australia / New Zealand.
Also, this poster places both The Legend of Zelda: Majora's Mask 3D and Monster Hunter 4 Ultimate on display, suggesting they'll both arrive on the same day.
That release date on the poster follows up other rumours - which are logical - of a 13th February release date, which would give Nintendo a month to hype the release from the Direct and get a decent volume of sales into the books before the financial year ends.
Of course, this poster could be an opportunistic fake playing on rumours, but if it is true it certainly raises interesting questions. Not least the prospect that the hardware will have a different red design in North America, which would certainly be divisive.
If this is true - and it's a big if - what do you think? Sound off in the comments below.
[source neogaf.com, via tinycartridge.com]