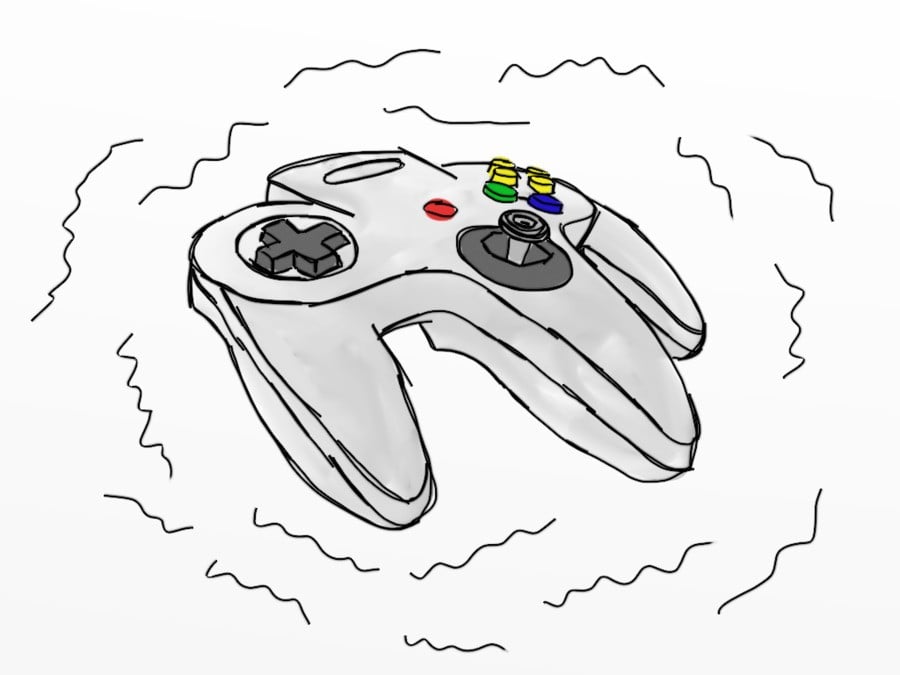 The Nintendo 64 controller is one that has fallen out of favour with some gamers – its outdated control stick and limited number of buttons leaves it and its parent system in a state of being old but without necessarily being seen by the general public as 'retro'. You could easily say the same for Sony's original PlayStation – they're old, but perhaps not old enough. To say the PlayStation's controller hasn't had an impact on how modern controllers are designed would be foolhardy, even if the fact that Sony's controllers arguably haven't evolved a great deal is often ignored. The N64's role in defining modern controllers is perhaps a bit trickier to see, but it's certainly had its own influence.
The N64 was released in 1996, and its three-handled input device was a sight to behold – not only did it have the comfortable long handles similar to the original PlayStation controller, but it had something that no other controller had quite managed to pull off effectively, a thumb-controlled analogue stick.
Analogue sticks had been around for a long time before the N64, but they were enormous, clunky peripherals that completely took up the use of a hand, which is hard on the wrist and easy to break with the full force of an arm behind it. Sega did release a controller with an analogue stick for the Sega Saturn, but due to the Saturn's short life, limited compatibility and the fact that the controllers were not bundled with the system, it was never successful. Game developers had little interest in analogue technology, instead preferring to use the digital directional pad which was cheaper and easy to use, but the N64 needed this input due to another aspect that brought the console into the limelight — full 3D games. The digital directional pad was good enough for simple 3D games or games that used such graphics but performed on a 2D plane, but Nintendo was really pushing 3D games as an important medium, and the old-fashioned D-pad just wasn't going to cut it.
Nintendo was placing a lot of faith in this new control method – especially given that Sega's attempt was a failure – and given that 3D games were such a new idea at the time there was no guarantee that consumers would appreciate an extra dimension in their living rooms. Luckily for Nintendo 3D gameplay wowed gamers, and it very quickly became the next fashion trend for games. Suddenly the 2D platformers that had dominated the previous generation were overshadowed by the complexity and realistic movement presented by games like Pilotwings 64 and Super Mario 64. Nintendo's gamble paid off — even if system sales were lower than predecessors, for a variety of reasons — and 3D gaming has become bigger than its 2D counterpart in many faculties today.
The eponymous controller also brought a number of other standard gaming conventions to the table. The expansion slot on the back of the controller allowed a number of peripherals allowing for all sorts of added gameplay mechanics. The biggest innovation to come from the expansion slot on the controller was undoubtedly the Rumble Pak – a lump of plastic that added half of the weight of the controller again in exchange for force feedback in certain games. This was the first time physical feedback had been used in a home console; despite the extra heft it gave the controller during gameplay it was extremely popular, to the extent in Japan that Super Mario 64 was re-released in 1997 with added functionality for the peripheral. These days you'd be hard-pressed to find a controller that doesn't offer this feature, with the exception of Microsoft's Kinect, as that would be unsettling.
There's a burning question that has been pestering gamers across the globe for years, however — why does the controller have three handles? The answer has never officially come to light, and whilst many younger gamers took the design for granted, it left many older gamers wondering. If we draw from what has been discussed above, it is entirely possible that the reason for the unusual design was simply as a safety net – no one had any idea whether or not 3D gaming would take off, and in order to make sure the N64 could perform as well as the competing consoles of the time it would have been very short-sighted for Nintendo not to also include an old-fashioned D-pad should the analogue stick have been poorly received. Nowadays we expect to have both available for a single position, but if the analogue stick was made redundant Nintendo would not have wanted a superfluous control method getting in the way of gamers' enjoyment; in order to make sure that there was no risk of this eventuality two hand positions and an additional handle solves all of these potential issues. It's not a new theory, but it's one that certainly holds water. Many people have grown rather fond of the peculiar design and some have even taken it to further extremes.
We owe an awful lot to Nintendo's three-pronged oddity, and if it were not for the risks it took and decisions made the gaming today may well be a very different experience — so thanks Nintendo, your gambles brought us to where we are today.
---
Don't forget to check out Nintendo 64x64, in which 64 Nintendo 64 games are reviewed over 64 days in just 64 words. 64 is the theme, as you may have guessed, and you can even contribute user reviews to each entry.