After devoting a lot of time earlier this year to the HD sibling of Super Smash Bros. for Nintendo 3DS, Masahiro Sakurai seems to have clicked into the fact that as the portable version arrives first, he should perhaps plug that the most in his "Pic of the Day" posts. That's been the case this week, certainly, with two new stages revealed for Paper Mario and Pokémon Black & White.
Sakurai-san has now used his latest Miiverse post to reveal an additional mini-game for the title, called Bomb Blast; it looks like a fun Angry Birds-style distraction — details below.
What's up with this bomb? This looks like the stadium for the Home-run Contest, but there's no bat. Once you touch the bomb, it begins to count down. Give it enough damage and launch it at the right time…then once the bomb's countdown hits zero…!!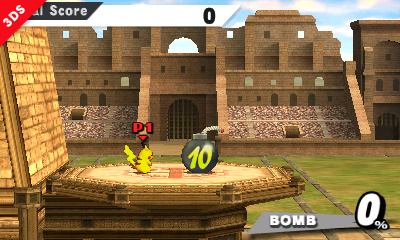 ...It goes BOOOOOM! Not only will the blast destroy targets, but it'll also cause a chain reaction by using shattered walls and bomb blocks--all of which contributes to you getting a high score!! This is a new activity that combines the concepts of Target Smash and the Home-run Contest--it's called Target Blast! Your final score is the total you rack up over two rounds. Of course, your Target Blast scores contribute to your Global Smash Power, too.
Do you like the look of this addition to Super Smash Bros. for Nintendo 3DS? Let us know in the comments below.
[source miiverse.nintendo.net]