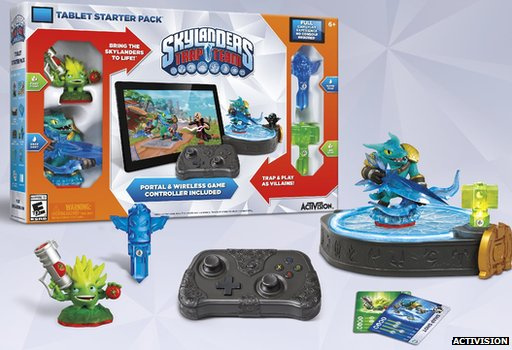 Skylanders Trap Team is the latest entry in the hugely popular series, published by Activision, with its arrival and new toy range expected to bring major sales to retailers. The title is coming to Wii U, Wii and 3DS, along with multiple other platforms, and the Wii in particular has often been a successful system for the series; Nintendo no doubt hopes to convert some of that sizeable audience across to Wii U.
Activision's latest announcement, however, is sure to make Nintendo, Sony and Microsoft rather nervous. Though the franchise has had some apps and separate games on smart devices, the full Trap Team game is now coming to tablet devices. Parents will still have to put down cash for the Starter Pack — pictured above — which will cost £65 in the UK; it'll come with a bluetooth enabled portal — in which a tablet can be clipped — and a special wireless controller designed for children, along with two toys and Traps. The app will be free, which is irrelevant considering the Starter Pack is required to get anything out of the game, and there will be touch controls as alternatives when not using the controller.
As mentioned above, this will be the full console game, apparently comparable to the Xbox 360 and PS3 versions, with versions on iPad, Android tablets and Amazon's Fire range; the danger for consoles is that many households have a relatively modern tablet device available, and this strips away the need for owning a console to keep up with the franchise. Paul Reiche, president and co-founder of developer Toys for Bob, said the following to BBC.
We know we have a huge audience of kids that are gaming almost exclusively on tablets.

I feel like this is a legitimate audience for us to address. We really wanted to make sure that we could invest and give a complete 'triple-A' [big budget] choice that is one-to-one with our consoles.
Of course, Nintendo is bringing its amiibo range — with its alternative model of toys working in multiple games — to the market this year, while Disney Infinity 2.0 will also be competing. With Skylanders being such a valuable release to the console manufacturers, however, this smart device release — and the precedent it sets — could be rather worrying.
[source bbc.co.uk]