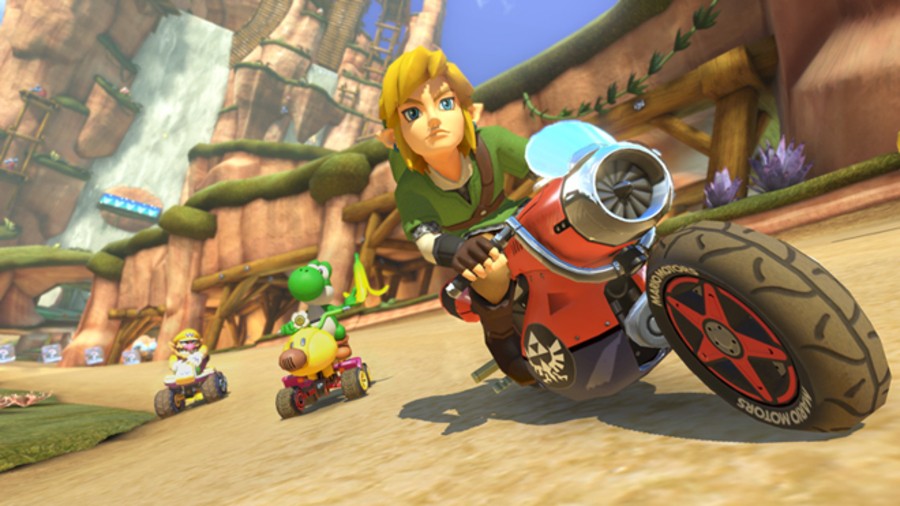 Update:
Nintendo of America has now issued a press release confirming the details outlined below. It provides the exact same detail, while also confirming US prices of $7.99 for each individual pack or $11.99 for the double pack.
Original Article:
A listing on Nintendo's UK online store has revealed that Mario Kart 8 is getting DLC packs which will bring new characters, courses and vehicles to the game.
Two packs are promised, which both contain two entirely new cups with four courses each. It would appear that new courses will include some based around F-Zero, Excitebike and Animal Crossing. In the UK, the packs will retail for £7 each, while a double pack with both sets of DLC will be £11.
Here's the official skinny taken from the online store listing:
Each Add On Content pack will contain two new cups, each with four courses, which, in total, increases the number of available courses by 50 percent. The Add On Content packs include classics like Wario's Gold Mine from Mario Kart Wii, as well as new courses, some taking place in the worlds of The Legend of Zelda and Animal Crossing. New vehicles will also arrive with each pack, including the Blue Falcon kart representing the F-Zero franchise in the first AOC pack.

Mario Kart 8 Pack 1 - Released: November 2014

Pack 1 includes:

3 Characters: Tanooki Mario, Cat Peach, Link
4 Vehicles
8 Courses

Mario Kart 8 Pack 2 - Released: May 2015

Pack 2 includes:

3 Characters: Villager, Isabelle, Dry Bowser
4 Vehicles
8 Courses

As a bonus for purchasing both packs - as a bundle or separately - you can get eight different-coloured Yoshis and eight different-coloured Shy Guys that can be used right away.
How do you feel about the chance to race as Link or pilot the legendary Blue Falcon? Let us know by posting a comment below.
[source store.nintendo.co.uk]