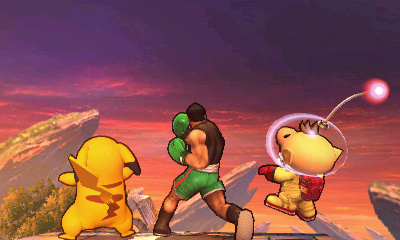 While Super Smash Bros. for Wii U is hogging a lot of attention, there's the not-insignificant factor of the 3DS version arriving first — it graces North America and Europe on 3rd October.
While Nintendo UK will have the portable brawler playable at HYPER JAPAN later this month, Nintendo of America is going so far as to run a special tournament during San Diego Comic-Con on 25th July. This will even be broadcast on Nintendo's official Twitch channel — details from the press release are below:
Fans are invited to come to the Nintendo Gaming Lounge at the Marriott Marquis & Marina located at 333 W. Harbor Drive (adjacent to the San Diego Convention Center) for a chance to participate.
Starting at noon, there will be a preliminary round in which groups of four competitors battle it out, with the winner advancing. During the finals, players will duke it out one-on-one to determine the top smasher. Tournament slots are limited, and fans will be able to sign up the day of the event on a first-come, first-served basis.

For fans not able to attend San Diego Comic-Con, tournament action will be streamed live on Nintendo's Twitch channel at http://www.twitch.tv/Nintendo. Additional Nintendo Gaming Lounge activities will be announced in the future.
Will you be trying to go along and compete, or like us watching the action unfold online? Let us know in the comments below, while you can also check out our first impressions of Super Smash Bros. for Nintendo 3DS.