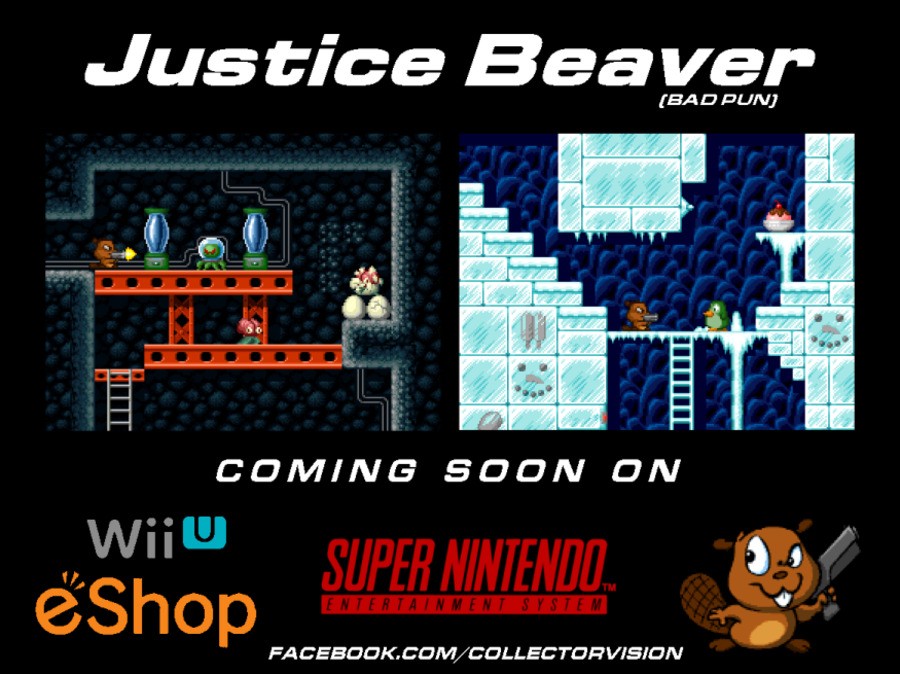 Retro-inspired video games have to be authentic, and the team over at Collectorvision knows this.
Since 2008, Collectorvision has been developing, publishing and manufacturing a quality line of new but retro-inspired home-brew releases for classic video game systems of yesteryear.
Now, with years of experience, its latest release Justice Beaver will grace Nintendo platforms. Only this time, it'll give gamers the best of both worlds being a modern Wii U title, and a retro Super Nintendo release.
Yes, you read correctly. A new game being simultaneously released for both new and old Nintendo systems. Does it get any more exciting than this? Perhaps only at a Justin Bieber concert.
The developer has gone as far as saying the plan is to have Justice Beaver "as a SNES Virtual Console game", but in worst case the title will be a regular Wii U eShop release. Somehow, it seems unlikely Nintendo will permit such a request, but weirder things in the land of Nintendo have happened before.
The true beauty of this dual release is that if you've got a SNES around the house gathering dust, you can whip it out and go on a nostalgia-fuelled trip. Else, if you're a hip and happening cool cat who has embraced the digital age in all its glory – dropping the console relics of the past – you'll be able to instantly download this to your Wii U system and experience the game in a modern resolution.
One last thing worthy of note is Collectorvision's other upcoming projects Sydney Hunter and the Mayan's Revenge for the NES, and Sydney Hunter & The Caverns of Death for the SNES, which are both coming out later this year, appear to have a bit of an Aussie flavour – boomerangs and all. This writer loves it.
Maybe with a bit of luck (and some rabid fanboy efforts) we can have this project carried across to Nintendo's eShop library as well. Going by this previous game announcement, it's appears likely that NTSC-U, NTSC-J and PAL formats should all be on the cards for the SNES iteration of Justice Beaver.
Thanks to Ryan Millar for the tip!
[source facebook.com, via nintendoeverything.com]