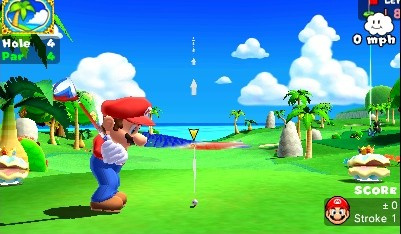 With Mario Golf: World Tour now gracing 3DS and 2DS systems around the world, we decided last week to launch our first NLife Open tournament; hit up that link for the full details. As explained in that article we'll be running two contests a week, the second voted for by you, and a day later than planned here are the results of your voting and the details to hit the tees.
A little surprisingly, those of you taking part so far have been slightly cautious in your selections. Below are the choices that you made.
Seaside Course
Stroke Play
Regular Tees
All characters
No items
No Club Slots
Coins enabled
Normal wind
Not the boldest of choices, but the community has spoken. We hereby declare the first NLife Masters open — it'll run until Friday 16th May at 3pm UK time / 10am Eastern. Below is the tournament number and instructions on how to find it.
Tournament Number — 51-8617-3020-0103
To access it go to "Quick Round Mario Golf", "Tournaments, "Private Tournament", "Search by Code" and then enter the tournament code above
So there you have it — the results and winners for both the NLife Open and NLife Masters will be announced on Friday 16th May, along with details of the next tournament. Enjoy!