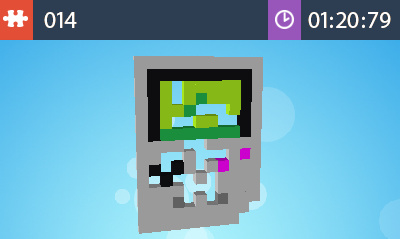 Hugo Smits, the man behind Goodbye Galaxy Games, has been in touch to confirm that he has a treat on the way for puzzle fans with a 3DS. His latest eShop title, Tappingo, will be reduced by 30% from 1st to 15th May — in this period it'll cost €1.99 / £1.75 / $1.99.
As is expected of titles from the developer, it takes some established ideas and applies a fairly unique twist. In this case the puzzle solving has elements of Picross, yet images are completed by filling in entire rows; there are over 100 puzzles to tackle. We awarded it 7/10 in our review, saying that "Tappingo's price tag makes it easy to recommend to anyone who thinks they'd enjoy its brand of pixel puzzling".
A new trailer has been released to promote the upcoming discount, so check it out below and let us know whether you're tempted to make the jump in next week's download update.