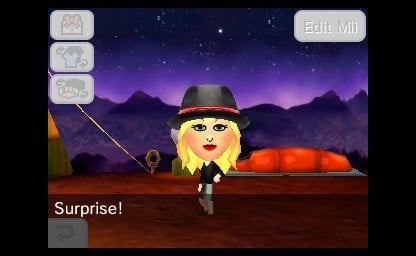 Earlier today Nintendo unleashed the utterly barmy and brilliant Tomodachi Life Nintendo Direct broadcasts in Europe and North America, also confirming a 6th June release in both territories. They're worth a watch, and certainly show how the quirky Mii life-sim could become an indispensable part of the 3DS library this summer.
Nintendo of America, for its part, has confirmed that it's signed up singer Christina Aguilera as a celebrity guest in the region. Her Mii will be available in the game and she'll appear in promotional trailers — you may know her as a star that sings very loudly and also appeared on The Voice as a tutor.
Below is the official blurb and some screenshots.
Even your far-fetched celebrity dreams can come true in Tomodachi Life. If you have ever wanted international superstar Christina Aguilera to join you in a sing-off, or believed that she would become BFFs with your cousin or wished she would perform a song with your customized lyrics, it could happen here. The multi award-winning singer has signed on to be a part of Nintendo's promotional campaign for the game, and her Mii character will be available at launch. Aguilera's Mii character also will guest star in a TV commercial and in online videos that show all the exciting things that happen when celebrities mingle with Miis players know personally. Additional celebrities involved with Tomodachi Life will be announced over the upcoming weeks.
Aguilera's Mii makes an appearance in a new trailer released by Nintendo, which gives an idea of how this title will be marketed. You can check that out below, while sharing your delight — or otherwise — at the singer's appearance in the game.