Over the many weeks of daily screenshots from Masahiro Sakurai on the Super Smash Bros. Miiverse Director's room, those desiring the 3DS version may have felt that the Wii U iteration was getting shown a lot more love. That was probably the case, though in recent times Sakurai-san has posted more images of the portable title, and today has revealed a new stage that's likely to excite a lot of gamers.
It's Lumiose City from Pokémon X & Y.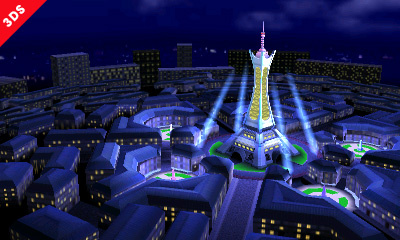 Sakurai-san's accompanying message also suggests that this attractive setting could be a fun scene for a brawl.
Pic of the day. The Prism Tower rises above Lumiose City. Up until a few seconds ago, the fighters were brawling on top of that tower. No, really.
It looks like the 3DS version of this title will incorporate a number of the biggest hits on the system, with Animal Crossing: New Leaf's Tortimer Island also confirmed recently.
Are you excited about the appearance of the Kalos region's city? Let us know in the comments below.
[source miiverse.nintendo.net]