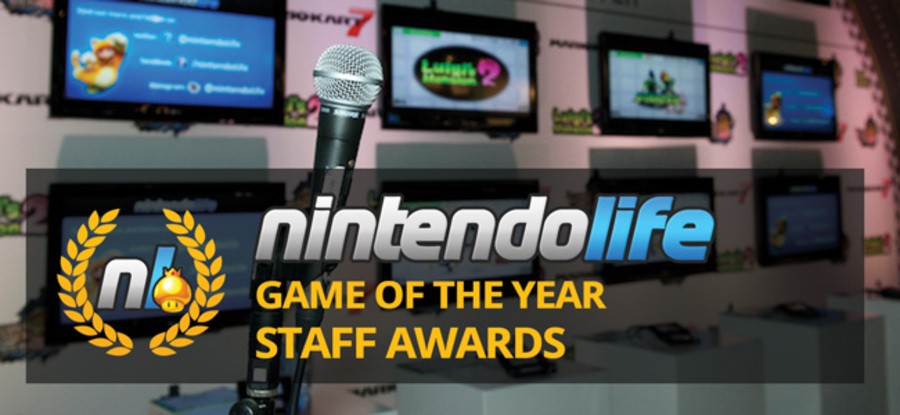 As 2013 draws to a close it's time to look back and consider which games we enjoyed the most, and then heartily debate the results. It's Game of the Year time, and first up we have the Nintendo Life staff votes.
The categories for the site's staff were the same as those in the community votes, though the results were calculated in a slightly different way.
The three major awards at the end of this feature necessitated ten picks in descending order, with the top game in each individual's list receiving ten points, the second nine points and so on.
All other categories necessitated five picks, with the same principle of the top game getting five points, the second receiving four etc.
All votes were tallied up with this points system.
In a move that's perhaps unique to the circumstance of being Nintendo gamers, we also have categories to recognise the best third-party retail games, separate from first-party contemporaries. With major releases on Nintendo systems being dominated by games from the big N, we thought it important to also highlight the best offerings from other publishers. We also have categories for the Virtual Console platforms — VC games weren't permitted in the eShop and overall voting, but these retro gems certainly deserve some recognition for their role on the 3DS and Wii U.
Finally, as is always the case with our staff votes, some games suffer from circumstances. Primarily, some fantastic games are available in Europe but not North America and vice-versa, and this limits the potential votes, lowering their odds against games available worldwide. We have a transatlantic team so potential casualties in votes are games such as Professor Layton and the Azran Legacy, Bravely Default and most titles published by Atlus.
Finally, we call these "Staff Awards" as we certainly don't claim them to be outright Game of the Year awards as drawn up by a Royal Committee of writers locked away at a remote retreat to deliberate on the outcome. Or to be less silly, it's simply a reflection of the team's overall favourites, accommodating the fact that we've all bought, played and prioritised games to our personal tastes. That's why we have a votes / points system. It's democratic, and an aggregate of the team's favourite games of the year.
We also have your community votes, of course, which may tell a different tale, we'll find out on 31st December!
So, enough pre-amble, let's get to the awards.
---
Wii U Retail First-Party Game of the Year
This category may not have had a lengthy list of candidates, but it had plenty of quality. It also included Wii Fit U— due to its physical release in Europe — and a couple of games published and funded by Nintendo, such as LEGO City Undercover (as opposed to games published or marketed by Nintendo but with development financed elsewhere). Those were tricky decisions but, ultimately, the winner was in little doubt.
Not really a surprise, as the latest 3D Mario title has been acclaimed by many that have played it, hoovering up GOTY awards, too. Terrific fun in single and multiplayer, with breathless creativity throughout, it's another masterpiece from Tokyo EAD.
Second Place: Pikmin 3
Third Place: The Legend of Zelda: The Wind Waker HD
Wii U Retail Third-Party Game of the Year
The Wii U, despite popular opinion, had some excellent third-party offerings this year. Not many were exclusives, that was undeniable, but they helped to flesh out the year's lineup, particularly in the second half of 2013. The winner in this category romped away in the votes, despite a troubled path to release...
Originally a Wii U launch window title thought to be an exclusive, Ubisoft angered fans when it not only announced that the game was going multi-platform, but that the release would be delayed to ensure a release across all systems at the same time. When it arrived it was a stunning platformer, however, though the PR disaster of its early days perhaps damaged its reception and perception among Wii U owners. That's a pity, as it's a treat.
Second Place: Monster Hunter 3 Ultimate (Capcom)
Tied Third Place: Deus Ex: Human Revolution Director's Cut (Square Enix)
Tied Third Place: Need for Speed: Most Wanted U (Electronic Arts)
Wii U eShop Game of the Year
This category is for download-only games, or those associated as such — New Super Luigi U and DuckTales Remastered were included in this voting. While 2014 may bring a greater volume of exciting games to the console's eShop, the year just past did deliver some quality for us to enjoy, with the eventual winner running away with the prize.
If we had a strangest game name prize it would certainly have been a candidate, but it's picked up the far more lucrative Wii U eShop GOTY gong. The BIT.TRIP series was hugely popular on WiiWare and in its eventual retail bundles, and a number of the Nintendo Life team clearly felt that this sequel to the Runner entry pushed all of the right buttons; it even had the voice of Mario, Charles Martinet, as its star.
Second Place: Wii Sports Club: Bowling (Nintendo)
Third Place: DuckTales Remastered (Capcom)
Wii U Virtual Console Game of the Year
Virtual Console games aren't eligible for the eShop or overall awards, but the platform is nevertheless an important part of Nintendo's consoles. The arrival of the VC on the Wii U has had its ups and downs, from giddy highs of long-awaited releases and massive discounts to some duds and release gaps. Overall though, some retro games have excited us, with our favourite likely to surprise no-one.
We've already described this game's arrival and the manner of release as one of the highlights of 2013. The RPG had been on wishlists since the Wii Virtual Console, but reports of licensing and copyright problems seemed to cloud the issue. Whatever the ultimate reasons, its release on the Wii U was an event in itself.
Second Place: Super Mario World (Nintendo)
Third Place: Super Metroid (Nintendo)
3DS Retail First-Party Game of the Year
In what has been an outstanding year of software for the 3DS, this was one of the most fiercely contested categories, with Nintendo delivering terrific content throughout 2013. Sticking to a top three also means some high-profile games missing out in our staff vote, with the quality of those missing a testament to the standard of the winners.
An impressive results for the latest Zelda title, considering its arrival late in the year and some staff voting before receiving the game as a festive gift. It says much for its impact on those that have played it that it still came top with relative comfort, picking up maximum points from multiple members of the team. It may be based in the same world as the iconic The Legend of Zelda: A Link to the Past, but it stands up to scrutiny all on its own.
Second Place: Animal Crossing: New Leaf
Third Place: Fire Emblem: Awakening
3DS Retail Third-Party Game of the Year
Quite possibly the most fragmented of categories, as the volume and quality of the third-party 3DS library depends a fair bit on the love of specific genres or, perhaps, whether or not you live in North America. The range of Atlus games passed the EU-based team members by, for example, and our winner is a surprise, narrowly edging out a title that perhaps suffered due to some opting for a Wii U version.
Every set of annual awards has a decision that's hotly debated, and this one may attract some heat. Some fans of Konami's franchise simply do not like this series or the combo-based gameplay, as examples; yet some of the Nintendo Life team were fans of this one on Nintendo's portable. If you warm to its style it can be a fun adventure, while the use of stereoscopic 3D was particularly impressive.
Tied Second Place: Monster Hunter 3 Ultimate (Capcom)
Tied Second Place: Etrian Odyssey IV: Legends of the Titan (Atlus)
Third Place: Shin Megami Tensei IV (Atlus)
3DS eShop Game of the Year
Another tightly fought contest, again reflecting a breadth of excellent games on the 3DS. The eShop has continued to flourish with some excellent releases in 2013, with a lengthy list of games receiving voting points; download-only games with retail-level prices did struggle for consistent votes, however. The final outcome was extremely close, with the musical nature of some of our staff members tipping the scales, but only just.
This is product of a development policy encouraging staff creativity at the studio behind the main Pokémon series. It's bright and cheerful rhythm music gameplay, with some high-profile cameos to help it along; its charm and wonderful soundtrack helped it to win the prize by just two voting points.
Second Place: SteamWorld Dig (Image & Form)
Third Place: Attack of the Friday Monsters! A Tokyo Tale (Level-5)
3DS Virtual Console Game of the Year
The 3DS Virtual Console has brought us a number of NES games, it's true, but also retro delights previously only available to those with retro collections. Thankfully, with the Game Boy and Game Boy Color library steadily growing, we get the chance to visit some portable gems, with the results showing that these delighted the Nintendo Life team the most, albeit with one NES title joining in.
We'll admit that combining these two releases can be up for debate, but such was their prominence and the nature of these titles best being owned together, that it seemed apt; staff voting for these games instinctively grouped them together. We've already had a modern Zelda victory on the 3DS, but these excellent Game Boy Color games shouldn't be disregarded, and provide a valuable portable Zelda education for those yet to dive in.
Second Place: Shantae (WayForward)
Third Place: Mega Man 2 (Capcom)
Overall Wii U Game of the Year
We've split up the Wii U games into various categories, so this vote brought all retail and eShop games (apart from Virtual Console) together. The winner was in little doubt, but the two runner-up positions were keenly fought, with one breaking the first-party monopoly.
The second award for this one, making it our staff's favourite Wii U game of the year.
Second Place: Pikmin 3 (Nintendo)
Third Place: Rayman Legends (Ubisoft)
Overall 3DS Game of the Year
Like its Wii U brethren, this combined all new titles on the 3DS, and also reflects the first-party dominance of the handheld in the past year. This category showed that, sometimes, first-party truly does rule the roost on Nintendo systems.
A second award for the latest Zelda game on the 3DS, as it proved sufficiently legendary to us.
Second Place: Animal Crossing: New Leaf (Nintendo)
Third Place: Fire Emblem: Awakening (Nintendo)
Overall Game of the Year — Wii U and 3DS
When combining all games across the Wii U and 3DS, statistical logic would point to a 3DS winner, with the handheld enjoying monster sales and an impressive range of major releases. Gaming isn't always logical, however, and Nintendo saved its finest work for late in the day, delivering a platforming masterclass that comfortably won our staff vote.
Not top of absolutely every staff member's list, this was nevertheless a runaway winner and number one for quite a few. It'll perhaps go down as one of the strangest progressions for a game — its E3 reveal was slightly underwhelming, early preview builds were fun but relatively safe, before Nintendo unleashed a wave of reveals, new footage and exciting preview builds that suddenly changed the message. It was critically acclaimed but, far more importantly, seems to have created plenty of joy for Wii U owners that have taken the plunge. We'll learn in the coming weeks what kind of impact it's had at retail, but what perhaps matters more to us at this time is that it's simply a fabulous experience, and a worthy Game of the Year winner.
Second Place: The Legend of Zelda: A Link Between Worlds (Nintendo)
Third Place Place: Animal Crossing: New Leaf (Nintendo)
---
So those are our staff's awards for 2013. We'll be revealing the results of your community votes on 31st December, in which we'll see which games have most excited you over the past year. In the meantime let us know what you think of these results in the comments below.