Nintendo has various corporate and promotional partnerships, and one of the most recently announced by Nintendo of America is a collaboration with Southwest Airlines. As the "official video game partner" of the company, Nintendo is setting up Wii U Gaming Lounges in some major airports until 22nd December, in which waiting passengers can try out games such as Super Mario 3D World.
The lounges will be set up in the following airports — Dallas Love Field, Chicago (Midway), Denver, Atlanta, Tampa Bay and St. Louis. Naturally the launch of any major promotion needs an appearance by Mario, and the mascot showed up to give free Wii U systems to "more than 100 passengers on flight 1883 from New Orleans to Dallas Love Field" — good deals on those flight tickets. With any such shenanigans come promotional pictures, in which Mario looks rather dapper.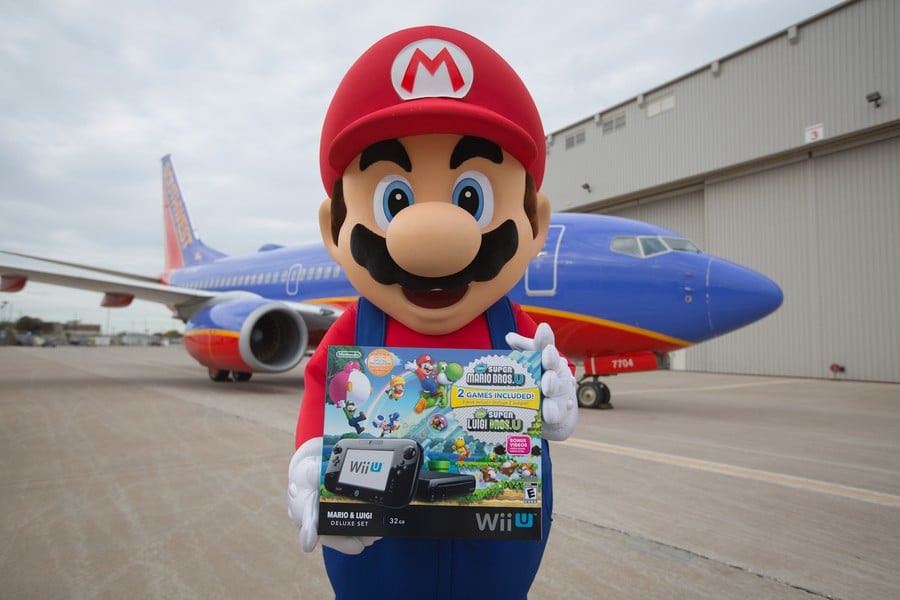 Gamers in the U.S. should probably also check out the daily Wii U and flights giveaway at www.southwest.com/nintendo — this will run up until 25th December.
If you happen to fly through one of these airports it may be worth checking out these gaming lounges. The rest of us can just picture the awkward hilarity of an oversized Mario outfit squeezing into a high-visibility jacket. It's all for a good cause, Mario.