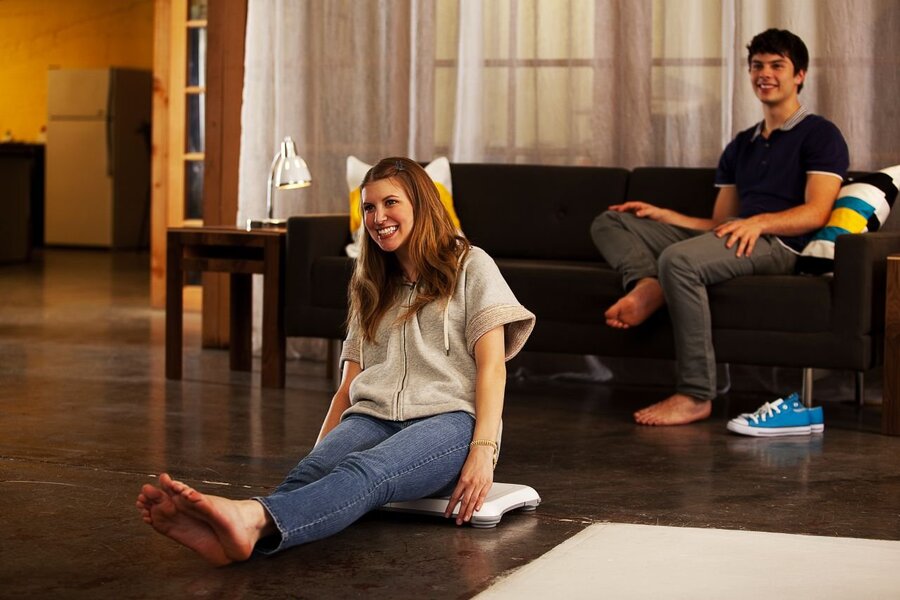 Many people in the world claim video games are partially to blame for rising obesity levels, with individuals disregarding physical exercise in favour of a round of Mario Kart or a bout of Call of Duty, but there are doctors and scientists out there who say playing active games such as Wii Fit can certainly help keep people healthy.
Gaming has changed a lot over the last few years, with more people getting into it than ever before. For example, some individuals who had never really played games before were attracted to the Wii and its range of movement-based games that anyone could play. Wii Sports is a game that resonated well with players of all abilities, and soon enough living rooms became more about standing up and moving around. Before long people started implementing these games into their daily lives to boost their activity levels.
Speaking to U-T San Diego, Dr Michael Moreno, a primary care physician at Kaiser Permanente, said in a perfect world "outdoor activity is best, but anything that promotes movement is beneficial",
I don't think it's about pills, pullups or pushups. It's about movement, not exercise.
He pointed to active video games and said titles like Wii Fit provide fantastic starting points for a more active life, as they offer people fun games they are interested in while promoting a full range of motion. Essentially, people can have a good time playing the games and get a great workout while they're at it.
There have been a number of studies suggesting that these games get kids and adults motivated to get off the couch and start moving, Video gaming is a platform for a more vigorous life.
Dr Julie A. Ellner, the medical director of the Bariatric Surgery Program at Alvarado Hospital Medical Center, told the publication there is a distinct correlation between playing games and adult weight loss:
Video games are helpful for parents with small children at home, have childcare issues, and must work around their schedules, so they work out at home.
There are also those who are aged between 40 and 60 who need toning programs and use things like Wii Fit to give them that opportunity in their own living room, while anyone who struggles to get out of the house can inject more movement into their lives using the software. Of course, gym environments can be daunting places for those who want to tone up or lose a few pounds so playing fitness-based and other active games can give them the exercise they want, but with nobody else around.
Ellner observed how Wii Fit brings in a personal trainer that keeps you on track, while the system retains a record of things like balance and weight loss or gain. She recommends individuals use games that promote cardio and toning and Wii Fit and the upcoming Wii Fit U come complete with a range of exercise programmes that work on several things. For example, using yoga, players can improve their flexibility and balance, while the strength training options allow you to tone up the key areas you want to work on.
In regards to children, these active video games have been found to give a slight boost to physical activity levels at home.
Indeed, an Australian study published in July by BMJ Open, as reported by WebMD, found replacing passive games with active ones affected the activity levels of children aged 10 to 12 in a positive way.
The test saw participants go without all gaming for eight weeks (the poor souls), followed by eight weeks of being allowed to play passive games and then eight weeks of active games.
Physical activity levels didn't vary a whole lot during the 24 weeks, though during the final eight-week period the children's daily activity levels increased by around three minutes, while sedentary time dropped by just over six minutes. This may sound small but the researchers said these slight increases in activity are in fact significant in light of the rapidly increasing levels of exposure youngsters are having with electronics and technology:
While our study focused on the home setting, school offers another opportunity for more active technologies such as sit-stand desks or active-input electronic media as part of lessons.
Many local authorities around the world are looking for innovative ways to keep children fit and healthy and implementing active games could help youngsters improve their lives while having fun.
This is already happening in some US cities and the American Alliance for Health, Physical Education, Recreation and Dance partnered with Ubisoft earlier this year to develop a curriculum using the publisher's Just Dance titles in elementary, middle and high schools across the country.
Lesson plans were integrated into the existing programmes during the Fall 2012 semester and saw more than 1,200 students from 16 states get their groove on. Some 96.8 percent of teachers at the various schools said they believe Just Dance has the potential to improve the fitness levels of their students, while 93.5 percent of them plan to continue using it as part of the curriculum.
The students who took part reached an average of 56 minutes of moderate-to-vigorous physical activity using Just Dance during a 90-minute class. Importantly, over 90 percent of the students in the pilot scheme liked or strongly liked playing the game. This means they'll have fun, be social and improve their fitness all at the same time.
Playing more active titles such as Just Dance 2014 and the upcoming Wii Fit U and Wii Sports Club, means people are able to become more active while simultaneously enjoying themselves. Gaming is no longer exclusively played with a controller that requires no movements further than your fingers and thumbs, as the Wii proved so successfully in 2006.
Even the more "traditional" games that include some form of motion controls seem to promote activity; it would certainly be interesting to know how many calories you can burn off playing Donkey Kong Country Returns for an hour, what with all the ground pounding and rolling you can do when playing with the Wii Remote and Nunchuk — we're willing to bet it's more than it was when Rare's Donkey Kong Country emerged on the Super NES in 1994.
So whether it's boxing on Wii Sports, lunging on Wii Fit U or throwing some shapes on Just Dance 2014, active games are here to stay and they're helping millions of people get a bit more movement into their lives, which is vital in the quest to stay fit and healthy.
[source utsandiego.com, via webmd.com, blog.ubi.com]