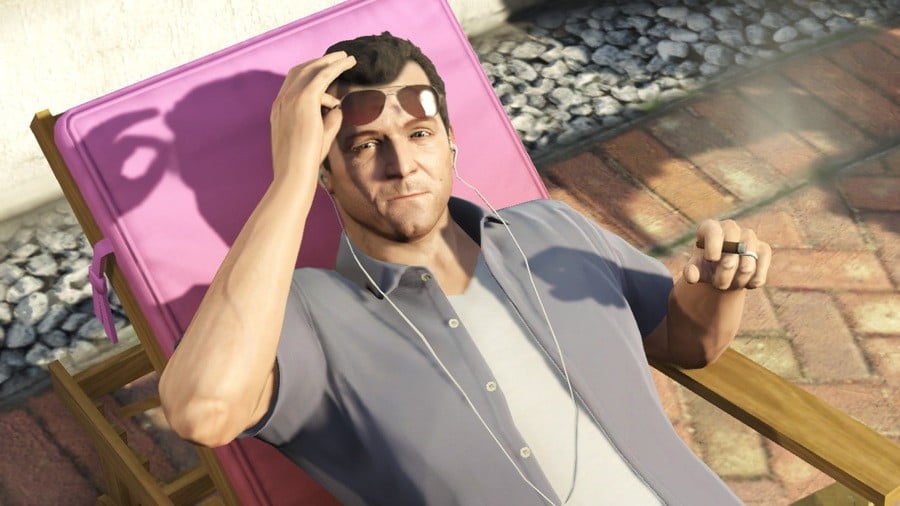 This week sees the release of Grand Theft Auto V on PS3 and 360 — but, alas, not the Wii U. But of course, you already knew that, because unless you've recently taken up residence beneath an exceptionally large rock, you'll have found it absolutely impossible to avoid hearing about Rockstar's next million-selling epic — it's everywhere you look, including some rather unexpected and unpleasant places.
Personally speaking, I've had a very on-off relationship with the Grand Theft Auto series. I found the PlayStation original enjoyable but flawed; it captured my attention for a time, but never enough to ensure that I actually finished it. I totally bypassed the London-based expansion pack and the second 32-bit outing, but was drawn in by the groundswell of hype which accompanied the arrival of the franchise on the PlayStation 2. Grand Theft Auto III was remarkable because it popularised the "sandbox" genre, giving you an entire world to explore and interact with in any way you saw fit. I'll admit now that I ploughed many hours into that title, occasionally completing missions to push the story forward but mainly driving around performing insane stunts and committing all kinds of mischief.
It's at this point that whatever affection I had for the series essentially ended. I ignored the two direct sequels — Vice City and San Andreas — not just because they struck me as being a little too similar to Grand Theft Auto III, but because I was becoming increasingly uncomfortable with the subject matter. Grand Theft Auto IV was the straw that broke the camel's back — like everyone else, I picked it up in 2008 expecting big things, but the next day I had traded it in. I could appreciate the technical scope of the title, the sumptuous visuals, open-ended gameplay and involving story, but it simply wasn't a game I was ever going to enjoy. The focus on criminality disturbed me — it seemed wrong to be garnering any kind of enjoyment or entertainment from the questionable acts committed by Niko Bellic. Games rarely make me feel uncomfortable, but Grand Theft Auto IV did — and then some.
Despite the bombastic arrival of Grand Theft Auto V, my feelings towards the franchise haven't really changed. I guess that as a married father of three in his mid-30s I'm arguably not the game's target audience, but even so I fail to see how anyone can extract any genuine pleasure from extended torture sequences where you're expected to pull out someone's teeth and electrocute them to gain information, or feel anything but shame by visiting a virtual strip club. The latter point is particularly bothersome, especially when the industry is trying to accommodate female players as much as possible and avoid sexist and misogynistic themes in games.
Grand Theft Auto V simply doesn't resonate with me on any level, and I'm not the only one, either — former Rockstar producer Jeremy Pope has publicly stated that he'll never work on violent games again and that he was ashamed to admit to people he had worked on the series. It's also good to know that amid the flood of positive reviews, there are those brave enough to call the game out for what it truly is — GameSpot's Carolyn Petit may have awarded it 9/10, but she also branded it "politically muddled and profoundly misogynistic", adding that the game had little room for female characters outside of "strippers, prostitutes, long-suffering wives, humorless girlfriends and goofy, new-age feminists we're meant to laugh at." Many within the industry may rally against sexism, but I fail to see how they can be comfortable with playing a title as shamelessly sexist as this.
As Nintendo fans, some of you may be joining me in my Grand Theft Auto V boycott this week — but not necessary through choice. Rockstar's game has skipped Nintendo's console — despite rumours that it would be coming — which means Wii U owners must look jealously on as the Grand Theft Auto juggernaut steamrolls onto rival platforms. There's no denying that the Wii U needs more games, and getting a title of Grand Theft Auto V's standing wouldn't have done the system's fortunes any harm. However, there's another open-world title looming on the horizon that is arguably much more worthy of your undivided attention: The Legend of Zelda: The Wind Waker HD.
Our review of Nintendo's HD remaster goes live tonight at 11.01pm UK time / 6.01pm Eastern U.S., and having spent a considerable amount of time in the company of this game I can assure you that Link's ocean-going adventure is certain to make you forget about Grand Theft Auto V's release and its no-show on the Wii U. It's a game which taps into your sense of adventure and desire to explore, rather than pandering to your darker side and expecting you to perform heinous acts in the name of entertainment. While Rockstar's game will undoubtedly become a critical and commercial success — the review scores are already insanely high — it's not a game which would have felt particularly well-suited to a Nintendo console; the critical failure of Grand Theft Auto: Chinatown Wars on the DS is proof of that. On the other hand, Wind Waker provides a level of enjoyment which can be experienced and appreciated by everyone, irrespective of their age or gender.
---
What are your thoughts on Grand Theft Auto V? Were you hoping to see the game on the Wii U, or will you be playing it on another console? Perhaps you feel the same as Damien and can't stand the series, or maybe you've been a fan since day one and feel that video games shouldn't be confused with real life? Whatever your stance, make sure you post a comment to tell us — and the rest of the Nintendo Life readership — what you really think.