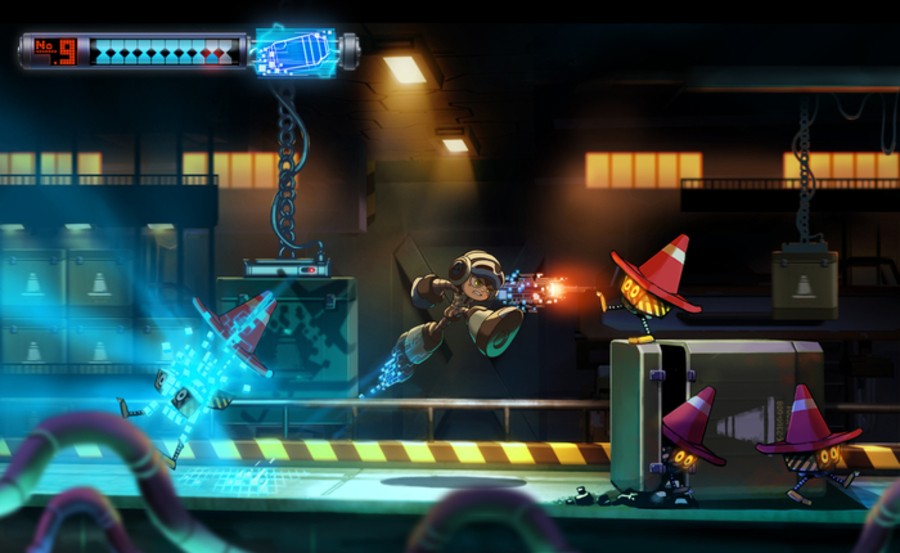 Capcom may be content to allow Mega Man's 25th birthday to pass without a brand-new adventure, but creator Kenji Inafune has taken matters into his own hands and is attempting to make a spiritual successor to the Blue Bomber via Kickstarter.
Mighty No.9 is Mega Man in all but name, featuring a familiar premise (you're a robot who can steal the weapons and abilities of enemies) and similar art style. However, while Inafune is clearly looking to exploit his connection with Mega Man, this new game does boast some fresh ideas — most notably the main character's ability to reconfigure the arrangement of his limbs to create new gameplay possibilities. For example, you can bolt a magnet onto his arm to grip to walls or install spring-loaded Inspector Gadget-style hands to activate distant switches.
Inafune's involvement will surely be enough to have Mega Man devotees reaching for their wallets, but it's worth noting the depth of talent with the comcept USA team. Game designer Naoya Tomita has worked on several Mega Man titles — including the original game, Mega Man 2, 5 and 6. He was also involved with Mega Man Legends 3 before it was cancelled. Character designer Kimo has worked on Capcom classics such as Darkstalkers, Street Fighter Alpha and The Legend of Zelda: Minish Cap, which Capcom co-created alongside Nintendo. Composer Manani Matsume was responsible for the soundtrack to the original Mega Man, while Art Director Shinsuke Komaki is another long-time Capcom staffer and has worked on Mega Man X3 and the Battle Network titles.
Inafune and his team are looking to secure $900,000 to produce the game on PC, but if $2,500,000 is raised then PS3, 360 and Wii U versions will be unlocked. At the time of writing the project has gained almost $300,000 from just under 5,000 backers with 30 days remaining. The game is currently slated for a Spring 2015 release.
We can imagine that Mega Man fans are probably going crazy right now — this is the kind of thing Capcom really should have done with character to properly celebrate his birthday. Will you be investing? Do you think the project will reach the lofty Wii U stretch goal? How do you think Capcom feels about this venture? Leave a comment to share your feelings on Mighty No. 9.
[source kickstarter.com]