When Wii U was preparing for launch, a good number of gamers were particularly excited about Rayman Legends, at one time a Wii U-exclusive launch title. Unfortunately for those eager fans, both promising selling points fell by the way-side, with an initial delay to Spring 2013 being extended to September, along with the game going multi-platform. It was a blow to those looking forward to the game and, perhaps more so, to fans anxious to see the Wii U perform well off the back of must-have exclusives.
With its new shipping date now clashing with a busier release window on the system, on top of some ill will, Legends perhaps has some ground to make up with Nintendo gamers. It'll make a start with a free eShop-exclusive challenge mode this month, and it should be noted that if we were hyped about this game's potential before, we still should be — publishing decisions don't change the fact that it's been roundly praised for its demo and preview builds.
We were keen to know more about the challenge mode that's on the way, and how the extra development time has been put to use. We've spoken to Emile Morel, Lead Game Designer on Rayman Legends, who's filled us in on the details.
---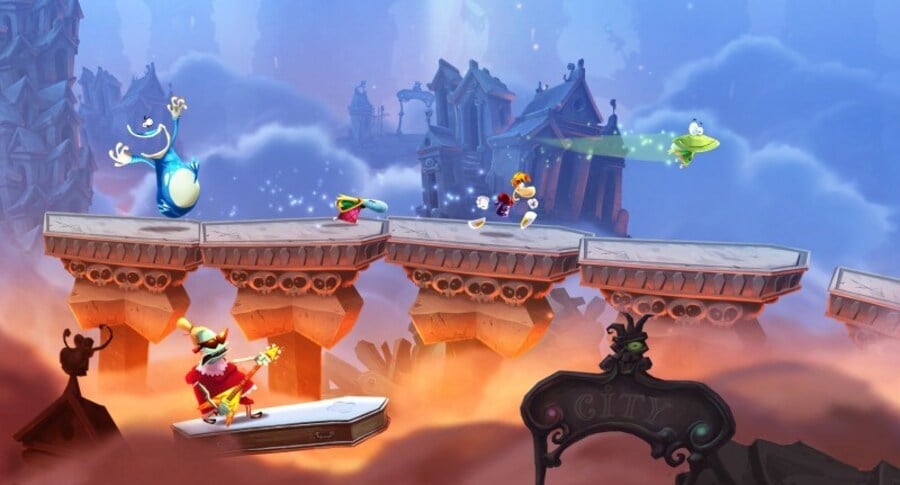 Nintendo Life: Thanks for joining us Emile. Following the delayed Wii U release of Rayman Legends, a Challenge Mode was announced as a standalone free download on the Wii U eShop. Could you tell us more about that, and is it still due in April?
Emile Morel: End of April, we'll release the Rayman Legends Challenges App on the Wii U eShop. This totally free application contains the online Challenge Mode of Rayman Legends. In this game mode you'll find Daily and Weekly Challenges to compete with your friends and players from all around the world!
The Challenge Mode showcases exclusive challenges, including:
a crazy run in Land of the Livid Dead.
a journey in the vertiginous Neverending Pit.
a climb of the Infinite Tower as fast as possible.
Murfy's Dungeon, a challenge dedicated to the Wii U GamePad where you play as Murfy on the touch screen.
Every day and every week, new and totally exclusive levels are randomly generated thanks to our brick system designed to build these challenges. So every day when you connect to this application you discover a new challenge.
This application will give players many hours of fun! And we, members of the Rayman development team, can't wait to play these challenges with all the Wii U owners!
NL: With the daily and weekly challenges in this download, how long will this level of content be supported?
EM: The Challenges App will be supported until the release of the full game. So players will have several months to enjoy this free application! The Rayman dev team will provide some exclusive tips and tricks for Wii U owners on Miiverse and on Facebook, these tips will help you improve your scores in the different challenges! We'll also organize contests between our fans and the Rayman dev team.
NL: Will there be an advantage to taking on challenges in local multiplayer with others helping on the GamePad screen, or will there be separate leaderboards for single and multiplayer?
The challenge called Murfy's Dungeon is really fun in local multiplayer with one player controlling Murfy on the Wii U GamePad screen and the other one controlling a classic character on the TV. If the two players correctly synchronize their actions they can make great scores! But we made sure that if you play solo you can do the same scores, since the learderboards are the same if you play alone or with friends.
However only the normal Daily and Weekly Challenges allow local multiplayer, as you play along you will unlock the Daily and Weekly Extreme Challenges: these 2 challenges are harder and dedicated to players who love competition, they are only open to single-players to make sure all players are equal in the leaderboards.
NL: Is the multiplayer local only in this challenge mode, or will it be possible to play with others online?
The whole Challenge mode is based on the fact that you're always playing against other players online. So in a challenge you always see the ghosts of the players who are just ahead of you in the leaderboard. This pushes you to always try to beat them, and this can also help you because you can learn new tricks by watching how the other competitors are playing. At the end of the challenge the game shows you who you managed to beat and who is still in front of you. Your ultimate goal is to climb all you way up in the leaderboads to be one of the few players who will win a Diamond Cup at the end of a challenge!
NL: Is there likely to be an additional online mode included in the multi-platform release later in the year?
EM: It's a bit early to talk about that, we have to release the full game first!
NL: The delay of the Wii U edition of Rayman Legends did cause quite a bit of ill-feeling among Nintendo fans - many of which had the game pre-ordered. Do you think this could have an impact on how the game performs commercially on Wii U?
We understand why Wii U owners were angry about the delay, and we're really sorry about that. But I think that when they will see the final game they will understand that the delay was worth it!
EM: We understand why Wii U owners were angry about the delay, and we're really sorry about that. But I think that when they will see the final game they will understand that the delay was worth it! We're taking advantage of these few extra months to add a lot of new content to the game. In the end this will be the biggest Rayman game ever!
NL: Has the delay allowed you to improve the game? If so, can you give examples of how?
EM: Like I was saying we added a lot of new content in the game, including very impressive 3D Bosses that the players will have to face at the end of each world, and also many new levels that will really boost the overall length of the game! Some of these levels play in a new and different way, offering a lot of diversity to the game.
NL: Can you quantify how many levels or features have been added as a result?
EM: We're talking here about more than 30 levels!
NL: Rayman Legends is arguably built around the Wii U GamePad. How have you adapted the game for PS3 and 360?
EM: On Xbox 360 and PS3 we decided to keep Murfy as one of the main characters and one of the new features of the game. We think we found a good way to adapt Murfy's gameplay to 360 and PS3 and will detail how later, so stay tuned!
NL: Has porting the game to the 360 and PS3 presented any technical challenges?
EM: I'm not working on the technical side of things, but I don't think our engineers encountered many issues when porting the game on PS3 and Xbox 360. But that's probably because they're really good at what they do.
NL: Can the Wii U edition be considered the "definitive" version, thanks to its GamePad functionality?
EM: The gameplay experiences will be different on each platform in the Murfy levels, but what is sure is that only the Wii U version will offer a touch control of Murfy. And this is possible thanks to the Wii U GamePad. In the final game you'll see that we're really showcasing all the cool ways to use this controller in a fun and rich experience. One of the great things on the Wii U version is also the possibility to play the full game only on the screen of the Wii U GamePad if you want, without the TV!
NL: What is the rough split between platforming stages and Murphy touch stages in single player mode?
EM: In single-player mode you'll have to play with Murfy in less than 20% of the game. But in multiplayer you'll have the possibility to play with Murfy in almost every level of the game.
NL: Will there be an option to play single-player levels on the Wii U Pro Controller or Wii Classic Controller, for those that prefer to focus on platforming rather than Murphy stages?
EM: In single-player mode we want players to experience the touch gameplay with Murfy. It's really a brand new to play a Rayman game and there's a lot of variety and some serious challenges in these levels too. Also these levels offer some nice breaks in the adventure, just like the Moskito levels did in Rayman Origins.
NL: We've already had some fun with Black Betty in the demo – can you give us a hint of what other sorts of music we can expect to hear in these rhythm-platforming levels?
EM:You can expect to have more covers from very famous songs in the other musical stages. What would you say about a cover from a very famous 80's song?
NL: Does Rayman Legends feature in-game Miiverse integration, such as prompts to boast about beating a level or a friend's challenge mode score?
EM: Yes the game contains Miiverse integration. You'll be able to directly access it in the game at strategic moments to post your best scores or your biggest achievements, so the whole community can see them. But as you'll see in the Challenges App, the game also includes its own messages system: thanks to information scrolling at the bottom of the screen you'll always know what your friends are doing and what's happening in the competition related to the challenges.
NL: Is online co-operative play planned for the main retail release?
EM: It's a bit too early to talk about that.
NL: With Rayman Legends, what would you say is the main change, or evolution, from Origins?
EM: The main evolution from Rayman Origins is clearly the scope and the diversity of the game. Rayman Legends is really a huge game including many things: 3D Bosses, new worlds, many new characters, dedicated Murfy levels, musical stages, online Challenges Mode, and even more things we haven't revealed yet. This will offer you more than 20 hours of gameplay to fully complete the game, and infinite hours of fun in the online Challenges.
NL: And finally, are there any discussions around a third title in this 2D Rayman series at the moment?
EM: The whole dev team really loves Rayman and its crazy universe, so we really hope that Rayman and all his friends will be back soon!
NL: Thank you very much for your time Emile.
EM: You're welcome, it was a pleasure!
---
We'd like to thank Ubisoft and Emile for this interview. What do you think about the details of the Challenges App coming to the Wii U eShop later this month, and are you encouraged by the extra content being added as a result of the release delay? Let us know what you think in the comments below.