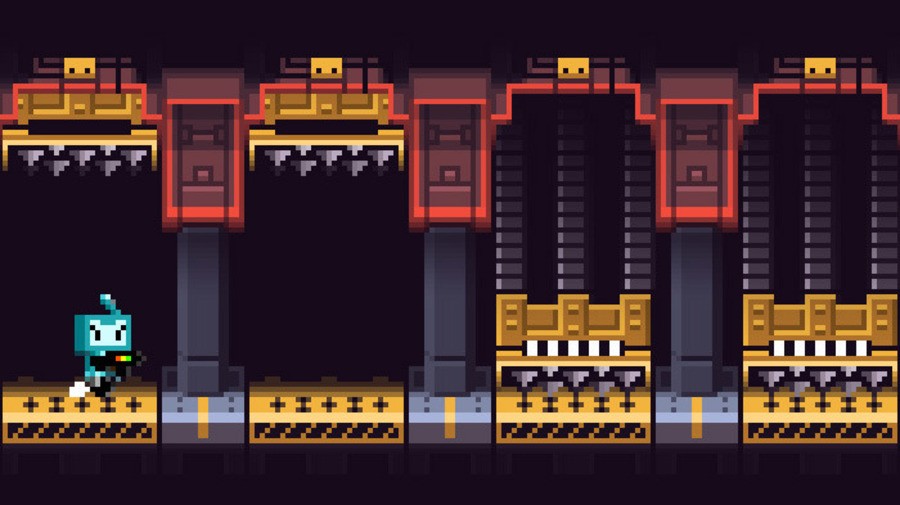 There have been a fair amount of developers who have started up a Kickstarter campaign to achieve some funding over the last few months and one that has recently started up is for a game called A.N.N.E, which draws inspiration from a handful of classic games.
Described by the one-man developer Moise Breton as a "Metroidvania-style platformer with a unique focus on open exploration" A.N.N.E features gameplay similar to Mega Man, Gradius, Cave Story, Contra and of course Metroid.
The game stars Number 25 who must explore a 2D world fighting monsters, picking up upgrades and leveling up along the way. You're equipped with just a blaster but you can always call upon your ship The Great Whale to assist you with enemies or obstacles that may be stopping you from progressing. It makes you wonder why Samus didn't use her ship more!
It's the 16-bit art style that will grab the attention of many and the pixelated robot characters are very similar in look to those in Cave Story. The level designs are nice and simple and the chiptune soundtrack gives the game a nostalgic feel.
A.N.N.E is currently down for a PC release but there are a few stretch goals that if reached could see it come to a host of others, including the Wii U.
Should it reach $90,000 Mac and Linux versions will be made, $145,000 gets you a PSN and Vita version and $180,000 will bring A.N.N.E to Wii U - well they are called stretch goals and that is one heck of a stretch.
We think this game looks very interesting, but whether it'll ever see the light of day on Wii U remains to be seen. At the time of writing it's managed to muster $32,895 of its $70,000 target. There are 25 days to go yet, so who knows maybe it will rake in $180,000 - only time will tell.
Would you like to see A.N.N.E make it to Wii U? Let us know your thoughts on it in the comments section below.
Thanks to Luke Pinion for the tip!
[source kickstarter.com]