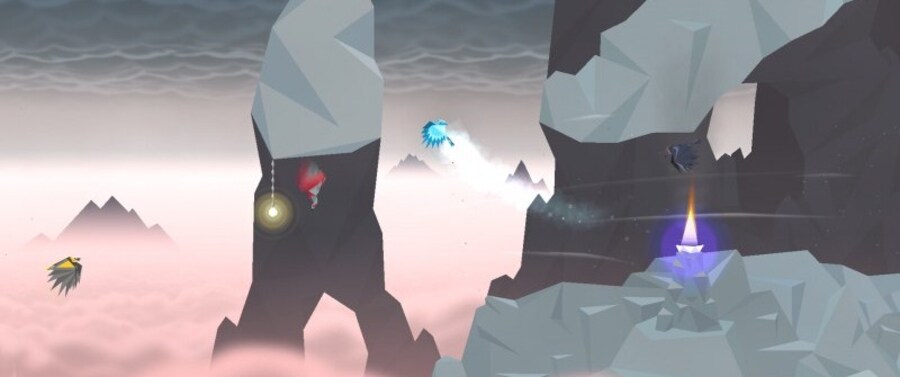 It's Monday morning, so once again Nintendo of Europe is starting the week with the news of what we can expect in this week's Download Update. There's a demo and sale of a recently updated launch release on Wii U, various 3DS offerings and a one-button runner from CIRCLE Entertainment. Let's get on with it.
Wii U eShop Price Discount
Chasing Aurora (Broken Rules, €5.99 / £5.39 until 21st March, was €11.99 / £10.79) — Following a substantial update that tweaked various aspects based on gamer feedback, Broken Rules is halving the price of its launch day release for a week. A title with a focus on local multiplayer but does include a single player component, it's a visually stylish flying game with a healthy variety of modes and options when playing with others. It's undoubtedly a unique offering on the Wii U eShop and one that we rated highly in our Chasing Aurora review.
Wii U eShop Demo
Chasing Aurora (Broken Rules, free) — If the discount isn't enough, then this free demo will do its best to tempt you further.
3DS eShop
Viking Invasion 2 - Tower Defense (Bigben Interactive, €7.99 / £6.99) — Picking up the reins fairly directly from its DSiWare predecessor, this is a tower defense title — rather obviously — that sees you strategically place your weapons along a path to defeat the invading hordes. It's standard fare for the genre — even to the point of focusing on the bottom screen and mostly disregarding 3D — but that's not necessarily a bad thing; check out our Viking Invasion 2 - Tower Defense review for our full thoughts on this sequel.
Jewel Master Atlantis 3D (cerasus.media, €4.99 / £4.49) — As the title suggests this is picking up on the idea of building rows of three matching symbols, the jewel puzzle genre that was particularly popular on the DS. The puzzling is apparently being accompanied by a quest to uncover the mystery of Atlantis, but we'll see whether it's worth discovering in our upcoming review.
3DS Retail Download
Pets Resort 3D (TREVA Entertainment, €29.99 / £24.99) — Another retail release arrives on the eShop, and rather like a certain Nintendo game this one tasks you with looking after various dogs and cats, with the twist being that its various cuddly creatures are keen to sample your "wellness and care programme".
3DS Retail Demo
Naruto Powerful Shippuden (Namco Bandai, free) — Following its arrival in stores last week, this free demo of the sidescrolling brawler will give fans of the franchise a change to see whether this new entry is worth a purchase. Don't take too long to pick this up, though, as it's only available until 4th April.
DSiWare
Goony (CIRCLE Entertainment, 200 Nintendo Points) — This is an endless runner from a top-down viewpoint, where you simply use one button to change direction from left to right. The levels are randomly generated, though you can place assist Special Blocks and then share them via QR codes, while there's also an option of multiplayer with two players using the same system. It seems like a bit of arcade fun at a budget price, but we'll see whether it's worth your loose change in our review, soon.
---
So that's everything for this week, with a variety of freebies, discounts and genres on offer. Let us know what you'll be downloading in the poll and comments below.
What will you be downloading first this week? (137 votes)
Chasing Aurora (Wii U eShop discount)

14

%
Viking Invasion 2 - Tower Defense (3DS eShop)

3

%
Jewel Master Atlantis 3D (3DS eShop)

1

%
Pets Resort 3D (3DS retail download)

1

%
Goony (DSiWare)

3

%
Only freebie downloads for me

34

%
Nothing for me this week

44

%
Please login to vote in this poll.