With its upcoming Wii U eShop release of Toki Tori 2, as well as plans to port a couple of existing titles to the console's download platform, developer Two Tribes has a lot of work on its plate. Despite that the team has been kind enough to produce the following exclusive tour of its HQ, giving an insight into the size of the team and how it works to bring us games starring a cute yellow chicken. Check it out below.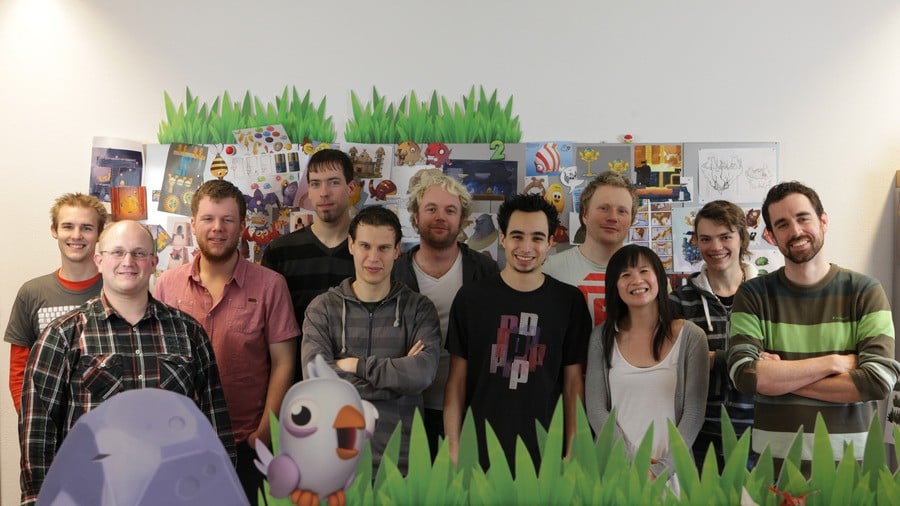 ---
Hi there! We are indie game developer Two Tribes. With the release of Toki Tori 2 coming up, we thought it would be a good idea to give you a virtual tour of our studio.
Two Tribes has existed for more than a decade. For the last two years we've been located in Amersfoort, a city in the centre of The Netherlands. From there we usually work on puzzle games, of which Toki Tori 2 is the latest and greatest, with a team of around 10 people in all.
If you enter our office, you will notice that our floor is split into two sections. These are home to the coding team and the design team. Together, the two teams breathe life into that jolly yellow chicken!
The coding team
We have four guys in our coding team: Eelke, Paul, Martijn and Marco.
Programming is a real team effort, but Eelke is the guy who has the overview of all the coding for Toki Tori 2. Also, thanks to him we're able to create puzzles that play with darkness, as he prototyped the dark/light mechanic for the game in his spare time and successfully presented it to the team.
When it comes to Wii U specific programming, Martijn, Paul and Marco are our men. They work with the Wii U dev kits every day, making sure that everything is running smoothly. Thanks to Paul, the designers have a great level editor to work with, and thanks to Marco, we have an engine that runs Toki Tori 2 on the Wii U. Martijn's role, besides handling boring paperwork, is programming the script interface, as well as making it so all the creatures can see, hear and feel the world around them.
Also, our coding team loves South Park, so you'll often hear quotes from that show coming from their corner!
The design team
We have a six man strong design team: Jeroen, Meinte, Hessel, Jay, Alex and Collin.
The design cycle starts with Jeroen. He is responsible for the concept art, sketching out the other team members' ideas on paper. Next up, the drawings goes to Meinte, our 3D modeller and animator, who makes everything come to life!
But with only nice looking and animating creatures, we don't have a game yet. This is where Hessel comes in. By creating the game mechanics, he ensures that all the animals actually interact with Toki Tori and each other. By the way, did you know that Hessel was once the first employee of Two Tribes, and that he fathered the first (and so far only) Two Tribes baby?
The design team also has the responsibility of making the levels looks impressive. Luckily we have Jay and Alex, who work hard to make the gentle walk through the game's picturesque world look and feel impressive.
Finally, we shouldn't forget Collin, who monitors the quality of our games. Without Collin's stamp of approval, nothing will leave the office!
Collin is also the creative brain behind the puzzles, so if you ever get frustrated or want to express your love for a specific puzzle, you know who to talk to.
Miscellaneous
There are some loose ends. For example, the audio of Toki Tori 2 is created by the sound gurus over at SonicPicnic. If you want to read more about their contribution to the game, check out this blog post: http://twotribes.com/message/toki-tori-2-update-6/
We also work with a guy named Niels 't Hooft to help us with the conception of the world and story. He comes in once a week to take a critical look at everything and come up with new ideas. If you want to read more about his contribution to the game, check out this blog post: http://twotribes.com/message/toki-tori-2-update-28/
The last one is the one and only non-engineer and lady in our team, Shan. She makes sure that the world knows about Toki Tori 2, but she also runs the office and finishes all the tasks that the development team doesn't have time for. Including throwing a good party once in a while!
Our Nintendo favourites
Because we were going through the office and asking random questions, we decided to get a scientific approximation of everyone's all-time favourite Nintendo games. So here are the surprising results. Most often mentioned was without a doubt Yoshi's Island (SNES), but not far behind was The Legend of Zelda: The Wind Waker! Super Mario 64, Ocarina of Time, Megaman X (SNES) and Conker's Bad Fur Day were also called out. One guy in our team played his first Nintendo game on the Wii and couldn't think of anything other than The Legend of Zelda: Twilight Princess...
---
We'd like to thank Two Tribes and, in particular, Shan Poon and Niels 't Hooft for putting this together for us. You can also check out our interview with Two Tribes or the team's feature on what's new in Toki Tori 2.