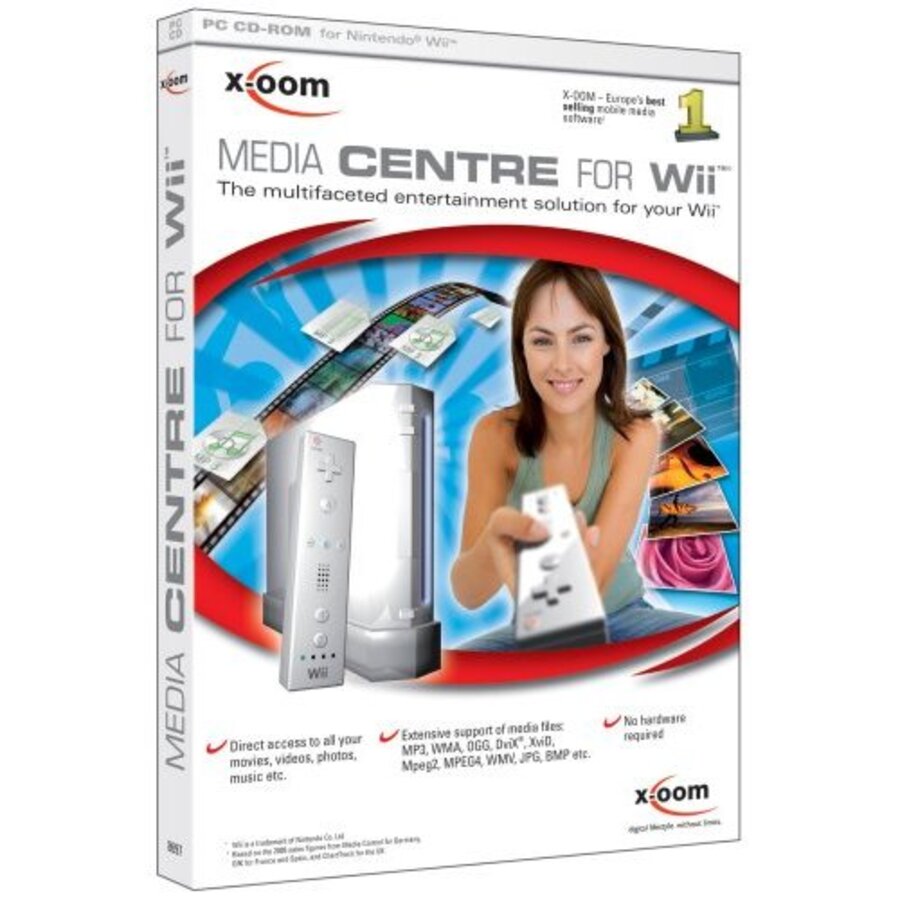 With X-OOM Media Centre for Wii™ enjoy your favourite collections of movies, photos, and music on your TV, via your Wii™. No need to transfer them to CD, DVD or other devices. All you need is your PC, your Wii™ and a network connection.

Watch, manage and edit your collections of movies, photos, and music on your TV, using your wireless Wii™ control. With the clearly arranged menu and simple navigation, internet browsing becomes an enjoyable experience. There are more than 1,000 internet radio and TV channels to enjoy.
Media centre's are something of a hybrid, they can't quite work out if they are computers, video game consoles or DVD players. The concept behind a media centre is one single device that handles all of your multimedia. The technology has come a long way in the past few years with the likes of Xbox 360, PlayStation 3 and Apple TV.
Nintendo clearly have no interest into dipping into that market, not yet anyway. Technology Nintendo's Wii console doesn't have any of the hallmarks of a modern day media centre, it's not high definition nor does it have digital or optical outputs.
This distinct lack of application hasn't stopped X-OOM the self proclaimed experts in the field of media centre. X-OOM claim that anyone who has a PC with lots of media should be able to access it on their TV screen via the Wii - Nice idea or simply a dream?
We've noticed quite alot of traffic on our news pages when we posted about this product, so when offered the opportunity to trial the software we thought we owed it to our readers to share our view.
The first thing you'll notice about this product is that it isn't a Wii game, it doesn't come in a Wii box and you don't put the disc in your Wii, it goes in your PC. X-OOM Media Centre for Wii is indeed a PC application, putting in the disc will install the "web server" software to your computer, once installed your asked for the locations of your Music, Photos, Videos, Movies and Podcasts.
The server software will then scan these locations and catalogue your media, this is quite typical of media centre software, a very time consuming but necessary process. The first scan will take upto an hour, depending on how many files you have on your computer.
Once complete your ready to fire up the media centre on your Wii, this is all accessed via the Internet Channel, typing in an address in the manual will then take you to your media centre home screen and you can begin to browse your media.
The screen has been designed with noticeable similarities to the Windows Media Centre software from Microsoft, the interface is only essentially a web page so lacks any form of stylish user interface you might come to expect after looking at Apple's TV solution.
The interface works, barely, and allows you to browse through your files in a crude but familiar method. Choosing a file allows you to view on screen, for example photo's can be viewed sequentially full screen along with playing of your videos or music tracks.
Considering the developers basically only have a web browser with Flash to work with its fair to say they've done as good as can be expected when taking the restrictions into account.
Even though Wii is clearly not suitable for this type of application X-OOM still went ahead and made this product probably giving customers the wrong impression, Wii is not a media centre, it never will be.
Conclusion
Whilst X-OOM's approach to making your photos, music and videos available on Wii might just about work, its has an incredibly crude way of doing so, you might even label it a gimmick. Anyone who understands what a media centre is all about won't fall for this, even if this was a native (not running through the web browser) application Wii's hardware would still restrict it's effectiveness as a real, viable media centre. Unless your really, really desperate, avoid this product and save yourself £20.
[source x-oom.com]