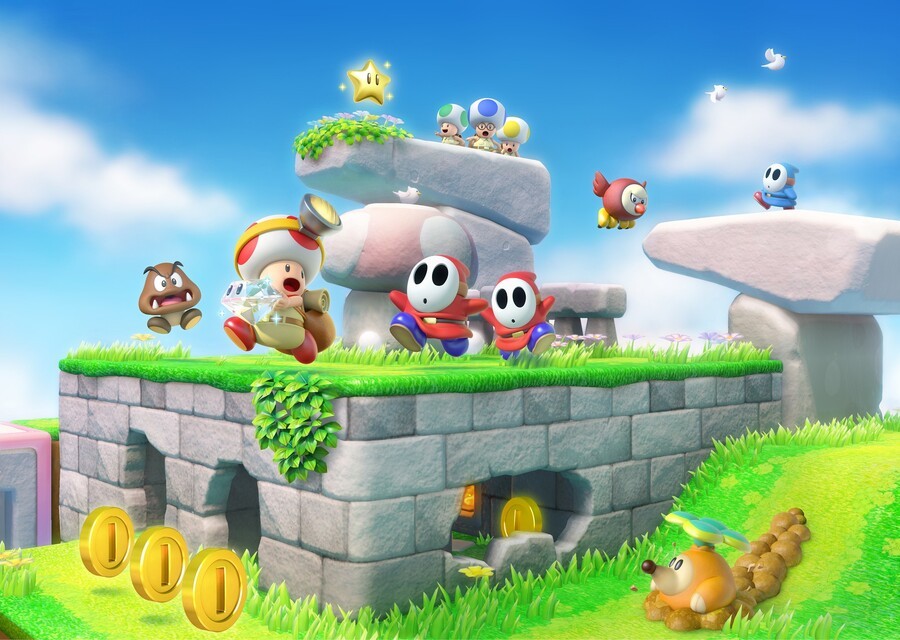 We're in the middle of a Summer heatwave and it's been an amazing year for the Nintendo Switch so far. June saw the release of Mario Tennis Aces, Wolfenstein II: The New Colossus and Crash Bandicoot N. Sane Trilogy. It's all hotting up now!
So, what's on the horizon for Nintendo Switch fans, then? We've compiled a list of all the good stuff coming out at retail in July and August, so feast your eyes and prepare your wallets.
Captain Toad: Treasure Tracker, which originally launched for Wii U, is coming to Nintendo Switch. This version includes exciting miniature courses based on various Kingdoms in the Super Mario Odyssey game. Also, anyone can play with a friend or family member by sharing a pair of Joy-Con controllers. While one player controls Captain Toad, the other can assist with things like turnip cover fire. If you missed this the first time around, don't make that mistake again.
Eight travelers. Eight adventures. Eight roles to play in a new world brought to life by Square Enix. Explore each traveler's story and use their abilities in and out of battle. Will you expand your horizons as the Merchant or track down a traitor as the Warrior? Where will you go? Who will join you? You alone can choose your path.
Monster Hunter Generations Ultimate is the follow-up to Monster Hunter Generations, and marks the Monster Hunter series' debut on Nintendo Switch as an exclusive. Hunters can face off against the largest roster of unique monsters in any Monster Hunter game to date. Players take on the role of a brave hunter challenging larger than life beasts that yield valuable resources used for crafting unique weapons and equipment. Sure it might not be as fancy-looking as Monster Hunter: World, but it's as close as you're going to get on the Switch right now.
More Awesome Nintendo Switch Games
Other than Captain Toad: Treasure Tracker, Octopath Traveler and Monster Hunter Generations Ultimate there are lots more Switch retail games which might take your fancy in July and beyond.
Awesome Accessories For Your Switch
We saw a whole slew of interesting accessories released for the Switch in the past few months, but more are on the way. Here are some tantalising accessories coming up in July and beyond which we found for your consideration.
So that's it for July and August - did we miss anything? Let us know with a comment and also tell us if you've pre-ordered any of these goodies!