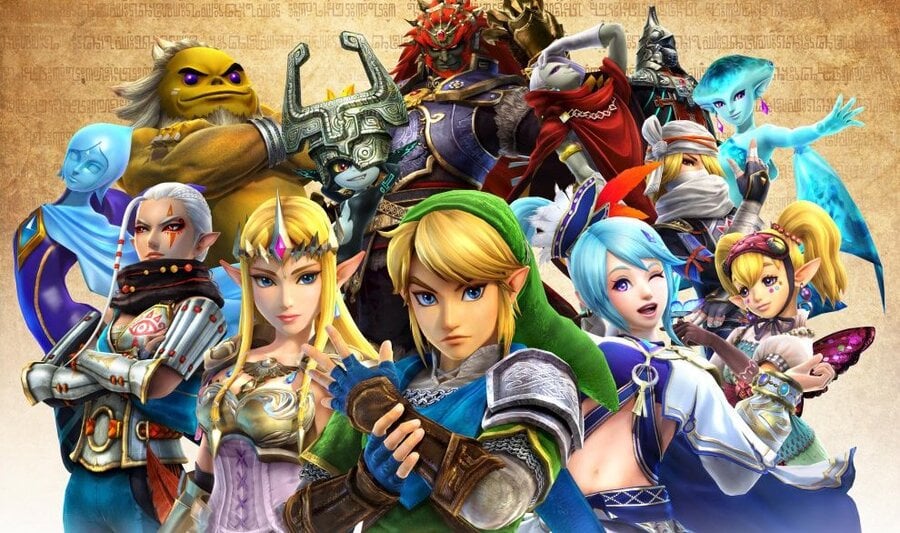 There's a bunch of different characters to unlock in Hyrule Warriors: Definitive Edition and each of them has various different costumes they can wear. These are often based on outfits from previous The Legend of Zelda games.
In this guide, we're going to help you unlock all costumes for each character in the game. We'll list all of them and then their unlock conditions below. To be clear, the letter and number combinations correspond to the square on the Adventure Mode Map that you have to beat to unlock that costume.
So if you have to beat Adventure Map E-10, look at the left hand side squares. In alphabetical order, A is the top square, and H is the lowest square. The bottom row is the numbers, in numerical order from left to right. E-10 is the square at which the letter and number meet.
Link Costumes
Costume
How To Unlock
Trainee Tunic

Default
Hero's Clothes
Default
Era of the Wilds Tunic
Default
Classic Tunic
Beat Adventure Map E-10
Zora Tunic
Beat Adventure Map E-5
Goron Tunic
Beat Adventure Map A-7
Kokiri Tunic
Beat Termina Map G-6
Era of Twilight Tunic
Beat Twilight Map E-7
Knight of Skyloft Tunic
Beat Adventure Map F-2
Hero's Clothes (Master Quest)
Beat Master Quest Map G-9
Dark Link
Beat Rewards Map - True Partners with an A Rank
Postman Uniform
Beat Twilight Map F-8
Hero's Clothes (Twilight)
Beat Twilight Map F-4
Fierce Deity Link
Beat Termina Map C-2

Hero's Clothes (Boss)
Beat Rewards Map - The Giants Gather with an A Rank
Hero's Clothes (Great Sea)
Beat Great Sea Map A-12
Hero's Clothes (Wind Waker)
Beat Master Wind Waker Map B-1
Hero's Clothes (Link's Awakening)
Beat Koholint Island Map A-6
Hero's Clothes (Phantom Hourglass & Spirit Tracks)
Beat Grand Travels Map D-7
Impa Costumes
Costume
How To Unlock
Standard Outfit
Default
Standard Outfit (Master Quest)
Beat Master Quest Map E-7
Standard Outfit (Twilight)
Beat Twilight Map B-12
Era of the Hero of Time Outfit
Beat Termina Map F-10
Mask of Truth
Beat Termina Map A-11

Standard Outfit (Great Sea)
Beat Great Sea Map A-10
Standard Outfit (Wind Waker)
Beat Master Wind Waker Map I-4
Standard Outfit (Phantom Hourglass & Spirit Tracks)
Beat Grand Travels Map D-1
Standard Outfit (A Link Between Worlds)
Beat Lorule Map G-15
Sheik Costumes
Costume
How To Unlock
Standard Outfit
Default
Standard Outfit (Master Quest)
Beat Master Quest Map C-9
Standard Outfit (Twilight)
Beat Twilight Map F-13
Era of the Hero of Time Outfit
Beat Termina Map H-9
Kafel's Mask
Beat Termina Map G-13
Standard Outfit (Great Sea)
Beat Great Sea Map E-11
Standard Outfit (Wind Waker)
Beat Master Wind Waker Map D-10

Standard Outfit (Link's Awakening)
Beat Koholint Island Map E-14
Lana Costumes
Costume
How To Unlock
Standard Outfit
Default
Guardian of Time
Beat Master Quest Map E-2
Standard Outfit (Master Quest)
Beat Master Quest Map A-13
Skull Kid's Clothes
Beat Termina Map B-3
Standard Outfit (Twilight)
Beat Twilight Map E-13
Deku Mask
Beat Termina Map A-9
Standard Outfit (Boss)
Beat Rewards Map - Scattered Seeds with an A Rank
Standard Outfit (Great Sea)
Beat Great Sea Map F-10
Standard Outfit (Wind Waker)
Beat Master Wind Waker E-9
Standard Outfit (Link's Awakening)
Beat Koholint Island Map B-1

Standard Outfit (A Link Between Worlds)
Beat Lorule Map E-6
Zelda Costumes
Costume
How To Unlock
Standard Robes
Default
Era of the Hero of Time Robes
Beat Termina Map E-13
Era of Twilight Robes
Beat Twilight Map E-3
Skyloft Robes
Beat Adventure Map H-2
Standard Robes (Master Quest)
Beat Master Quest Map C-16
Standard Robes (Twilight)
Beat Twilight Map C-12
Ilia's Clothes
Beat Twilight Map D-15
Bunny Hood
Beat Termina Map C-1
Standard Robes (Boss)
Beat Rewards Map - True Partners with an A Rank
Standard Robes (Great Sea)
Beat Great Sea Map A-13
Standard Robes (Wind Waker)
Beat Master Wind Waker Map A-12

Standard Robes (Link's Awakening)
Beat Koholint Island Map A-8
Standard Robes (Phantom Hourglass & Spirit Tracks)
Beat Grand Travels C-14
Era of the Wilds Outfit
Default
Ganondorf Costumes
Costume
How To Unlock
Standard Armor
Default
Era of the Hero of Time Armor
Beat Termina Map D-6
Era of Twilight Armor
Beat Twilight Map D-10
Standard Armor (Master Quest)
Beat Master Quest Map H-1
Standard Armor (Twilight)
Beat Twilight Map G-5
Odolwa's Remains
Beat Termina C-3
Standard Armor (Boss)
Beat Rewards Map - Rulers of Twilight with an A Rank
Standard Armor (Great Sea)
Beat Great Sea Map E-9

Standard Armor (Wind Waker)
Beat Adventure Map D-7
Standard Armor (Link's Awakening)
Beat Koholint Island Map C-14
Standard Armor (Phantom Hourglass & Spirit Tracks)
Beat Grand Travels Map C-14
Standard Armor (A Link Between Worlds)
Beat Lorule Map H-2
Darunia Costumes
Costume
How To Unlock
Standard Outfit
Default
Standard Outfit (Master Quest)
Beat Master Quest Map B-14
Standard Outfit (Twilight)
Beat Twilight Map H-10
Goron's Mask
Beat Termina Map B-10
Standard Outfit (Great Sea)
Beat Great Sea Map E-6
Standard Outfit (Wind Waker)
Beat Master Wind Waker Map A-3

Standard Outfit (Phantom Hourglass & Spirit Tracks)
Beat Grand Travels Map C-4
Standard Outfit (A Link Between Worlds)
Beat Lorule Map A-16
Ruto Costumes
Costume
How To Unlock
Standard Outfit
Default
Standard Outfit (Master Quest)
Beat Master Quest Map C-14
Standard Outfit (Twilight)
Beat Twilight Map H-7
Goron's Mask
Beat Termina Map G-10
Standard Outfit (Great Sea)
Beat Great Sea Map D-11
Standard Outfit (Wind Waker)
Beat Master Wind Waker Map G-5
Standard Outfit (Phantom Hourglass & Spirit Tracks)
Beat Grand Travels Map F-9
Standard Outfit (A Link Between Worlds)
Beat Lorule Map H-12
Agitha Costumes
| Costume | How To Unlock |
| --- | --- |
| Standard Outfit | Default |
| Standard Outfit (Master Quest) | Beat Master Quest Map F-11 |
| Standard Outfit (Twilight) | Beat Twilight Map A-11 |
| Don Gero's Mask | Beat Termina Map C-11 |
| Standard Outfit (Great Sea) | Beat Great Sea Map G-2 |
| Standard Outfit (Link's Awakening) | Beat Koholint Island Map A-5 |
| Standard Outfit (A Link Between Worlds) | Beat Lorule Map A-10 |
Midna Costumes
| Costume | How To Unlock |
| --- | --- |
| Standard Outfit | Default |
| Standard Outfit (Master Quest) | Master Quest Map D-12 |
| Standard Outfit (Twilight) | Twilight Map B-3 |
| Ordon Shield | Termina Map B-13 |
| Standard Outfit (Great Sea) | Great Sea Map B-6 |
| Standard Outfit (Wind Waker) | Master Wind Waker Map C-14 |
| Standard Outfit (A Link Between Worlds) | Beat Lorule Map C-8 |
Zant Costumes
Costume
How To Unlock
Standard Outfit
Default
Standard Outfit (Master Quest)
Beat Master Quest Map H-12
Standard Outfit (Twilight)
Beat Twilight Map C-9
Troupe Leader's Mask
Beat Termina Map B-8
Standard Outfit (Great Sea)
Beat Great Sea Map C-3

Standard Outfit (Link's Awakening)
Beat Koholint Island Map F-1
Standard Outfit (A Link Between Worlds)
Beat Lorule Map D-1
Fi Costumes
| Costume | How To Unlock |
| --- | --- |
| Standard Outfit | Default |
| Standard Outfit (Boss) | Beat Master Quest Map C-5 |
| Standard Outfit (Twilight) | Beat Twilight Map B-7 |
| Stone Mask | Beat Termina Map E-7 |
| Standard Outfit (Great Sea) | Beat Great Sea Map B-7 |
| Standard Outfit (Wind Waker) | Beat Master Wind Waker Map D-13 |
| Standard Outfit (Phantom Hourglass & Spirit Tracks) | Beat Grand Travels Map H-10 |
| Standard Outfit (A Link Between Worlds) | Beat Lorule Map G-9 |
Ghirahim Costumes
Costume
How To Unlock
Standard Outfit
Default
Standard Outfit (Master Quest)
Beat Master Quest Map D-6
Standard Outfit (Twilight)
Beat Twilight Map A-6

Kamaro's Mask
Beat Termina Map E-14
Standard Outfit (Great Sea)
Beat Great Sea Map B-14
Standard Outfit (Wind Waker)
Beat Master Wind Waker Map E-14
Standard Outfit (Link's Awakening)
Beat Koholint Island Map C-9
Standard Outfit (A Link Between Worlds)
Beat Lorule Map D-10
Cia Costumes
Costume
How To Unlock
Masked
Default
Unmasked
Beat Grand Finale - Liberation of the Triforce
Hatless
Beat Grand Finale - Liberation of the Triforce
Masked (Master Quest)
Beat Master Quest Map G-3
Unmasked (Master Quest)
Beat Master Quest Map G-3
Hatless (Master Quest)
Beat Master Quest Map G-3

Guardian of Time
Beat Master Quest Map H-15
Masked (Twilight)
Beat Twilight Map F-3
Unmasked (Twilight)
Beat Twilight Map F-3
Hatless (Twilight)
Beat Twilight Map F-3
Majora's Mask
Beat Termina Map F-8
Masked (Boss)
Beat Rewards Map - Evil Power with an A Rank
Unmasked (Boss)
Beat Rewards Map - Evil Power with an A Rank
Hatless (Boss)
Beat Reward Map - Evil Power with an A Rank
Masked (Great Sea)
Beat Great Sea Map A-8
Unmasked (Great Sea)
Beat Great Sea Map A-8
Hatless (Great Sea)
Beat Great Sea Map A-8
Masked (Wind Waker)
Beat Master Wind Waker Map A-1
Unmasked (Wind Waker)
Beat Master Wind Waker Map A-1
Hatless (Wind Waker)
Beat Master Wind Waker Map A-1
Masked (Link's Awakening)
Beat Koholint Island Map C-13
Unmasked (Link's Awakening)
Beat Koholint Island Map C-13
Hatless (Link's Awakening)
Beat Koholint Island Map C-13
Masked (A Link Between Worlds)
Beat Lorule Map E-14
Unmasked (A Link Between Worlds)
Beat Lorule Map E-14
Hatless (A Link Between Worlds)
Beat Lorule Map E-14
Volga Costumes
| Costume | How To Unlock |
| --- | --- |
| Standard Outfit | Default |
| Standard Outfit (Master Quest) | Beat Master Quest Map A-15 |
| Standard Outfit (Twilight) | Beat Twilight Map B-5 |
| Giant's Mask | Beat Termina Map C-14 |
| Standard Outfit (Great Sea) | Beat Great Sea Map B-12 |
| Standard Outfit (Wind Waker) | Beat Master Wind Waker Map A-2 |
| Standard Outfit (Phantom Hourglass & Spirit Tracks) | Beat Grand Travels Map B-5 |
Wizzro Costumes
| Costume | How To Unlock |
| --- | --- |
| Standard Outfit | Default |
| Standard Outfit (Master Quest) | Beat Master Quest Map F-5 |
| Standard Outfit (Twilight) | Beat Twilight Map F-11 |
| Captain's Hat | Beat Termina Map B-12 |
| Standard Outfit (Great Sea) | Beat Great Sea Map E-4 |
| Standard Outfit (Link's Awakening) | Beat Koholint Island Map F-5 |
| Standard Outfit (Phantom Hourglass & Spirit Tracks) | Beat Grand Travels Map A-10 |
Twili Midna Costumes
Costume
How To Unlock
Standard Outfit
Default
Standard Outfit (Great Sea)
Beat Great Sea Map E-14
Standard Outfit (Wind Waker)
Beat Master Wind Waker Map D-9
Standard Outfit (Phantom Hourglass & Spirit Tracks)
Beat Grand Travels Map G-13

Standard Outfit (A Link Between Worlds)
Beat Lorule Map C-16
Young Link Costumes
| Costume | How To Unlock |
| --- | --- |
| Standard Outfit | Default |
| Standard Outfit (Great Sea) | Beat Great Sea Map G-9 |
| Standard Outfit (Link's Awakening) | Beat Koholint Island Map C-7 |
| Standard Outfit (Phantom Hourglass & Spirit Tracks) | Beat Grand Travels Map H-2 |
| Standard Outfit (A Link Between Worlds) | Beat Lorule Map D-16 |
Tingle Costumes
| Costume | How To Unlock |
| --- | --- |
| Standard Outfit | Default |
| Standard Outfit (Great Sea) | Beat Great Sea Map C-10 |
| Standard Outfit (Wind Waker) | Beat Master Wind Waker Map D-5 |
| Standard Outfit (Link's Awakening) | Beat Koholint Island Map F-14 |
| Standard Outfit (Phantom Hourglass & Spirit Tracks) | Beat Grand Travels Map D-12 |
| Standard Outfit (A Link Between Worlds) | Beat Lorule Map G-4 |
Linkle Costumes
Costume
How To Unlock
Standard Outfit
Default
Standard Outfit (Great Sea)
Beat Great Sea Map F-3
Standard Outfit (Link's Awakening)
Beat Koholint Island Map A-13
Standard Outfit (Phantom Hourglass & Spirit Tracks)
Beat Grand Travels Map B-2

Standard Outfit (A Link Between Worlds)
Beat Lorule Map F-13
Skull Kid Costumes
| Costume | How To Unlock |
| --- | --- |
| Standard Outfit | Default |
| Standard Outfit (Great Sea) | Beat Great Sea Map M-7 |
| Standard Outfit (Link's Awakening) | Beat Koholint Island Map F-12 |
| Standard Outfit (Phantom Hourglass & Spirit Tracks) | Beat Grand Travels B-2 |
| Standard Outfit (A Link Between Worlds) | Beat Lorule Map B-1 |
Toon Link Costumes
| Costume | How To Unlock |
| --- | --- |
| Standard Outfit | Default |
| Standard Outfit (Great Sea) | Beat Great Sea Map G-4 |
| Standard Outfit (Wind Waker) | Beat Master Wind Waker Map A-7 |
| Standard Outfit (Link's Awakening) | Beat Koholint Island Map C-1 |
| Standard Outfit (Phantom Hourglass & Spirit Tracks) | Beat Grand Travels Map E-5 |
Tetra Costumes
Costume
How To Unlock
Standard Outfit
Default
Standard Outfit (Great Sea)
Beat Great Sea Map B-11
Standard Outfit (Wind Waker)
Beat Master Wind Waker Map G-6
Standard Outfit (Link's Awakening)
Beat Koholint Island Map F-9
Standard Outfit (Phantom Hourglass & Spirit Tracks)
Beat Grand Travels Map G-7
King Daphnes Costumes
| Costume Name | Unlock |
| --- | --- |
| Standard Outfit | Default |
| Standard Outfit (Great Sea) | Beat Great Sea Map C-8 |
| Standard Outfit (Wind Waker) | Beat Master Wind Waker Map D-3 |
| Standard Outfit (Phantom Hourglass & Spirit Tracks) | Beat Grand Travels Map F-16 |
| Standard Outfit (A Link Between Worlds) | Beat Lorule Map C-4 |