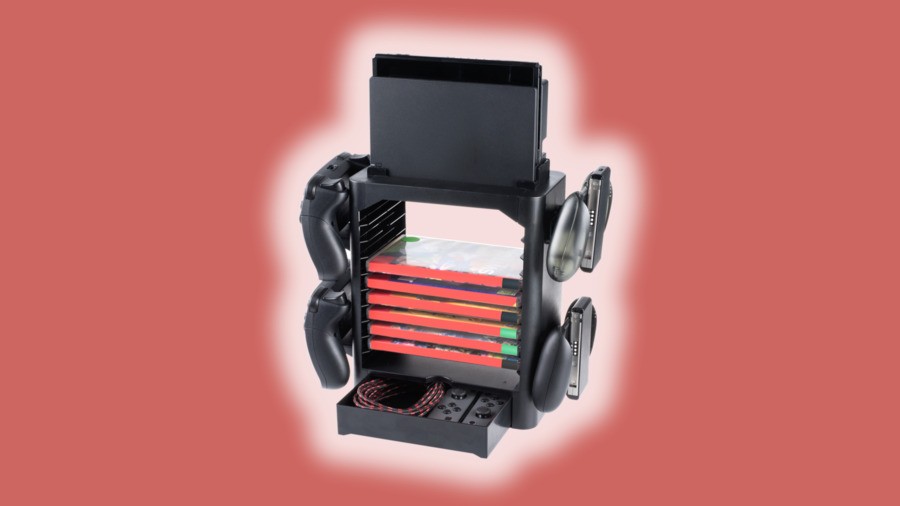 Accessory maker Snakebyte has revealed the latest in its line of products for the Switch, and this one looks like it could be a nice little practical solution for your storage needs.
Called the Games:Tower, the product is designed to be a space-saver, holding your Pro Controllers, Joy-Con, games, and more. To be precise, you'll be able to fit 10 physical Switch game boxes in the slots provided, and up to four Pro Controllers or Joy-Con grip sets.
On top of this, rather literally, the top of the tower doubles up as a place to sit your Switch dock - handy if you currently leave it on the floor or in an annoying spot around your TV. We particularly like the bottom, too, which features a neat little drawer for storing away smaller accessories.
Marc-Alexander Knipschild, Head of Marketing for Snakebyte, has shared the following in a press release today:
"The Nintendo Switch now boasts a large game collection and ever-expanding list of accessories, and we believe gamers will flock to the GAMES:TOWER providing a simple and great value for money solution to housing their collection. We believe the GAMES:TOWER for Nintendo Switch will make a strong addition to our core accessories range and allow us to grow our market share in the console sector."
Snakebyte says that the product is shipping now, "available from all leading gaming retailers". We managed to track down an online option from Amazon UK (£17.99), although the product hasn't yet appeared on Snakebyte's own site.
Would this be useful for your current setup? Do you already have an elegant storage solution? Let us know in the comments below.