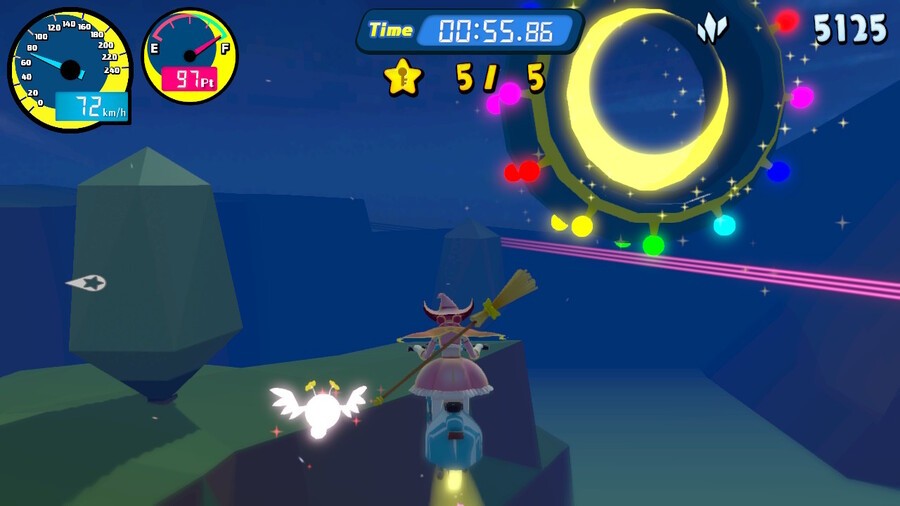 Vroom in the Night Sky was perhaps one of the less essential Switch eShop launch titles, in our review we praised the game for technically working, but on the whole we couldn't recommend it as it just wasn't a particularly enjoyable experience.
Publisher POISOFT aims to rectify some of the criticisms of the game in a upcoming patch as follows:
-----Patch 1.1.0 Notes-----

** Playable Content
* add a Driving School.

I'm sure that After the Magical Driving School, the Stage will be fun.

You can study Magical Bike Driving technic for collection stardust.(10 missions)
If you play this mode at first time, you will get many stardust.
Please use stardust for get first fast Magical Bike.

** Renewal Magical Bike Prices
the shop will reduce some Magical Bike prices.
If you have already bought, the shop will pay you the difference.

* Magical Racer 50
200000 -> 100000
* Magical Tank 50V
200000 -> 100000
* Magical offroad X125
300000 -> 150000
** System
* best record
It will keep a best record.
* operation manual
display manual in the title too, not only in the stage.

** Resolved Issues
* upward or lowward jump
It's will adjust the L Stick sensitivity at the time of press x button for rotation jump.

* wheels
An issue wherein the "bike", wheels would not rotate. will resolve.

* talk
Renewal the conversation data for English.

* spell mistake
An issue wherein the "shop", that will correct "buyed" to "sold out". and we correct the other misspellings.

The update is scheduled for early April and free.
This free update will be available from 5th April. Did you download Vroom in the Night Sky? Let us know if this patch will encourage you to keep playing.