Description will appear here shortly...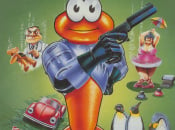 UPDATE: IP owner Gameware comments on the news
Update: Gameware's PJ Belcher has gotten in touch to clarify the ownership of the Pond name: Gameware owns the full IP to Pond, but to help keep the brand alive it has be licensing the rights to Robocod (specifically) for other developers to bring him to new platforms. This was true of the DS, GBA PS1...
Hold on there, you need to login to post a comment...