Description will appear here shortly...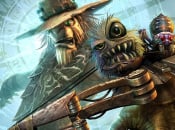 Nintendo's Dan Adelman asked specifically for Stranger's Wrath on Wii U
Just Add Water CEO and Oddworld Inhabitants development director Stewart Gilray has been siging Nintendo's praises in a recent interview, and states that the company is "fantastic" to work with. Speaking to Nintendo Everything, Gilray also revealed that NoA indie supremo Dan...
Hold on there, you need to login to post a comment...