Guxt is a retro-styled, vertical scrolling shmup.
From Daisuke "Pixel" Amaya, creator of Cave Story.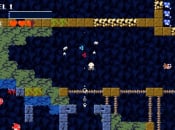 Guxt also on the way
Daisuke "Pixel" Amaya, the developer behind the much-loved Cave Story, will have two new games in the 3DS eShop this quarter: Ikachan and Guxt. As with Cave Story, both games will be published by Nicalis - the same company behind VVVVVV. Ikachan sees you take on the role of a squid who swims through an underwater realm, looking...
Hold on there, you need to login to post a comment...