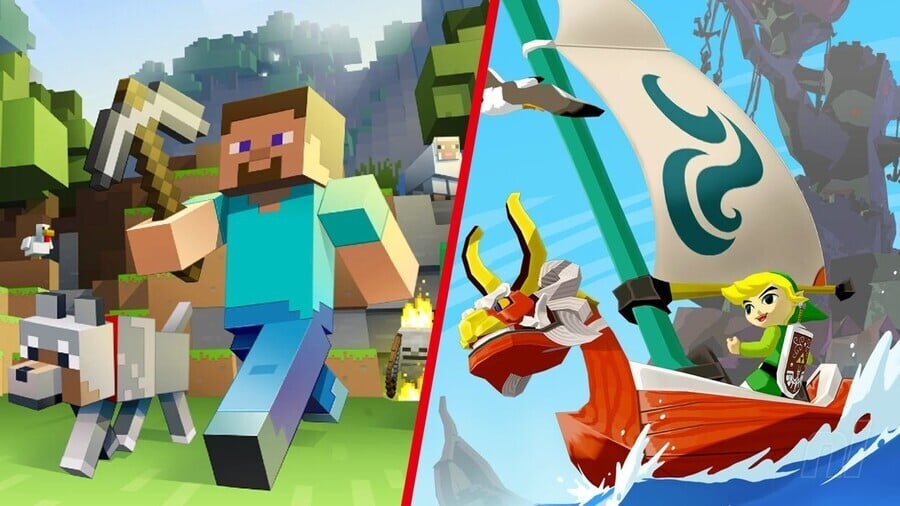 Minecraft brings out so much creativity within the community. We can't count how many times we've been blown away by people's creations in this huge sandbox game over the years, and we've dreamt of seeing more Nintendo-related implementations within the game, especially after the official 3DS Minecraft got its own Super Mario Mash-Up.
Inspired by that very creation, @StephenJPlant has created a Zelda: Wind Waker pack for Minecraft on PC. The pack is a 16x16 resolution creation, which was a deliberate choice from the creator, as it matches the Super Mario one (that was also made for the Wii U).
The pack is compatible with version 1.19 of Minecraft, and while it focuses on cel-shaded Link's sea-faring adventure, many other references from the Zelda franchise are here too!
The pack is available to download from Planet Minecraft, but because there's so much stuff you'll need to download skins, music, and villagers separately. And you'll want to because one track — an arrangement of the Lost Swamp from Cadence of Hyrule — comes from video game cover song composer @superpixeltea. It's fabulous, and you can listen to it above!
Stephen has been sharing other aspects of the pack on Twitter in the lead-up to its release.
And you can get a (really) quick glance at all 150+ skins that are part of the pack right here:
From what we've seen of the pack online, this looks just as good as the Mario one. If we didn't know, we would think this was an official pack! We'd love to see Nintendo collaborate with the creators and make this a real thing!
If you're a Minecraft player on PC, let us know if you're grabbing this pack in the comments!
[source https]