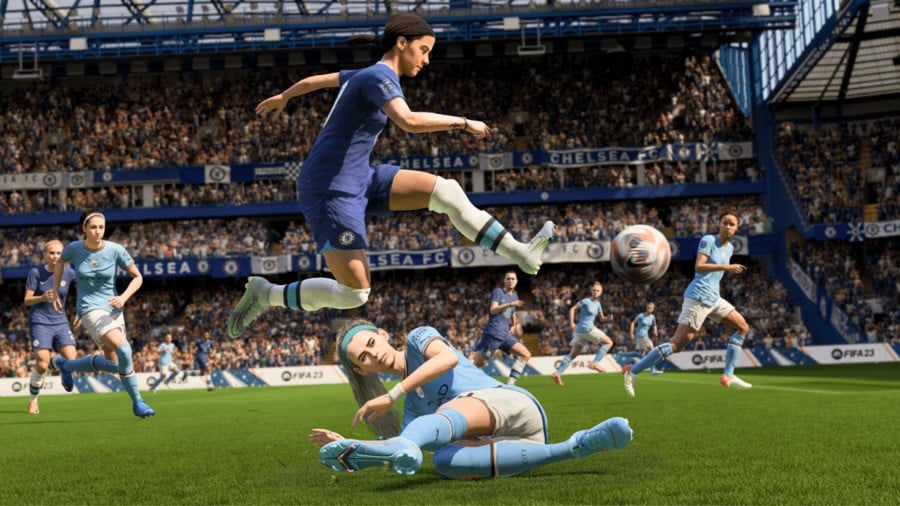 Nintendo Switch players are once again being shot in the foot(ball), as EA announced today that FIFA 23 on Switch would once again be the "Legacy Edition", which is essentially the same as FIFA 22 on Switch.
In EA's own words, from the eShop page for FIFA 23:
FIFA 23 Legacy Edition will feature the same Gameplay features and modes from FIFA 22 Legacy Edition without any new development or significant enhancements.
At least they're not sugarcoating it, we suppose.
The new content for FIFA 23, as sparse as it is, will include new kits, clubs, and squads, a few new stadiums, an "updated visual identity" and a "refreshed broadcast overlay package", as well as the addition of the Barclays FA Women's Super League.
The returning features from FIFA 22 are as follows:
• Kick Off
• Career Mode
• Tournaments – Licensed and Custom, including the UEFA Champions League
• Women's International Cup
• Skill Games
• Online Seasons & Friendlies
• Local Seasons
Other platforms will be getting new features like cross-play, refreshed mechanics, realistic physics and a revamped Chemistry system. The Switch will not be getting these. Here's a trailer so you can check out what you'll be missing:
It will cost $39.99 to buy FIFA 23 Legacy Edition, which is roughly the same game as FIFA 22 Legacy Edition, which was roughly the same as FIFA 21 Legacy Edition, which was roughly the same as FIFA 20 Legacy Edition, which — get this — was roughly the same as FIFA 19 Legacy Edition.
Pre-orders are open now ahead of the September 30th launch.