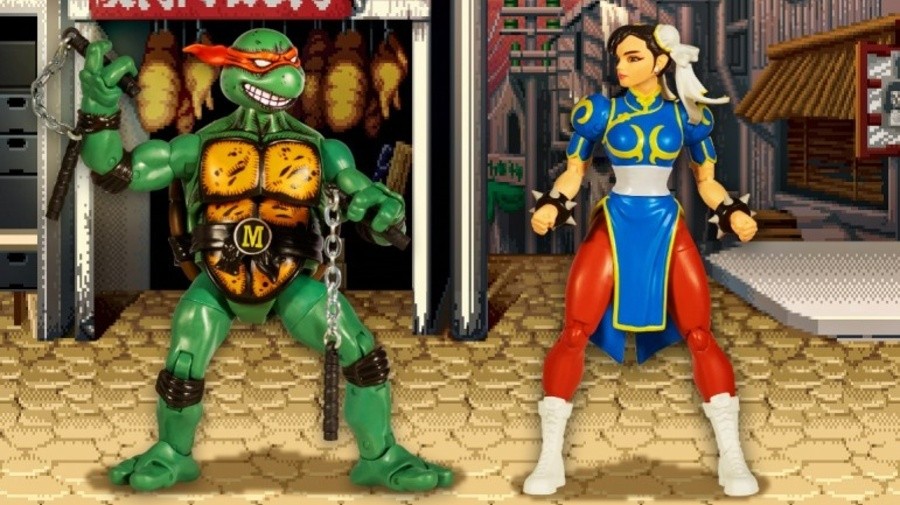 If you're looking to go beyond video games, and happen to be a fan of both Street Fighter and TMNT, you might be interested in the Street fighter vs. Teenage Mutant Ninja Turtles action figure sets launching later this year.
In celebration of the 35th anniversary of Street Fighter, Playmates Toys will be releasing four SF vs TMNT sets. Here's the full lineup (via Game Informer):
Ryu vs. Leonardo
Chun-Li vs. Michelangelo
Guile vs Raphael
Ken Masters vs. Donatello
Ryu vs. Leonardo and Chun-Li vs. Michelangelo will launch this Fall in the US, and the other two will launch at a later date. So far the press shots include the first two sets. Here's a bit of extra detail about what you can expect from these figures:
"Each figure in the collection stands six inches tall and is highly poseable with multiple points of articulation – from ball joints at the head, shoulders and hips, to split joint elbows and knees, and at the wrist, ankles, upper arms, and thighs," a press release reads. "Authentically detailed and decorated as seen in the Street Fighter II video game, Street Fighter vs. Teenage Mutant Ninja Turtles is packed out in an '80s video game console-shaped window box packaging."
Would you be interested in any of these sets? Leave a comment down below.
[source gameinformer.com]